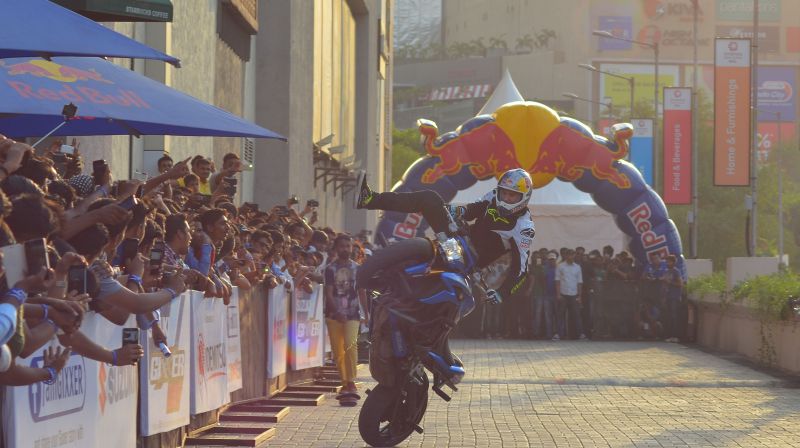 European stunt champion Aras Gibieza steals the show
Gixxer Day was a nine-city tour organised by Suzuki Motorcycle India to garner interest for the rear-disc-equipped Gixxer SF motorcycle. The event kicked off in Delhi on 15 April, visited different cities across the nation, and we were present for the last Gixxer Day in Pune yesterday. The designated area at Amanora Town Centre was packed as two-time European stunt champion and Red Bull athlete Aras Gibieza from Lithuania, who has been touring with Suzuki, showed off his skills aboard a GSX-S1000. The crowd cheered wildly and mobile phone cameras were out in force as Aras filled the venue with tyre smoke doing burnouts, and performed wheelies and bunny hops that seemed impossible on a 200-kilogram motorcycle.
Members of the audience also had the chance to win prizes, including t shirts, caps and Suzuki accessories. Suzuki Motorcycle India also used this opportunity to strengthen their #amGixxer campaign, where they have created a community of like-minded Gixxer customers, fans and enthusiasts. The idea is to provide a platform to host various activities across the country, mainly moderated via social media. Gixxer Day and a dedicated 'amGixxer' Facebook page are the first of such community activities to be taken up under the #amGixxer campaign.
Satoshi Uchida, Managing Director, Suzuki Motorcycle India Pvt Ltd (SMIPL) said, "With constant support of our customers, SMIPL continues to offer new products and technologies to the Indian market. We are pleased to introduce our new variant of the much loved Gixxer range. It is one of our most successful products, and to commemorate its success, we are celebrating Gixxer Day with all our customers and bike enthusiasts who have been an integral part of this journey. Through this, Suzuki wishes to cater to the appetite of Gixxer customers for more intense engagement with the brand."