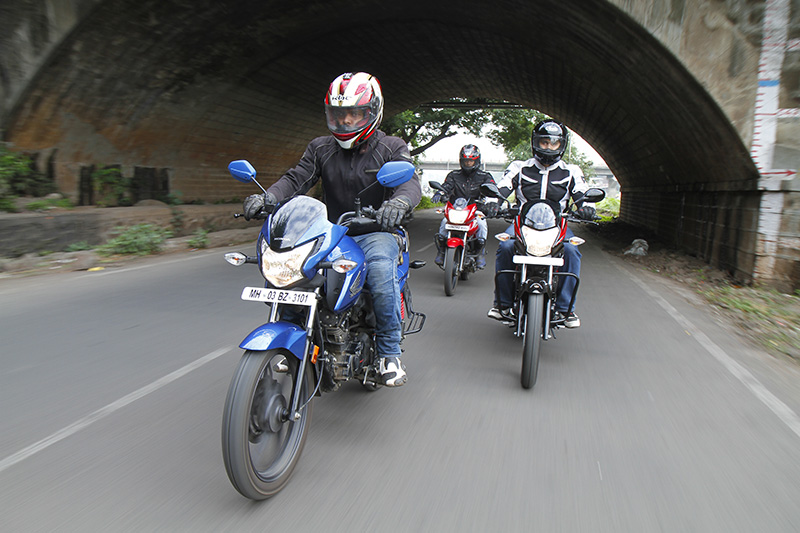 However, when it comes to engine refinement, the Honda Livo takes the cake. The refinement of the Livo is addictive; there are hardly any vibrations at any time. The Hero Passion X Pro is not far behind either. The reason for this is that the 109.19-cc motor of this motorcycle is essentially the same motor that powers the Livo. It was introduced on the Passion X Pro at a time when Hero were still using Honda technology, as a result of which the refinement level in the Passion is almost on a par with the Livo. As for the TVS Star City+, its refinement is decent, but is not quite up to the standard where it can challenge the Honda.
Performance is not exactly the forte of these motorcycles, but for the curious ones here are a few figures. All the three contenders are capable of breaching 90 km/h, sprinting from 0 to 60 km/h in slightly over eight seconds and are on a par when it comes to roll-on figures. One thing we noticed when pushing hard was that the engines needed one more cog as they neared the top end of their performance; these motorcycles do feel a smidge stressed. Nevertheless, you get three different ride experiences with these three bikes.
The Passion X Pro is the oldest of the lot and, honestly, we were expecting it to be very similar to the Honda Livo in terms of ride and handling — after all, there is a lot in common between these two bikes. I was surprised to find out that these two bikes are very different. The Passion X Pro has a very good ride quality thanks to its soft suspension set-up. It goes over bumps and potholes with ease and without letting any of those shocks make their way to the rider's backbone. At the same time this soft suspension robs the Passion X Pro of its handling abilities. Although the X Pro is a decent handler, it does feel a bit nervous while cornering.
The Honda Livo, on the other hand, feels planted and stable most of the time. Its suspension set-up is just right with a perfect balance between firm and soft. It takes care of the potholes and undulations with ease and in corners continues to boost your confidence owing to its superb stability and handling.