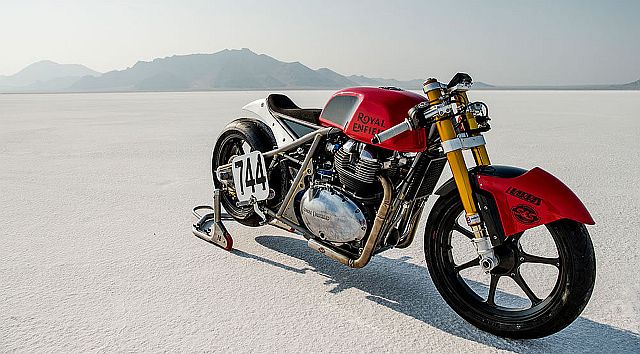 Royal Enfield teamed up with S&S Cycle and Harris Performance build a record-breaking bike based on their new 650-cc twin. The bike was ridden by an 18-year-old girl, Cayla Rivas, who is the daughter of 'Bonne' record holder Chris Rivas. Cayla has held a number of records in the past.
The record is for the naturally-aspirated 600-cc to 750-cc category, a record that was held by Alan Cathcart, with the record being 100.984 mph (162.442 km/h). To obtain a record, a contestant must make two runs in both directions within the span of the two-hour session, where the average speed of both runs is the official registered time. Cayla in the seat has smashed the old record with an average speed on 157.053 mph (252.745 km/h). The record, however, is still pending FIM certification. Day one saw the team break the record with a speed of 132 mph (212.427 km/h) without nitrous. However, on the second day, mechanics started to play around with the nitrous system and gained their fastest time.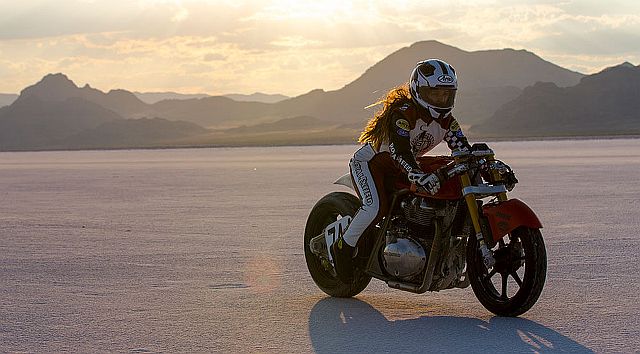 Royal Enfield partnered with experts for this feat. S&S Cycle was at the top of the list and had already worked with Royal Enfield for their Lock Stock drag bike in Europe. S&S have a large amount of experience tuning motors and racing at the Salt Flats. Harris Performance were brought in for all things chassis related. They, too, have previously worked on the drag bike and, being a company that have designed a number of Grand Prix and superbike chassis, were well up to the challenge.
Also read: (Royal Enfield LockStock Unveiled at Bike Shed London 2018)
The team were given a general design direction by Royal Enfield's in-house design department, and in a few months, they were ready with their 'Bonneville Racer'. The fear was that due to the untested new engines, unforeseen problems could arise. In addition, Harris Performance, even with all their racing chassis design background, had never built a speed trial chassis. The question came down to Cayla's lack of experience on the bike, as she had never even seen it, let alone ridden the bike, before their meeting at the Salt Flats.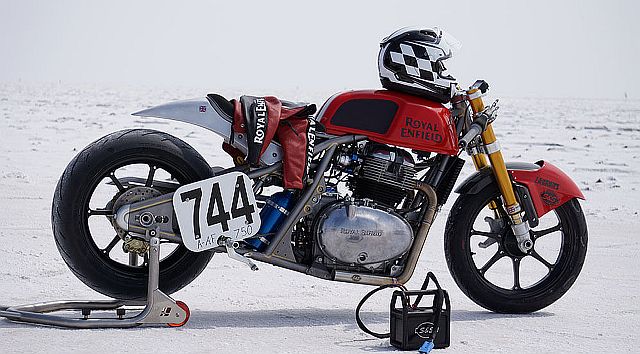 In the end, the attempt was a great success, giving pride to the Indian motorcycle manufacturer and their partners and adding another record for the brilliant Cayla Rivas.
You may watch the video of the right here:
Story: Zal Cursetji