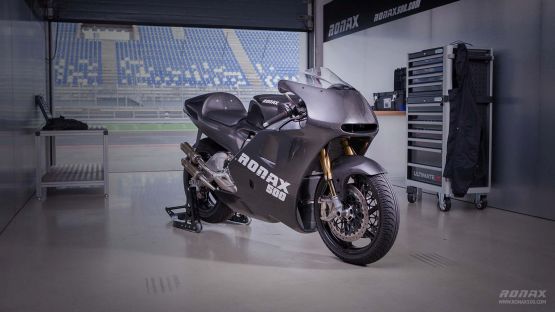 If you will recall there were pictures of a motorcycle making the rounds on the Internet resembling a direct knock-off of Valentino Rossi's NSR500 two-stroke GP bike. The cat is now out of the bag, German motorcycle design firm Ronax have finally taken the wraps off their 500cc, two-stroke, GP-inspired track racer – the Ronax 500.
This track-only GP bike makes 160 PS from its nearly square 500cc V4 mill, the Ronax 500 also boasts two counter-rotating crankshafts inside its all-aluminum engine block. The bike also features fuel-injection and programmed ignition maps for an exceptional ride.
The Ronax 500 also sports four carbon sport mufflers, carbon-fibre fairing, Öhlins sport suspension package and GP-style Brembo brakes. The overall styling of the Ronax 500 is just like the old two-stroke GP bikes.
Ronax claim that the 500 is only for the serious track-day aficionado's and have set a price tag of €100,000 (Rs 80 lakh) for the asphalt-shredder.
Story: Sayem Parvez Syed
Photography: Ronax, Germany