While we were at the Phuket Bike Week 2015, we managed to get our hands on Honda's little wonder, called the MSX 125. So does this rocket take off? Read on to find out
Story & Photography: Ryan Lee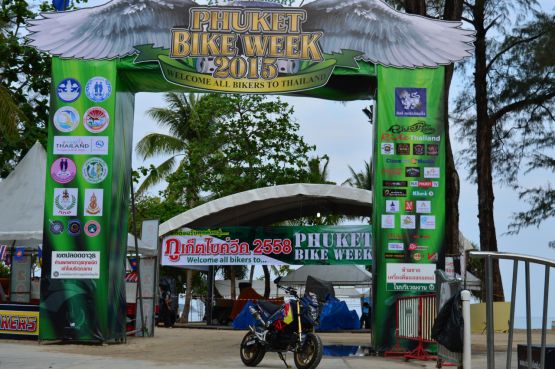 The Phuket Bike Week (PBW), probably the biggest bike week in Asia, got me all excited from the moment I booked my ticket to Thailand. I was on my way to the hotel from the Phuket airport and saw these little motorcycles zoom past my cab. I thought to myself, "Those look fun," and I wanted to get on one of these little wonders. So I got to my hotel, dumped my bags and ran out to scout for a place that rented bikes. Our friend from Ridethailand.com, Suman, put me in touch with one of the rental bike shops and I went to check them out.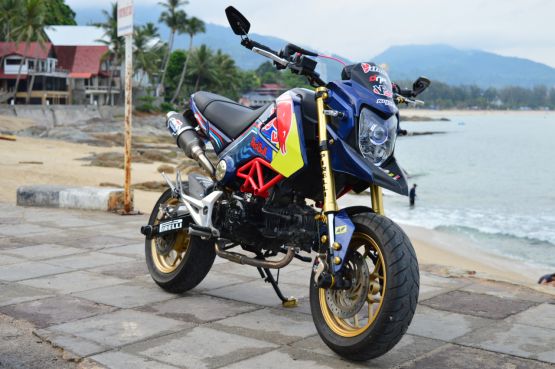 I reached the shop and saw a number of bikes for rent, including a Ducati 899 Panigale, a Yamaha R1 and more, but parked right between these big bikes covered in Red Bull livery was a Honda MSX 125. Having paid 500 baht by way of rent and having left my passport as insurance, I left the shop astride this tiny tot that had aroused so much curiosity.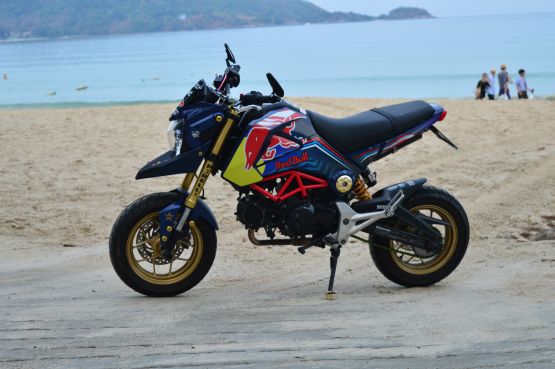 My visit to the shop and observations while out on the road revealed an interesting fact – a majority of the bike-owners in Thailand have some sort of personal customisation done. Unlike in India, in Thailand virtually no one rides a stock bike. Naturally, the MSX that I rented was also heavily customised. Apart from the livery, there were after-market exhaust, wheels, handlebar, bar-end mirrors and braided brake lines, signs that the owner liked to tinker. All of these added a personal touch to the styling of the bike. The MSX has a vividly muscular look to it while the projector headlamps make for some added fierceness.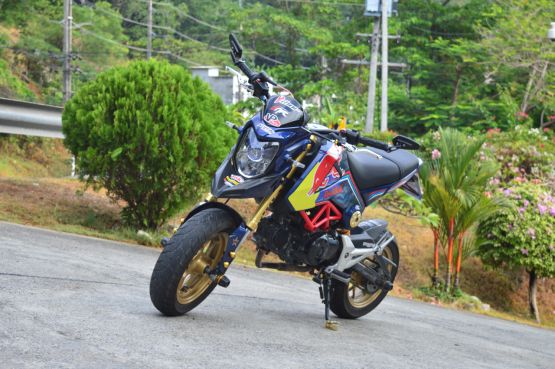 Brimming with excitement at finally nabbing a pair of wheels, I rode straight for the grand opening of the 21st PBW 2015. Amid all the big bikes (some much bigger) like the Harleys, BMWs, Ducatis, Kawasakis, this little wonder surprised me because it was making heads turn. Although, to be fair, it wasn't just the tiny bike, but also the six-foot, big-build guy riding it. Frankly, I looked as if I was riding a child's tricycle. With all eyes on me, all I could think of at that moment was that iconic line from the movie 'Madagascar' where the oh-so-epic penguins say, "Just smile and wave boys."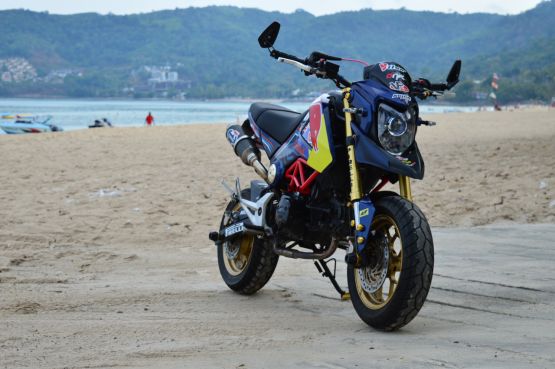 With adrenaline coursing through my veins after having stolen some of the limelight on the opening day, I decided to go out and really dig into the bike and see what it was made of. Early next morning I saddled up and headed for the outskirts of the city. The cool breeze and smooth roads of Phuket were perfect for a morning ride. Honda's pocket-rocket no doubt has a muscular aura about its design, but that is not what's special about this bike. What's special is the way it goes. The 124.9-cc, fuel-injected, four-stroke engine makes 9.7 PS and 10.9 Nm of peak torque, so you can see there are plenty of Indian machines with as much or even more. But the big difference is in the weight. The little Honda is about 20 kilos lighter than any 125-cc Indian motorcycle, which meant a better power-to-weight ratio, resulting in brisk acceleration.