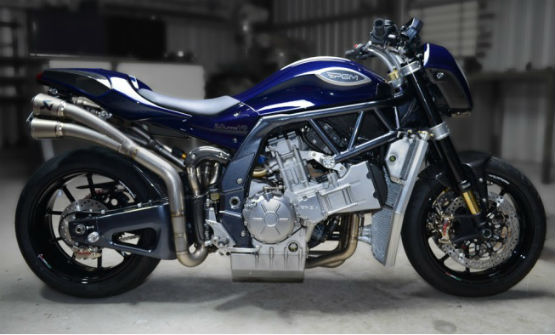 It's not often that tuners and engine builder start from casting an engine for a prospective build. They are usually built around an existing stock engine which is then tuned for performance. However, when one proposes to build a 2.0-litre V8 engine for a motorcycle – a configuration that whacko has to be ground-up, and that is exactly what the team at PGM did. Conceptualised by Paul G Maloney, PGM took shape with the help of engineer Clayton Stairmand who developed the first CAD models for the engine. Following this Neville Hazelman helped in the tuning and endurance testing of the V8.
The 2.0-litre V8 has short-stroke geometry with five valves per cylinder and an astonishing 13:1 compression ratio. Exhaust has been designed by Akrapovic. Drive is sent via a six-speed sequential gearbox. The one-of-a-kind engine puts out a mental 334 PS at 12,800 RPM and 214 Nm torque at 9,500 RPM at the output shaft. Built using exquisite materials Chrome-Moly and CNC machined Aluminium the frame uses the 90-degree V8 engine as a stressed member.
Rumours surrounding the blogosphere suggest an astronomical price tag of $180,000 (Rs 1.14 crore approximately).