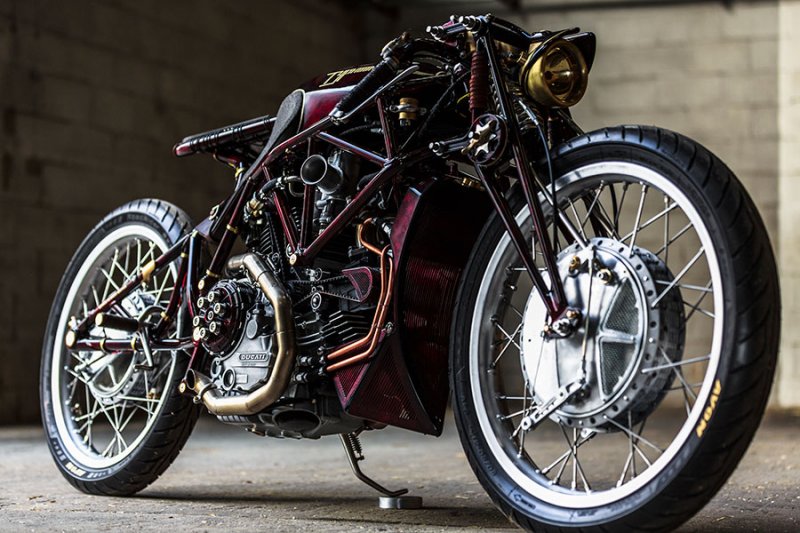 A custom motorcycle is one that invokes nostalgia in the rider, one that commands weeks, and weeks of hard work and fine craftsmanship. The Ducati 900 SS based 'Typhoon' is one such custom build. As it is, the 900 SS is a bike that will make collectors crawl through glass to lay their hands on one and when the guys at Old Empire Motorcycles (OEM) had one they could retain, they took their time to build one masterpiece. The Typhoon took two years to build and is a true-blue retro ride. A living testament to pure motorcycling: old school, utilitarian, and fast!
The Old in Old Empire Motorcycles is retained only in the styling cues of the Typhoon. While the high quality fit and finish of 21st century manufacturing and fabrication techniques are evident in every other aspect of this build. This makes the bike even more desirable as it combines the best of both worlds.
The minimalistic styling involves showing a lot of that mother-of-god L-twin powertrain within the calculated chaos of the dual-tubular chassis. Speaking of the chassis, the swing-arm has been welded right on to the frame to make it a proper racing hardtail: one that is red in tooth and claw! And a racing hardtail needs a committed riding position which is easily taken care of by the low slung handlebars flanking the brass headlamps and girder forks. If there is one, then god is definitely in the details.
This can be seen in the tastefully designed tank with leather shrouds. The bikes more modernist tendencies are carefully mitigated by elements like the vintage handle-bar levers, leading shoe brake system and an unsprung custom seat. Liberal use of leather along with that striking livery adds to the butch, retro appeal of the motorcycle.
The Typhoon is a testament to a motorcycling era that was simple, uncomplicated and pure. It will surely grab eyeballs at the OEM garage!
Story: Aniruddha Mulgund
Images: Old Empire Motorcycles