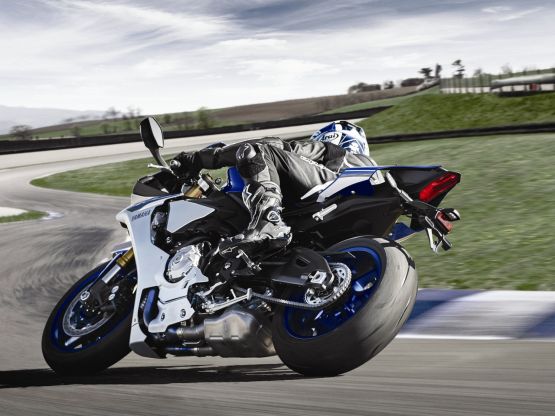 The motor is a gem: not just plenty powerful up top but smooth, flexible and full of character for a straight four. Despite its even more over-square dimensions it seemed respectably strong low down, happily pulling from below 4,000 RPM in fourth and fifth on the way back to the pits at the end of the first session. The top-end charge didn't seem quite as vicious as that of the S1000RR or Ducati's 1299 Panigale, but perhaps that was due to the wheelie control seamlessly doing its stuff to keep the front end from lifting.
Throttle response was superb; so much so that on a dry track there was no reason to use anything other than the most aggressive power mode. The quick-shifter worked flawlessly, too, once I'd had the lever lowered slightly, although the R1 doesn't have the auto-blipper that allows clutch-less down-shifts on the BMW and Ducati.
Handling was just as you'd expect from a light, short, stiff, race-bred bike. The launch R1s had been well set up by Yamaha's test riders and needed only a fraction more fork preload to corner with stunning pace and poise on a circuit that ranges from that fast, bumpy first left-hander, where stability is the prime requirement, to a series of slow-speed bends that put a premium on flickability.
The Yamaha passed both tests and all those in between, its super-sophisticated electronics helping make it as safe as it was fast.
Over a couple of crests it snapped its bars briefly but always settled down with minimal fuss. The Bridgestone RS10R tyres — a softer, track-day oriented version of the RS10 that the bike is delivered with — gave heaps of grip, and meant that I had to dial in plenty of throttle to get the rear tyre moving. Frankly, I couldn't tell the difference between the traction control and slide control, but between them they make a formidable partnership. You really just can wind open the throttle at full lean on the apex of a bend and let the IMU sort out those 200 horses.
Stopping power was impressive, too, thanks to new, lighter Monobloc callipers biting 320-mm discs (10 mm wider than the previous R1's), and wired up via braided hoses with Yamaha's Unified Brake System, which adds a bit of rear anchor when the front is used, and is linked to the IMU so is clever enough to moderate this depending on lean. It's not a full cornering ABS system like the 1299 Panigale's but still slowed the Yam mighty hard and safely.
It ads up to a stunningly quick, capable bike that puts Yamaha right back in the super-sport race. Inevitably, it'll be firm and uncompromising as a roadster, but that flexible engine and light, agile chassis will be assets for fast road riding too. The R1 is sure to be right up the sharp end when the inevitable shoot-outs get under way, and it's priced to be equally competitive in the showroom. If you want the full MotoGP experience from a production bike, this is as close as it gets.