Yamaha launches the Fazer F1 Version 2.0 model, complementing the recently launched FZ 2.0 series.
The Fazer F1 features Yamaha's New Generation Engine Development Ideal called the "Blue Core", which features a fuel-injected 149cc, air-cooled, single-cylinder engine. The Blue Core engine boasts of improved performance in all aspects like a 14% improvement in fuel-efficiency, better acceleration, modifications to the chassis making it lighter, new front and rear tyres and a multi-functional instrument panel with an "Eco-indicator".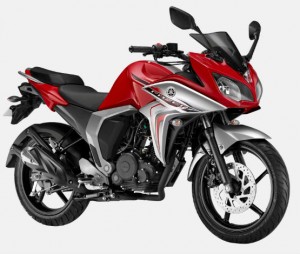 The Fazer F1 catches your eye with its sporty look and comes in three color options, namely Red Dawn, BlackHawk and White Cloud. Yamaha claims the Fazer F1 can deliver a high fuel economy rate, and plans to target buyers aged between 18-30 years. The Fazef F1 has been priced at Rs 83,850 (Ex-showroom Delhi).
Giving a statement on the occasion, Roy Kurian, VP Sales and Marketing Yamaha said "We realize the ever changing requirements and preferences for our Indian motorcycle users. A new segment of young people not only use motorcycles for city commute but as a lifestyle statement and for touring purposes. Acknowledging these dynamics, we have introduced our new offering the Fazer F1 Version 2.0, combining both fun and economy for the customers to ride free in the open blue sky".
Story: Ryan Lee