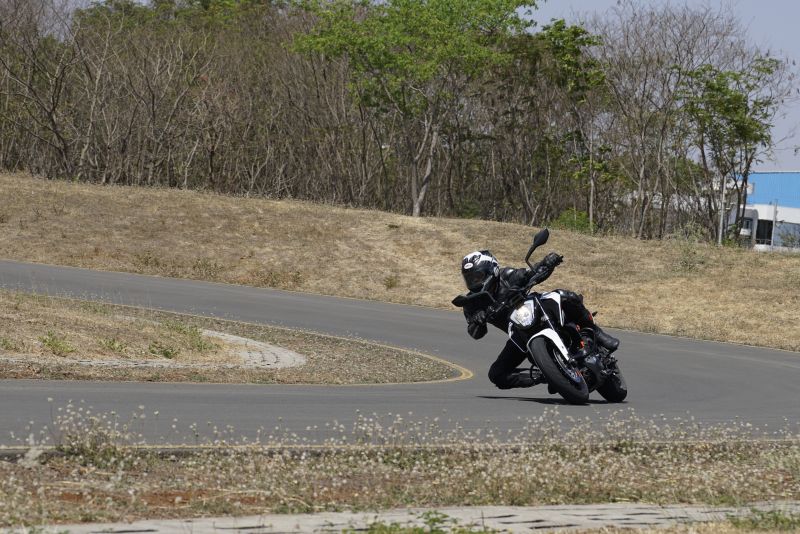 Tap the one-touch starter button and the 248.8-cc single purrs to life instantly as the broad new seat welcomes your derrière. The engine sounds crisp and subdued, but wind open the throttle and the exhaust spits forth a throaty growl that couldn't be mistaken for anything else on our roads. The clutch felt light and the bike slotted easily into first as I set off on a few laps of Bajaj's test track in Chakan. The riding position is upright and relaxed, with enough room to move about on the seat, and getting into an aggressive crouch seemed to come naturally when I upped the pace. The foot pegs are placed high enough to give the bike ample cornering clearance, and the first thing I noticed was was how eager the bike was to turn into each corner; this may be due to the 9-mm-shorter wheelbase than the previous Dukes. KTM seem to have got the fuelling spot-on, and the bike responded smoothly to throttle inputs across the rev range, and while the brakes seemed adequate, we would have much preferred the sharper bite of the larger disc from the 390 Duke, coupled with ABS. Like the 200, the 250 Duke also runs on MRF rubber, and although we would have liked to see the higher-spec Metzelers, I was suitably impressed with the grip offered by these home-grown tyres during cornering and also hard braking; they stood their ground and inspired confidence.
Like all the single-cylinder KTMs before it, the 250 likes to be revved hard, but makes its maximum torque and power lower than the 200, and pulls better than the 200 at lower revs; this, along with the larger 46-tooth rear sprocket endows the 250 Duke with excellent acceleration and a wheelie-friendly nature. The new engine retains the 72-mm bore of the 200, with the additional capacity coming from the 61.1-mm stroke; 12.1 mm more than the 200. The engine revs up quickly, allowing me to tap up quickly through the smooth-shifting six-speed gearbox, and then flat out on the long straight, I saw a maximum indicated speed of 144 km/h.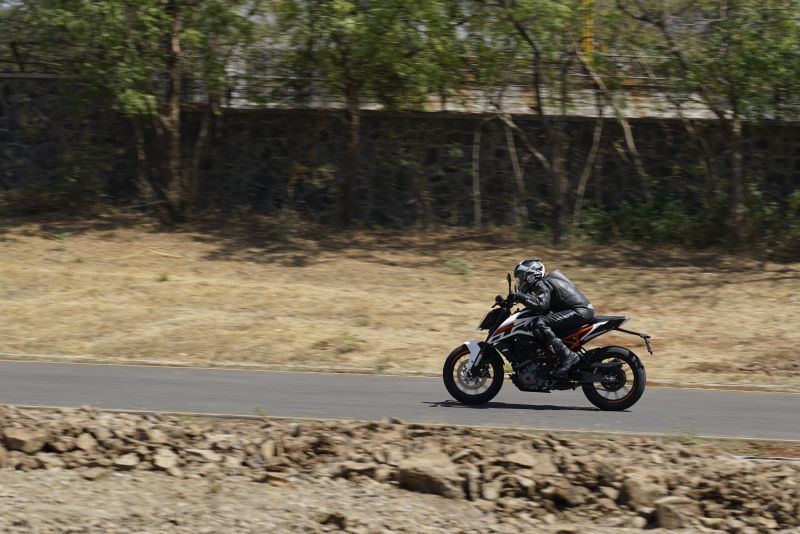 In my opinion, KTM have successfully slotted this machine right between the 200 Duke and the 390 Duke, and at Rs 1.73 lakh (ex-showroom, Delhi), to be about 30 grand dearer than the 200 and about 53 grand cheaper than the 390, we think they've got the pricing just right as well. With the 200-300-cc motorcycle segment growing at a considerable pace, this bike could be the next big seller from the Austrian brand. Pick up a copy of Bike India for a more detailed road test.