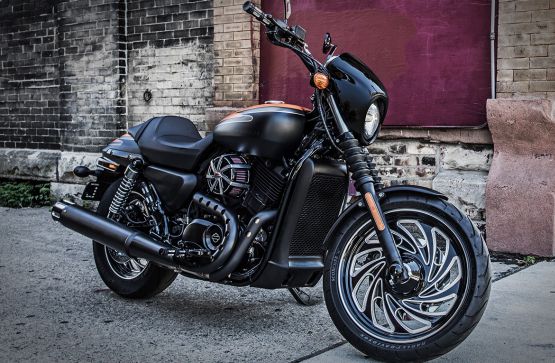 Harley-Davidson are set introduce not one, but two new models in a new entry-level segment, dubbed the 'Street' line; not to be confused with the Street Bob or Street Glide. The move comes as a result of wanting more volumes and with the current trend of downsizing, Harley-Davidson saw it fit to follow suit. The new models will be positioned below the 'Sportster' line, which has the 883 SuperLow: the current first step to the H-D brand.
To debut at EICMA, the new Harley-Davidson motorcycles will still be V-twin engined cruisers, but will be considerably smaller in size and pack lower displacements. The new Revolution-X 60-degree V-twin engines, in 494cc and 749cc guises, are liquid cooled, run 4 valves/cylinder and will rev higher than the Sportster range. The build, and styling, resemble a mix of the Sportster and VRSC lines. We expect the 500 to put out around 35 PS and 40-45 Nm of torque. The larger 750 can be expected to deliver around 45-50 PS and about 60 Nm of torque.The 6-speed transmission sending power to the belt-driven rear wheel will make short work of touring. The new bikes will also weigh in much lower than the 245 kg SuperLow, with the 750 touching 217 kg wet, and the 500 possibly tipping the scales at just below 200 kg dry. The wheels will be 17-inch front and 15-inch rear with more than adequately wide rubber.
The best part though, is the price. The Street models are expected to be heavily localised and produced in the country. Thus, a starting price tag of Rs 4 lakh seems reasonable for the 500, with a slightly heftier figure on the 750. There will also be a slew of custom parts and accessories, as is the case with every Harley-Davidson motorcycle.
Check out the video here:
http://www.youtube.com/watch?v=B-eE5_EM3YA
We can't wait to see these models on our roads. Stay tuned to our EICMA coverage to find out more.

Story: Jim Gorde