Japanese rider Masaru Abe wheelies for over 500 kilometres to set a new world record.
Masaru Abe rightly earned his 'Wheelie King' nickname as he smashed the previous wheelie world record of 331.0195 kilometres, set in 1991 by Yasuyuki Kodo, by riding a Yamaha Jog scooter on one wheel for 500.5322 kilometres. The record was set on the oval track at the Kawaguchi Auto Race Facility in Saitama, Japan, and although he set a new world record, Abe fell short of his personal 600-kilometre target.
The record attempt started with Abe hoisting the front wheel at 7:09 am while waving the Japanese national flag, after which he proceeded to complete lap after lap of the 688-metre oval circuit balanced on one wheel. He completed 39.2 kilometres in the first hour, but was already in need of painkillers for his lower back by the second hour. Still, through the pain and discomfort, he soldiered on. Four hours into the record attempt Abe got some added support when former two-time 125-cc world champion Haruchika Aoki arrived at the track to cheer him on. Aoki said, "I would never be able to perform wheelies with control on a weak 4-stroke 125-cc scooter. This course is also known as being especially windy. The vehicles on the course can be engulfed in powerful wind. With the slopes on the track, I think just holding a wheelie is difficult enough."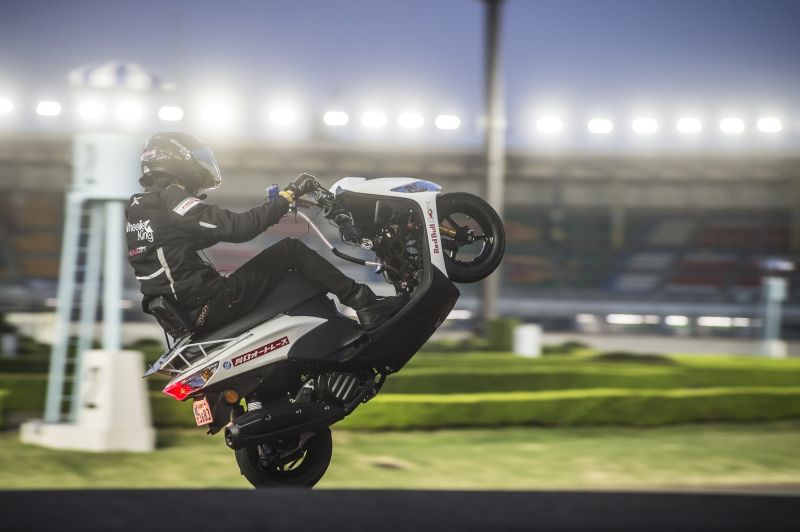 It was 3:28 pm, 8 hours, 18 minutes and 43 seconds in, when Abe finally broke Kudo's record from 1991 and raised his left arm in victory as the crowd cheered him on; all while still on one wheel. Not satisfied with just breaking the record, Abe wanted to set the bar even higher and continued for five more hours until finally pain, exhaustion and dehydration got the better of him. He finally brought the front wheel down after over 13 hours, having crossed the 500-kilometre mark on one wheel. An outstanding achievement, that we don't see anybody repeating any time soon.