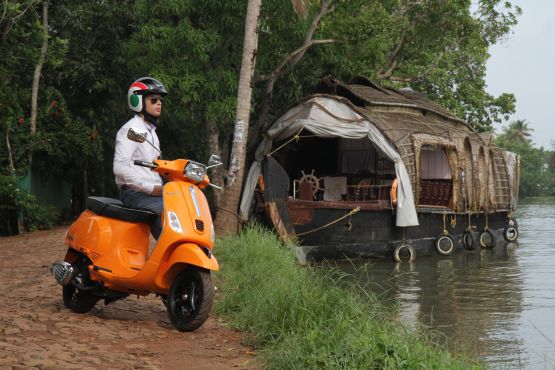 With the Arabian Sea to the west, the Western Ghats towering in the east and networked by 44 rivers, the enchanting State of Kerala enjoys unique geographical features that have made it one of the most sought-after tourist destinations in the world.
Thus, when Piaggio India invited us for a short experiential ride with the new Vespa S at the enchanting lake resort of Kumarakom, I was all smiles for this much-needed holiday.
This was my first-ever visit to the surreal state of the Gods. I had heard a lot about Kerala – salubrious climate and a long shoreline with serene beaches, tranquil stretches of emerald backwaters, lush hill stations, exotic wildlife, picturesque waterfalls as well as sprawling plantations and paddy fields. I was eager to discover this paradise on earth!
We touched down in Kerala on a dark, cloudy day. The thunder gods were in full swing as the region received its first spell of rain. A quick two-hour drive took us to our destination: Vembanad Lake, Kumarakom, where the marketing bigwigs of Vespa were going to launch the 'Do you Vespa?' campaign. The essence of organizing this experiential ride in Kerala for us journos was to create a much-needed buzz and to throw light on how Vespa owners are a class apart from other scooterists the world over.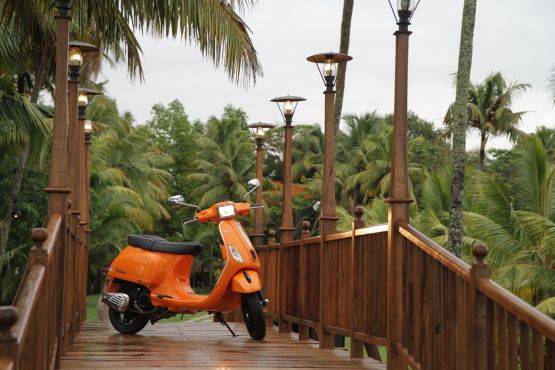 Vespa scooters greeted us at the Kumarakom lake resort. It just felt like a crazy carnival of bright Arancio Taormina (orange) Vespas. There were Vespa scooters parked at almost all corners of the resort, a few of them even managed to attract the lens of my photographer colleague – a Vespa S which was parked on a traditional Kerala canoe and another that graced the edge of the resort's infinity pool.
It was a near-perfect setting for the fun evening that was planned for us. The backwaters looked scenic and calm during sunset and the stage was set for an informal press conference on day one as M V Krishna, VP, Marketing, Vespa India, greeted us and focused our attention on the giant screen which showcased the Vespa legacy movie clip. This was quickly followed by performances of renowned sand artist Rahul Arya, who highlighted Vespa's rich heritage with his breath-taking sand-art, and acclaimed stand-up comedian, Papa C J, who left us all in splits with his 'Do you Vespa?' stint. We had to play the role of a discoverer the next day so we decided to call it a day.