We spoke to Yadvinder Singh Guleria, Chief Commercial Officer, Royal Enfield, about the manufacturer's latest apparel line.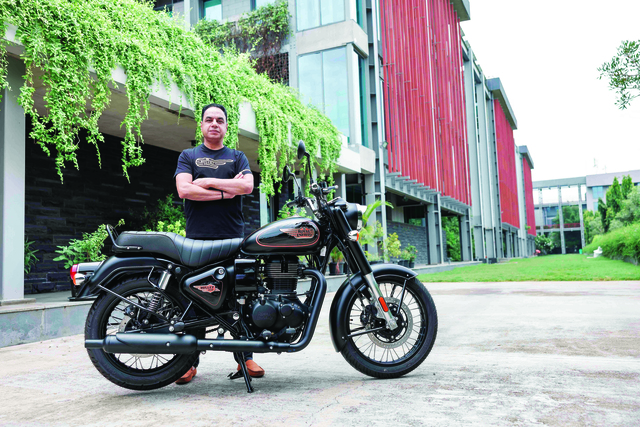 Interviewed By: Joshua Varghese
What was the inspiration for the Streetwind Eco jacket?
At the core of Royal Enfield's ethos is the commitment to leave every place better. This comprehensive approach to sustainability extends to every part of our business, including apparel. Our goal is to develop a riding gear portfolio that caters to riders regardless of terrain, weather conditions or destinations while also charting the way towards sustainability. Recognising this need for eco-conscious choices in the riding gear segment, we were able to come up with the Streetwind Eco Riding Jacket. Built by repurposing 75 plastic pet bottles per jacket, this latest addition to Royal Enfield Apprarel's offerings also integrates 100 per cent recycled materials. The Streetwind Eco Riding Jacket continues to offer the utmost comfort, safety, quality, and style while prioritizing sustainability.
Considering that it is made of recycled material, could you explain why it is more expensive than the Streetwind V2
The Streetwind Eco riding jacket is made using 75 plastic pet bottles per unit and 100 per cent recycled materials such as recycled polyester shell fabric, recycled polyester mesh fabric, and recycled nylon Cordura. The building of these jackets involved extensive research and development and the process of collecting, cleaning, and transforming recycled materials into high-quality fabric. Additionally, the jacket also comes with CE Level Two Ergo pro-tech armour for qualifying in challenging conditions like ambient, wet, hot, and cold temperatures and their 3D construction ensures a perfect fit for the human body's impact zones.
At a time when manufacturers are offering Level One armour, the Streetwind Eco offers Ergo pro-tech CE Level Two. Why not include a Level Two back protector too?
Each rider has unique preferences when it comes to the level of protection they seek. For instance, opting for CE Level Two armour for shoulders and elbows offers superior impact protection. However, some riders may favour the comfort and flexibility provided by a CE Level One back-protector, especially during longer rides.
The Streetwind Eco jacket is specifically designed to be lightweight, thus making it an ideal choice for daily urban commuting. What sets it apart is its consideration for urban riders who prioritise flexibility and ease of movement during daily commuting. However, for those who seek CE Level Two back-protector, we have other jacket options.
What has been the rate of growth for the apparel business in India?
Founded in 2014, we have experienced remarkable growth in recent years, surpassing the ambitious targets we had set initially. This performance has translated into consecutive years of double-digit growth. Several key factors behind this sustained growth include the introduction of numerous innovative products, strategic brand partnerships, a heightened focus on safety awareness, and our unwavering commitment to providing accessible pricing and widespread availability.
May we expect more products from the partnership with Alpinestars and TCX?
We believe collaboration across brands is something that intrigues our audience when they see two of their favourite brands coming together to create something exciting. While these collections featured a limited number of exclusive items, we are certainly enthusiastic about more future collaborations with brands who share the same ethos as Royal Enfield.
Will we also see Royal Enfield partner with a helmet brand?
This year, we have several collaborations in the works for our apparel line. However, before we commit to a specific brand, we go through a comprehensive process and collaborate with brands that share our vision of promoting the essence of pure motorcycling. It is paramount that these partnerships are forged in the most genuine and meaningful manner possible. Leveraging our market insights and understanding of customer requirements, we collaboratively identify and address gaps in the market.
Could you give us a hint about what to expect from Royal Enfield Apparel next?
As Royal Enfield Apparel continues to solidify its presence, we intend to bring relevant offerings for the motorcycling enthusiasts, with a focus on safety, comfort, and style. Our direction revolves round four pivotal aspects. First, to ensure a series of enhancements to existing product lines, with a sharp emphasis on elevating both style and functionality. Second, broadening our current range, ensuring that both riders and non-riders are presented with a wider array of apparel choices. Third, we will expand both the women's range and the adventure segment with more touring-specific gear. Lastly, accessibility-led growth ensuring multi-channel availability of our range of apparel and riding gear to all riders and motorcycling enthusiasts.
Also Read: Interview – V Sivaramakrishnan, Chief Technology Officer, TVS Srichakra Limited