Hero MotoSports Team Rally
Sherco-TVS lost the bragging rights to being the only Indian team at the Dakar with the entry of Hero MotoSports. After roping in German off-road specialists, Speedbrain GmBH, the team made their first move at the Merzouga Rally, Morocco, in 2016. Riding on that wave of success, they turned up at Dakar 2017 and finished it with a favourable result. This year, they were back with a new motorcycle: the Hero 450 RR.
Riders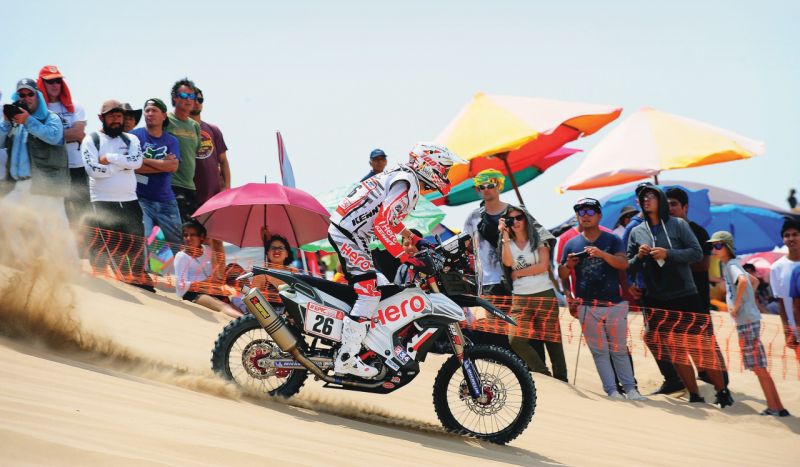 Joaquim Rodrigues (Portugal, #26): Popularly known as J-Rod, he has more than 25 years of Supercross and Motocross racing experience under his belt. He signed up with the team for their début year and rode to a 12th-place finish. This year, he was not as fortunate, though. Early into the first stage, an error in judgement saw him fly off a dune and plummet to a nasty landing. A few hours later, crestfallen team officials confirmed that J-Rod was declared unfit to continue the race.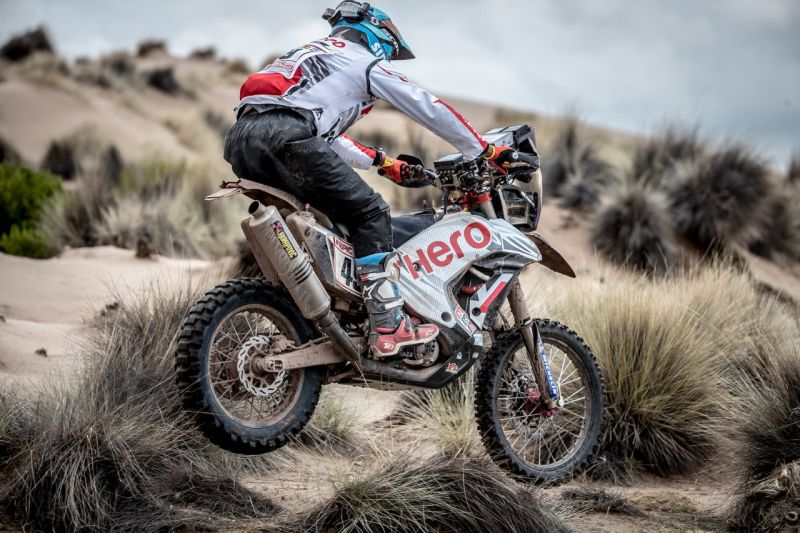 CS Santosh (India, #49): He was the first Indian to participate in the Dakar. Racing with Kini-Red Bull, he finished Dakar 2015 in 36th place. After his second stint, this time with Team Suzuki Rally, Spain, he caught the attention of the Hero factory team. He raced for them in 2017 and finished in 47th place. This year, Santosh had a dream start (13th place, Stage 1) but ran into some trouble in the following stages. His mistakes and misfortunes included running out of fuel, losing the way, and a few crashes. Despite these setbacks, he crossed the line in 34th place, his personal best thus far and the best result yet by an Indian at Dakar.
Oriol Mena (Spain, #61): Mena is the youngest rider in the team and also the latest addition to it. Riding the 2017 motorcycle at Dakar this year, he outran his team-mates by the end of the second stage (27th) and had broken into the top 20 by the third day. His best finish of the race was a fourth place in the 10th stage. He finished Dakar 2018 in a laudable seventh place; his personal best and the best finish yet by an Indian team at Dakar. Looks like Hero MotoSports have struck gold with this one.
In addition to talent and sheer determination, these achievements were only possible due to the unflinching support the riders had from their teams. As soon as the riders reached the team tent at the bivouac, mechanics would fuss over the motorcycles while medics and physiotherapists ensured that the riders were in top form, both physically and mentally. Armed with experience and the tricks of the trade, mentors make all the difference in helping the riders understand what they could do better to increase their pace or surpass a difficult stage.
Now, what if I told you there are men who face the Dakar alone?
Formerly known as the 'malle moto' (French for 'motorcycle trunk') class, this year they were christened 'Original by Motul'. These riders are the ones who experience the full wrath of the Dakar. They are not allowed the luxury of an assistance crew and an assortment of spare parts. They are allowed one small trunk which they can fill with their tools, clothes, and some spare parts. The trunk will then be transported from one bivouac to another for them. Each motorcycle has to be repaired by its rider and no one else. So, after each stage, they have to fix their motorcycles, map out the following day's roadbook, and catch up on some sleep (if there is any time left for it, that is). Of the 27 who enrolled this year, only 16 saw the finish line. Unlike the riders with teams, these guys are not 'in it to win it'. They are simply there to see if they have what it takes to stand up to the formidable Dakar and survive. Then there are riders like Olivier Pain and Lyndon Poskitt who have already experienced this madness and returned for more, sometimes giving stiff competition to Dakar champs.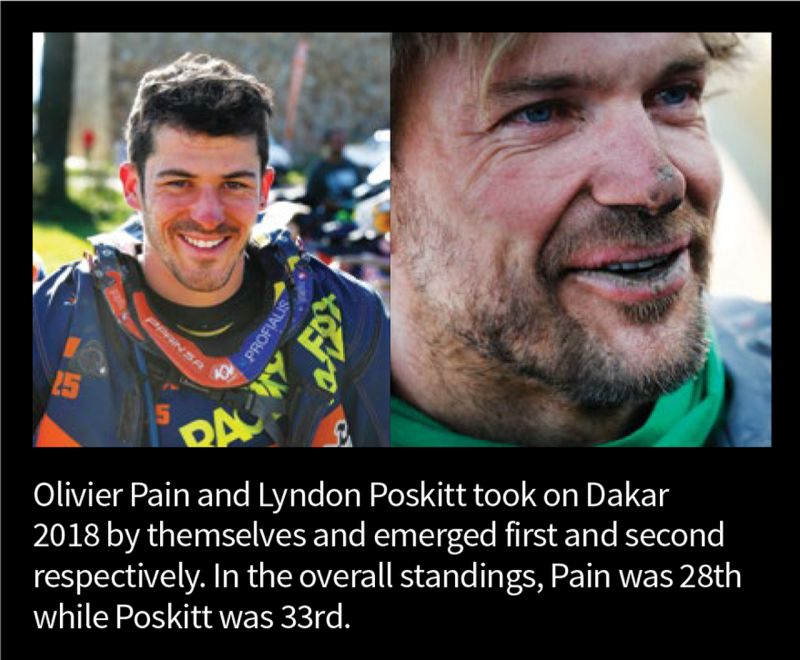 Although India has made steady progress in international racing, national motor sport is yet to get the limelight it deserves. In the off-road racing category, Aishwarya Pissay, Abdul Wahid Tanveer, Natraj R and a few others are creating ripples at the national level. A few young riders are also slowly working their way up. Let's hope all this talent is nurtured and put to good use in the following years. Maybe, we will see more Indian riders at the Dakar sooner than we think.