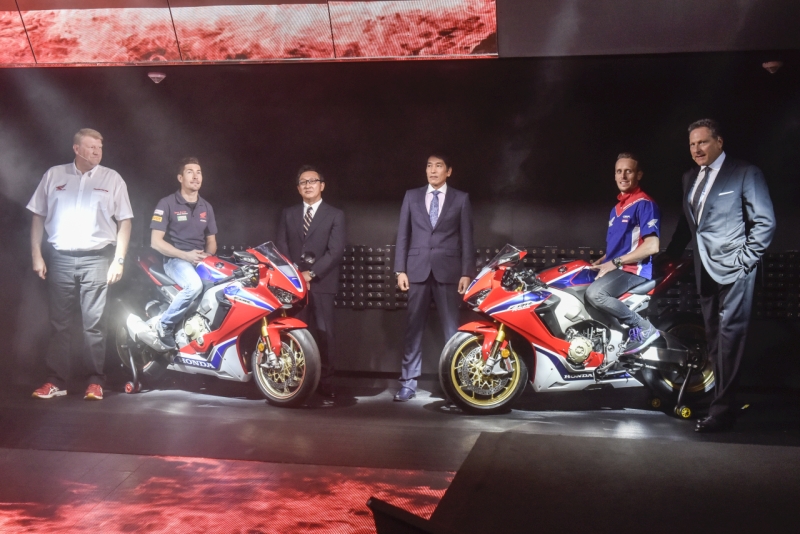 Honda have been busy this INTERMOT, unveiling a whole clutch of bikes including updates to the CBR1000RR Fireblade SP and SP 2, and 2017 versions of the CB 1100 RS and EX.
2017 marks the 25th anniversary of Yamaha's legendary Fireblade moniker, with the original CBR900RR Fireblade making its maiden appearance in '92. Now to the mark the occasion we have the lighter, more powerful, and technologically enhanced CBR1000RR Fireblade SP. Here is the rundown – The 999.8-cc inline-four produces 192 PS at 13,000 RPM and also churning out 116 Nm of torque with the same bore and stroke, but a higher 13.0:1 compression ratio. So that is 11 more horses than the previous iteration, which coupled with a 2kg weight-loss results in a mighty quick litre-class bike.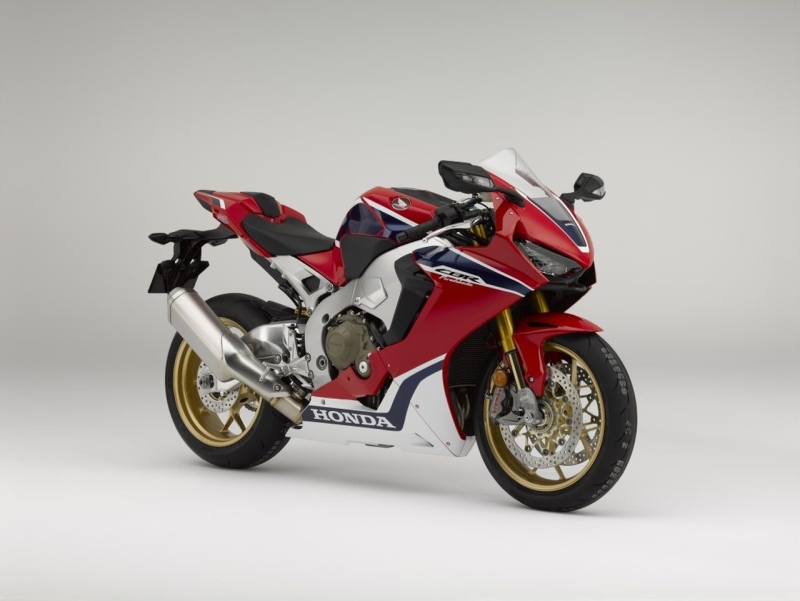 Other highlights include Öhlins Electronic Control (S-EC) front fork and rear shock with an Objective Based Tuning Interface to adjust both the compression and rebound damping force of the semi-active set up, a 5-axis Inertial Measurement Unit, Honda Selectable Torque Control to manage rear-wheel traction, Throttle By Wire, wheelie control, and a new ABS system with Real Lift Control.
M. Sato, Large Project Leader, 17YM CBR1000RR Fireblade SP spoke about the project, saying,
"All 1000cc sportsbikes are extraordinary examples of high performance engineering. But for us, for our new Fireblade we want extraordinary to be the pleasure of handling and controlling such a machine. Its true purpose – wherever it's ridden – is to enjoy something that is not normally experienced in everyday life, something that cannot be surpassed."
"The very first CBR900RR remains a milestone in our history, and an inspiration we have drawn on to radically reduce weight and increase power. And, to go to Next Stage Total Control, we have added an electronic control system that is there to support the rider, totally."What then can our new Fireblade promise our customers? That is simple – the pure joy of riding."
Next there is the Fireblade SP2, the road-legal homologation special Fireblade with components coming straight from Honda's s RC213V MotoGP bike. This track scorcher, available with two race kits, has a larger stroke with a 1mm increase, an increased diameter for the intake valves to 31.5mm and 25.5mm diameter exhaust valves, elongated spark plugs, combustion chambers wrapped in water jackets for greater cooling, and much more.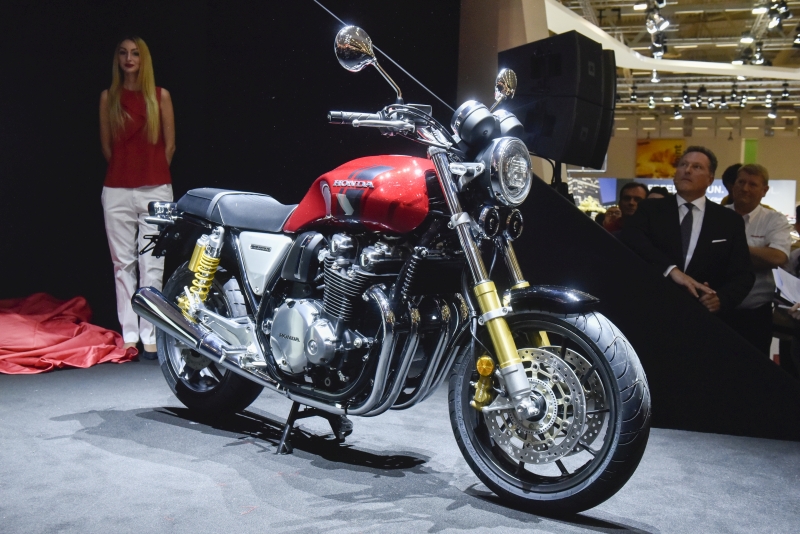 There are also two new versions of the CB 1100, the minimalistic EX now gets a more retro-styled sibling in the form of the 1100 RS. Both bikes are powered by an air-cooled four-pot powerplant creating 90 PS at 7,500 RPM and 91 Nm at 5,500 RPM. Also included in the package are Showa suspension, hydraulic four-piston brakes with dual-channel ABS, 10-spoke aluminium wheels, 16.8-litre tanks and a six speed transmission.
M. Imada, Large Project Leader (LPL) 17YM CB1100 RS spoke about these bikes, he said, "As with past CBs, we understand the timeless pleasure that our customers get from owning and riding an air-cooled inline four-cylinder motorcycle. So building on the CB1100's desirability and joy of ownership, while adding functionality and quality to deepen the sense of fulfillment, were very important elements for us to consider. With the CB1100 EX we hope many riders get to appreciate and understand a very traditional motorcycle structure."