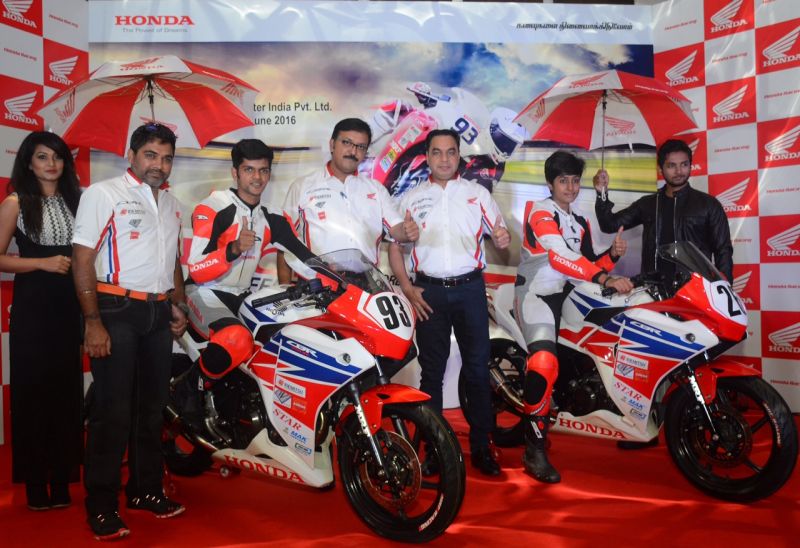 First round of the Honda One Make Race to be held at Coimbatore's Kari Speedway
The ninth edition of the Honda One Make is all set to commence on June 24, and promises to be the start of an exciting season. Honda have also gone the extra mile to get talented women on the grid, and in a first, the year's racing will include a season exclusively for women racers. The 10 ladies participating in this year's season have been trained at Honda's own Ten10 Racing Academy.
Just days before the racing was to start, Honda unveiled the race-prepared versions of the CBR 250R and CBR 150R, and also launched India's first motorsport helpline to help mould young, aspiring racers. Budding talent can call them to receive the correct guidance towards becoming future champions. Prabhu Nagaraj, Vice President, Customer Service, HMSI, said, "Motorsport has been in Honda's DNA from the inception. There is something about motor racing that grabs the imagination of almost everyone. At Honda, we are delighted to announce the launch of our helpline – 0124-6712863 through which we will be able help youngsters dreaming about a career in motorsports, actually achieve it." Speaking on the inaugural woman's races he said, "It is always Honda's endeavour to bring new categories and excitement into the race. Following an overwhelming response from participants, and support from the motorsport fraternity, we are pleased to announce a full-season of Honda Exclusive Women Race."
The Honda Racing team must be applauded for taking the initiative to nurture talented riders at the grassroots level, and making motorsport more accessible to all.
Below is the schedule for the 2016 season of the Honda One Make Race Championship
| | | |
| --- | --- | --- |
| Round | Race Track | Date |
| Round 1 | Kari Motor Speedway, Coimbatore | 24-26 June |
| Round 2 | Madras Motor Race Track, Chennai | 8-10 July |
| Round 3 | Madras Motor Race Track, Chennai | 12-14 August |
| Round 4 | Madras Motor Race Track, Chennai | 2-4 September |
| Round 5 | Buddh International Circuit, G.Noida | 30 Sep'-2 October |
Riders interested in pursuing a career in motorsport can Honda Racing's helpline at +91-124-6712863.
The Honda Ten10 Racing Academy has also announced the course dates for 2016; five sessions will be held at different venues across the country.
| | | |
| --- | --- | --- |
| Session 1 | Kari Motor Speedway, Coimbatore | July 2016 |
| Session 2 | Madras Motor Race Track, Chennai | August 2016 |
| Session 3 | Mumbai/Goa | September 2016 |
| Session 4 | Buddh International Circuit, G.Noida | November, 2016 |
| Session 5 | Bangalore | December 2016 |