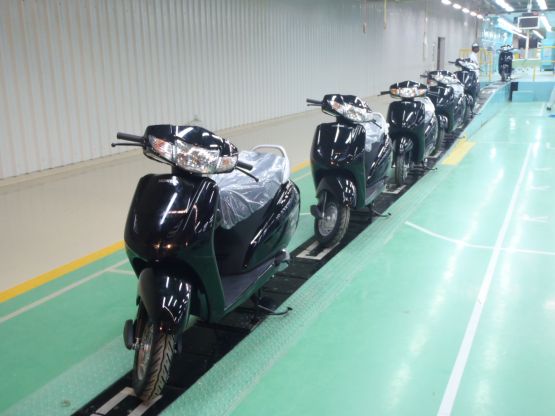 Honda Motorcycle & Scooter India Pvt. Ltd. (HMSI) yesterday rolled out the first batch of its high-selling Activa scooter from its new plant at Narsapura in district Kolar (Karnataka), HMSI's third plant in India. This marks the commencement of production on the second line at the third plant.
Last month, HMSI started production of the Dream Yuga on the first line. In the first phase of production, the annual capacity of the third plant is 12 lakh units. With the second line becoming operational, it adds six lakh units to take the total capacity to 18 lakh units by the end of the current fiscal year. This will also allow HMSI to increase its cumulative annual production capacity from 28 lakh units in FY-2013 to 46 lakh units in FY-2014 i.e. a 64% increase in just one fiscal year.
In other initiatives, within a span of six months, HMSI also announced its second traffic training park (in association with the Traffic Police) by adopting the Traffic Training Park in Delhi at Roshanara Bagh. Using its Lifetime Safety Education programme in association with the Delhi Traffic Police, instructors will work wit

h age groups starting as young as five years going up to adults, with a special focus on new and female riders. HMSI also recently was recognised by Fortune India as being among the top five companies for the title of the 'Most Admired Company in the Indian Auto industry' in 2013.
Story: Gaurav Nagpal