The styling of the Activa i is funky and modern with sleek lines and it comes in colours like Metallic Purple, Metallic Beige, Metallic Alfa Red and Pearl Sunburn White. The instrument panel looks a bit childish, but the scooter now gets a set of pilot lights. Though we wish they were LED, the amber bulbs work perfectly well. The turn indicators are combined with the pilot lights and look great while riding at night. The rear end gets a sporty looking tail, adding to the scooter's chic appeal, and it also gets a longer seat, making it versatile for a rider of any size and height. The rear hugger fender keeps the muck from dirtying your clothes and retractable outward facing foot-pegs leave the pillion rider at ease. The under-seat storage is an impressive 18 litres, but the lock to pop open the seat is placed at a lower height than what we're used to. This is good for short people, but a tall person will have to stoop to pop the seat open.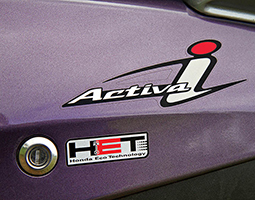 As for performance, the Activa ihit a top speed of 90 km/h, which is very impressive, and it also managed to remain stable at high speeds provided you don't get buffeted by crosswinds. It manages to pull from standstill to 60 km/h in 8.49 seconds and comes to a halt from 60 km/h in just 2.44 seconds. In the city the scooter returned a surprisingly good mileage of 60 km per litre and did even better on the highway at 74 km/l.
Overall, we think this is a good, comfortable and economical scooter for city users and could very well be HMSI's new top seller with a price tag of Rs 53,700 (OTR, Pune).
We think this is a good, comfortable and economical scooter for city users and could very well be HMSI's new top seller
Story:Rommel Albuquerque
Photography:Rommel Albuquerque & Varun Kulkarni