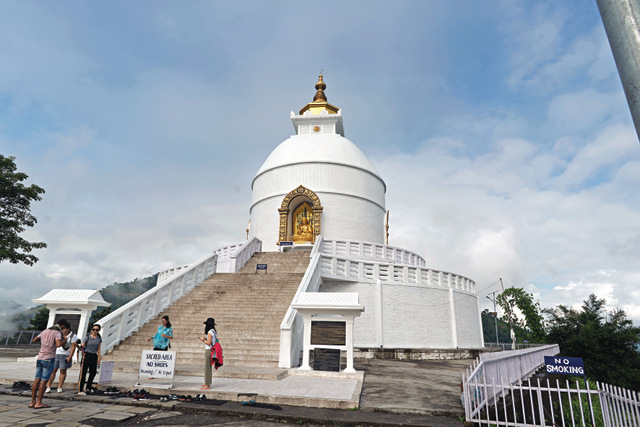 After visiting the Pagoda, it was time to set off once again. This time for the second national capital on our journey across three nations: Kathmandu. Of course, riding in Nepal means using mountain roads. So, twisties abound and I was hauling the Xpulse into corners with glee. I also spotted a few off-road trails and, after resisting the temptation a few times, I finally succumbed and rode up a tiny, narrow, steep forest trail, just for fun. With 220 mm of ground clearance and long-travel suspension, the Xpulse was made for trails such as this.
After thrashing about a bit, it was back to the highway again. Every time there was a break from the vegetation and I saw the valley spread out to my side, it caught my breath a little. The rolling cliff-face gently merging into the plains way below, covered in a thick forest of green. I couldn't get enough of it.
The ride was long, though, so I was glad when I noticed Kathmandu getting nearer. Now I didn't really know what to expect from Nepal in general and Kathmandu in particular, having never been there before, and yet I was still shocked at what I saw. As soon as I reached the city's outskirts, I could see it unfold before me. A sprawling metropolis with building after building undulating into the valley and as far as the eye can see. This city is astonishingly huge. As I started making my way towards the heart of the city, I came across an unexpected traffic jam. A local football match had drawn droves of people to come watch and they had parked pell-mell, crowded the street overlooking the pitch, and were being typical footy fans in general. As a fellow follower of the beautiful game, I couldn't be mad at their passion and, if I weren't on the trip, I would have stopped off to catch the game with them, too. Plus, why lose your cool when you have the Xpulse? I just took advantage of its turning radius and slim dimensions to squeeze through the traffic and emerged unscathed on the other side.