From Butwal I headed for the first major town in Nepal, the tourist hotspot that is Pokhara. The road was long, winding, and not great in terms of surface quality. Perfect for the Xpulse 200 then. Because any road surface is perfect for the Xpulse. It just glided over the potholes, skipped over the stones, and allowed me to get a little lean action on in the smoother corners.
Pokhara is the starting point to the legendary Annapurna trekking circuit (we don't really care about that) and is a placid, laid-back lake town nestled amid snow-capped peaks. The vibe is super-chill as is the temperature, so dress right for the dropping temperature depending upon the time you visit. There are some fascinating places to visit in Pokhara as well. Known as the city of lakes, the Phewa Lake is the second biggest and easily the most picturesque of the lot. And, oh, my god, was it a spectacular sight to behold! This majestic lake shimmering, clean, and blue, littered with trees on the bank. In the backdrop, the Annapurna massif towers over the lake with its vaunting, snow-capped peaks. In the distance, a solitary hot-air balloon adds a little more colour to the frame.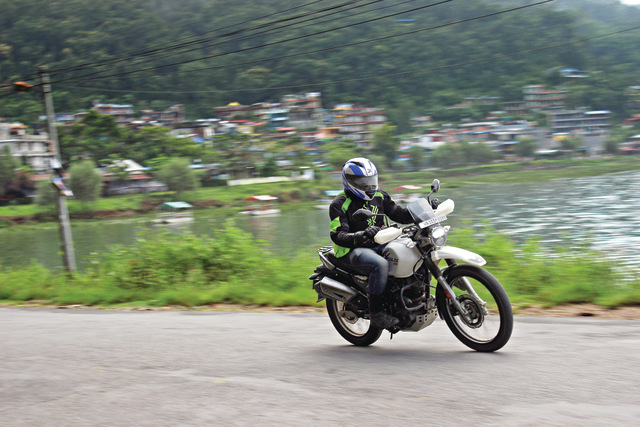 I could have just sat there by the lakeside for the rest of the day, breathing in the crisp air, luxuriating in the tranquillity and absorbing the beauty of the place. I didn't do that, though, because I had more places to explore. So, I set off for the nearby Anadu hilltop and the World Peace Pagoda instead. Built in 1999, this pristine monument is the embodiment of the Buddhist ideals of peace and harmony. Standing 115 feet tall and 344 feet in diameter, this two-tiered stupa features statues of Buddha that were offered up from different countries — Thailand, Sri Lanka, Japan, and, of course, Nepal.