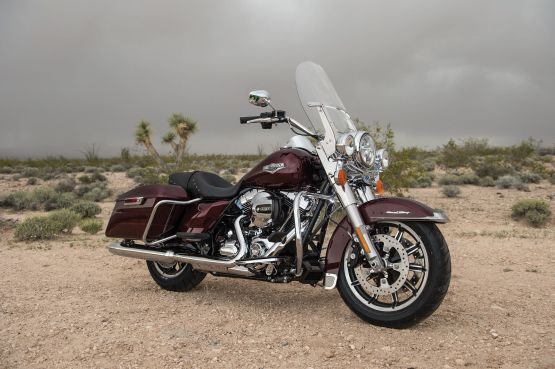 If you thought Harley-Davidson trimming its model line recently was a bit absurd, this is why. Project Rushmore isn't about one or two new motorcycles, it's the start of an all-new journey!
At a recent dealer meet in Denver, Colorado, Harley-Davidson announced Project Rushmore, a new direction so to speak, which is a product development effort to deliver a range of innovative, customer-focused enhancements to the touring range. The changes that will come about will result in improved power and braking performance, enhanced rider ergonomics and dramatic styling updates.
The new models under the project include eight new Harley-Davidson models for 2014, including the Road King, Street Glide, Street Glide Special, Electra Glide Ultra Classic, Ultra Limited, Tri Glide Ultra, CVO Ultra Limited and CVO Road King. The resulting gains from Project Rushmore improve not just performance, but also allow for better control and feel, while upping the style quotient. Project Rushmore bikes pass faster, stop quicker and see farther at night, thus inspiring rider confidence. Each model features the new Twin-Cooled, High-Output, Twin-Cam 103, or the High-Output, Twin-Cam 103 powertrains, Reflex Linked Brakes with ABS and Daymaker LED and dual halogen lighting.
Updated aerodynamics and ergonomics together improve comfort. The new Batwing fairing with split-stream venting reduces head buffeting by 20 percent. The ride for passengers is also highly improved with wider and deeper seats together with new back and arm rests. The form and the function of many components are improved. A reshaped Tour-Pak and saddlebags with easy-to-use one-touch latches, sleeker fenders, lighter aluminium wheels and more intuitive hand control switches make their presence felt. On the infotainment front, new Boom!-Box infotainment systems with colour-screen feature the first original-equipment voice recognition and touchscreen for music, GPS navigation and phone in motorcycling, with quality audio, Bluetooth connectivity, text-to-speech technology, plus support for intercom and CB communications in a single module.
The Dyna range meanwhile has received an upgrade from the 96 cubic-inch (1,584cc) motor to the larger 103 cubic-inch (1,690cc) one found in the Softail and Touring lines. The Street Bob, Super Glide Custom and Fat Bob will thus, soon arrive with bigger hearts, bringing more power and torque. Harley-Davidson will also offer the Sportster range with the Security Package option which brings in anti-lock brakes and the smart keyless security system.
We expect all these upgrades and the new range of Project Rushmore Touring models to make their way to India next year. Stay tuned for updates and reviews of these new big H-Ds.
Story: Jim Gorde