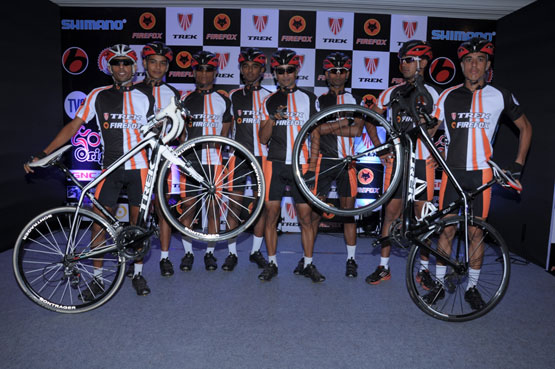 In a first such initiative by an Indian company Firefox Bikes has launched of its own road cycling team, christened Team Trek Firefox.
The idea behind this venture is to boost cycling enthusiasts by offering them world class training from some of the finest coaches from across the globe and in turn also provide them with a chance to showcase their skills through various racing experiences.
The current eight member team are a highly experienced lot, having participated at national levels and have been selected from over two hundred applications through a rigorous selection process. The team will be mentored by Srinath Rajam, Level 3 ABCC (Association of British Cycling Coaches) and backed by world class coaching company – Peaks Coaching Group.
Speaking at the launch, Shiv Inder Singh, Managing Director, Firefox Bikes said, "Firefox Bikes has been a key factor in the development of competitive cycling in the country. The team consists of eight members from different parts of the country like Delhi, Chennai, Meerut, Hyderabad, Rajasthan, Bangalore and Bihar."
Firefox Bikes is planning to widen the eligibility criteria by introducing the next set of age group, providing the young enthusiasts a chance to apply and get hands on experience from the best.