Ducati reaffirm their focus on the experiential element in their relationship with motorcycle enthusiasts by expanding the Ducati Riding Experience programme for the 2023 season.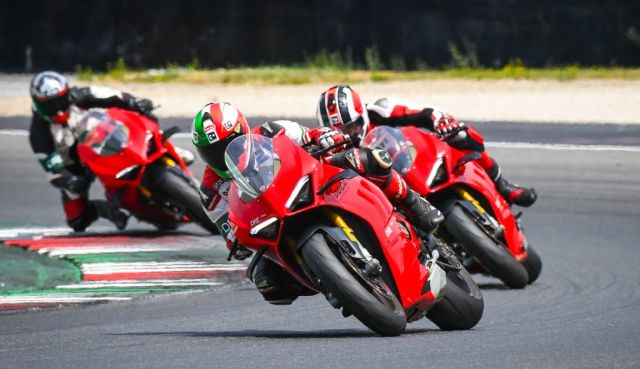 Since its inception in 2003, the DRE project has welcomed more than 28,000 people while fusing safety, enjoyment, and emotion. Each DRE format is aimed at offering the participants maximum learning and to that effect, their team includes top-tier instructors (including a number of former professional riders), prestigious settings, and, of course, lots of fun across the Ducati range of motorcycles, the rental of which is included in the registration fee.

The Modena racetrack will host the three DRE Road and DRE Rookie appointments on the weekends of May 20–21, June 24–25, and September 9–10. Two meetings with the DRE Racetrack will take place at the Misano World Circuit Marco Simoncelli on 6-7 June and 26-27 September. The Modena racetrack will host the new DRE Track Warm Up on the weekend of June 17–18. The DRE Track Warm Up is the season's primary addition for the DRE Academy 2023. The course has undergone a thorough revamp, becoming independent of the DRE Racetrack and putting a special emphasis on teaching motorcycle riders the fundamentals of riding on the track. 
Likewise, registration for the DRE Adventure will start in January 2023 with the following dates: May 25–26 and 27–28, July 13–14 and 15–16, July 20–21 and 22–23, and September 7-8 and 9–10.
Within the DRE Travel Adventures, the DesertX Expedition in Sardinia is scheduled from June 12 to 16. The four Dream Tours are scheduled for July 3-5, July 10–12, October 13–15, and October 17–19. The Multistrada Expedition will begin on October 3 in Turin and end on October 8.

DRE Adventure is a programme created for adventure-touring aficionados who want to improve their on- and off-road riding abilities and enjoy riding motorcycles such as the Multistrada V4 and the DesertX. The programme includes two days in the breathtaking Nipozzano Castle in the Tuscan hills, where participants can pick up new skills through precise instruction and engaging riding activities. With the addition of the new Multistrada V4 Rally, the motorcycle fleet for the format is increased for 2023.
All the information and details for registering for the first events of the 2023 season are available on the dedicated pages of Ducati.com website.

Story: Vaibhav Kashyap

Also read: MBP T1002V ADV; India Launch Expected