Ducati's Monster gets the SP treatment for 2023, which includes an uprated chassis, suspension, and brakes.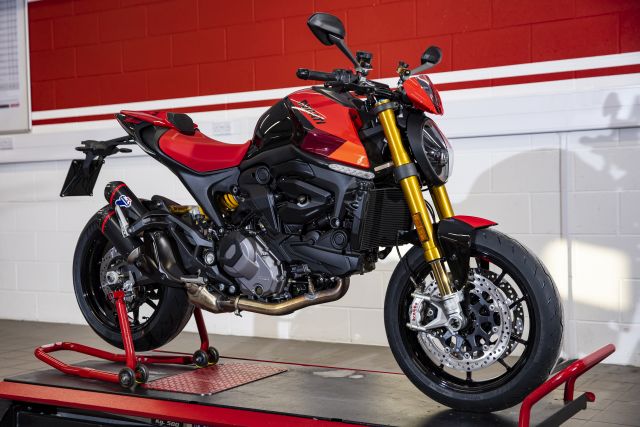 Story: Adam Child 'Chad'
Photography: Jamie Morris
Ducati's first Monster arrived 30 years ago, back in 1993. I remember seeing it in magazines for the first time, a refreshingly simple and classy naked with that familiar trellis chassis and an air-cooled V-twin engine. It was minimalist and, in essence, just a collection of bits from the Ducati parts bin, but it worked. This was good news for Ducati, as the Monster helped Ducati through difficult financial times.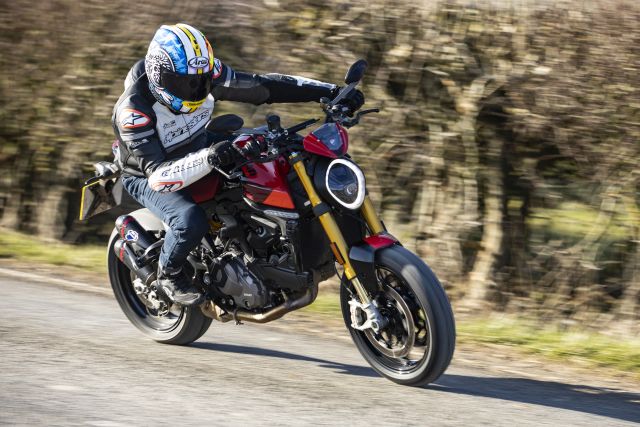 Over the years, the Monster has evolved from 600 to 1,200, air-cooled to water-cooled, and dark and basic to sporty limited. There have even been Foggy and 916 and 999 powered variants. I have been lucky enough to have ridden almost every incarnation and rode my own early Monster 600 to Italy when I was young enough to know no better.
Now all those trellis frames and air-cooled engines are long gone because Ducati only produce one Monster, an entry-level naked which was launched in 2021 and which uses the 111-hp 937-cc Testastretta V-twin. At least, it did until now and the much-anticipated arrival of the Monster SP.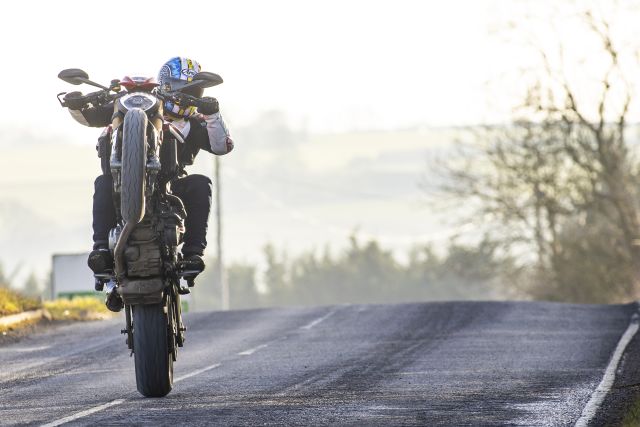 At times it seems that Ducati cannot help themselves; they cannot resist the temptation to take a relatively restrained model and pimp it into premium SP spec. SP Ducatis have always equated to something a little special, though, and still do today. The usual process involves taking the base model and adding premium suspension and brakes and reducing weight—which is precisely what they have done with the Monster SP.
It does not get lighter wheels like other SP models in Ducati's range but it does benefit from Öhlins suspension at both ends, improved Brembo Stylema brakes, a reduction in weight that is due mainly to a lighter lithium-ion battery, and road-legal Termignoni silencer, which, incidentally, does not improve performance and is simply added for aesthetic reasons.
Power remains the same as the standard Monster, but there are other small but significant tweaks such as new steering damper and Pirelli Diablo Rosso IV rubber instead of Rosso III. There is also exclusive styling, including a small fly-screen and that attractive SP-only livery. We had a few days in the United Kingdom to see if the Monster could live up to the "SP" tag.
Despite the addition of the Termignoni silencer, power and torque remain the same as the standard Monster at 111 hp at 9,250 rpm with 93 Nm of torque at 6,500 rpm from the 937-cc Testastretta liquid-cooled motor. The gearbox and gearing are the same as in the standard Monster, but the reduction in overall weight, a claimed two kilograms in running order, now just 166 kg dry, means it feels a little livelier than the standard Monster.
The on-paper performance figures may not impress your mates with 200-hp plus superbikes, but the real word on-road performance feels greater than its 111-hp peak promises. This is a lively bike that really punches out of corners. You do not have to chase the revs to have fun. It is refreshing to jump on a Ducati twin and rely on that mid to low down punch for which the brand is famous. The Euro 5-approved Termignoni silencer adds welcome bark, too, which amplifies the feeling of a sportier and faster bike.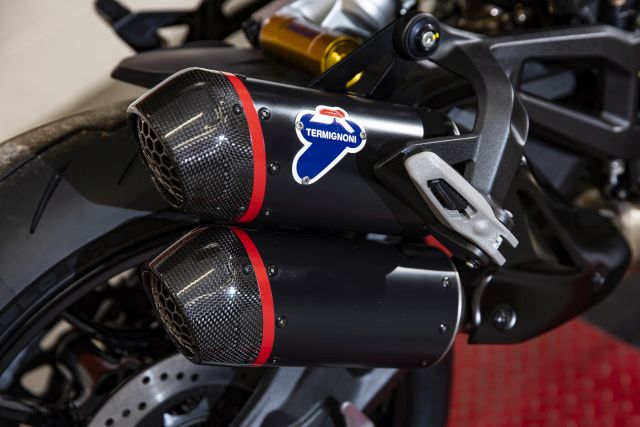 Given the quality and pure sporty enjoyment of riding a KTM 890 Duke R or Triumph Street Triple R or RS, I was a little concerned the SP might feel a little under-clubbed. But turn off the wheelie control, head out into the twisties, and the Monster comes alive. There is a liberating sense of being able to use all of it, not simply tickle the margins of its ability. It is not a toy exactly but you, the rider, are definitely the boss. On a closed road, it loves some one-wheeled action and because the power delivery is smooth and easy, it is not intimidating when you decide to do so. Even in its full-fat format the SP's fuelling is sweetly soft and the carefully packaged riding modes—Sport, Touring, and Rain—plus a plethora of Ducati rider aids help keep you safe.
When it comes to handling, this is where the SP's extra money makes a difference as the SP features Öhlins 43-mm NIX30 forks instead of KYB units up front and a fully adjustable Öhlins shock instead of a Sachs unit at the rear.
The SP sits a little higher, its seat height having been increased by 20 millimetres to 840 mm. Sitting the bike slightly higher should, in theory, increase ground clearance, allowing a greater lean angle. Pirelli Diablo Rosso IV rubber replaces the Diablo Rosso III tyres on the standard Monster.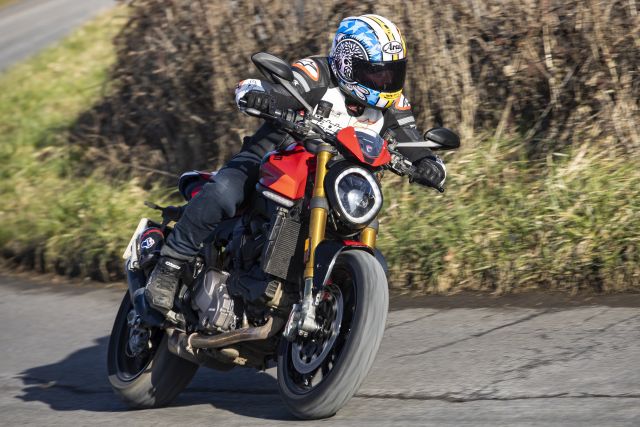 Ducati claim an overall weight reduction of two kilos thanks to those Öhlins forks, which are 0.6 kilos lighter, and new aluminium flanges for the 320-mm brake discs (0.5 kg lighter) as well as the lighter lithium-ion battery. However, adding a (non-adjustable) steering damper must have put little weight back on.
A two-kilo weight loss is not a particularly significant change, but, on the road, it feels like one. The SP is so flickable and easy to throw around that it feels smaller and lighter than it actually is. It implores you to have fun and turns noticeably quicker and easier than the standard bike, which is by no means a reluctant cornerer itself. The taller riding position gives the Monster an aggressive edge, too.
The feeling from the Öhlins is exceptional. The ride quality is plush and comfortable; sporty without behaving like a near-rigid sports bike on the road. Even bumpy B-roads at speed do not faze the suspension. Usually, light quick-steering bikes feel a little nervous at speed and on dodgy surfaces, but the Ducati feels sure-footed at all times.
Ducati claim to have improved ground clearance. Although we had dry and warm-ish conditions, I cannot categorically comment on how far. Same with the new rubber: I am unsure how much more the Rosso IV delivers compared to the older Rosso III and only a track-day in summer will tell us for sure.
The standard Brembo M4.32 Monster stoppers are quality items, but Ducati have gone one step further with the SP by adding Stylema calipers. Race-spec brakes on a lightweight naked bike result in enormously potent stopping power—supported by Ducati's excellent cornering ABS.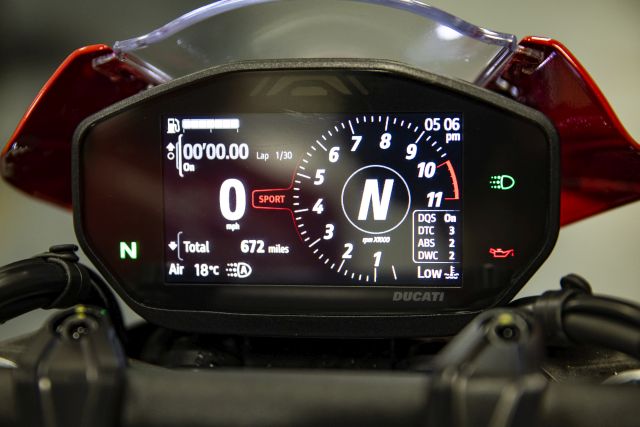 On the road, you only need one finger on the lever to haul up this lightweight firecracker and at low speed they are not too aggressive either. Equally, take the SP on track, turn off the rear ABS, and you will be stunned by how late you can brake. In fact, with race-spec brakes, quality Öhlins forks, and so few kilos to slow, the SP will embarrass a few sports bikes on the stoppers this summer.
The added fly-screen is simply a token gesture, more a styling exercise than anything else, as it offers little protection. The Monster is on the small side and I can see riders over six feet tall opting for the taller seat in the accessories catalogue.
The Monster was never designed for serious touring, but the riding position is relaxed, especially when compared to earlier Monsters which were a little more radical. I would take on a long day in the saddle without too many concerns. You are never going to have endless hours in the saddle, anyway, as the 14-litre fuel-tank and fuel consumption of about 17.7 km/l will empty that tank in about 240 km and you will be looking for fuel at 180-190 km, depending on how badly you have been behaving.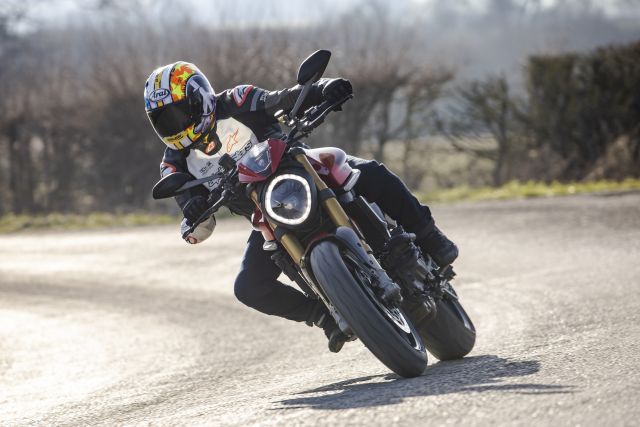 The new Öhlins suspension offers greater refinement and a plush and fatigue-free ride. It is also easy to adjust, should you add a pillion or ride on especially rough terrain.
The 4.3-inch TFT dash is the same as found on the standard Monster and is clear and easy to navigate. For £14,000 (Rs 14 lakh) or thereabouts, I wonder if some newcomers to Ducati might expect a larger and more engaging display, certainly one with Bluetooth connectivity.
The Monster SP turned out to be a nice surprise. Actually, it was much more than nice. I thought that it might feel a little flat compared to the harder-punching competition but was delighted to discover, on the road, that the Monster SP would be a genuine match for the other middle-weight sports nakeds.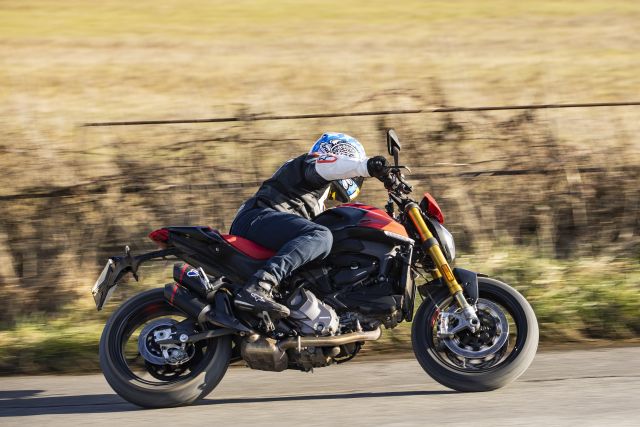 On the road, it is pure fun and comes without a trace of ego or intimidation. It is not over-complicated and delivers meaty V-twin power as well as a little more bark from its Termignomi pipe. It is so light and flickable; it stops, turns, and then goes so instinctively that you can just jump on and have fun.
There are excellent rider aids there in the background, which new riders will love, but as the mechanical grip and feedback are so good, you could argue that, apart from the smooth quick-shifter, they are not needed.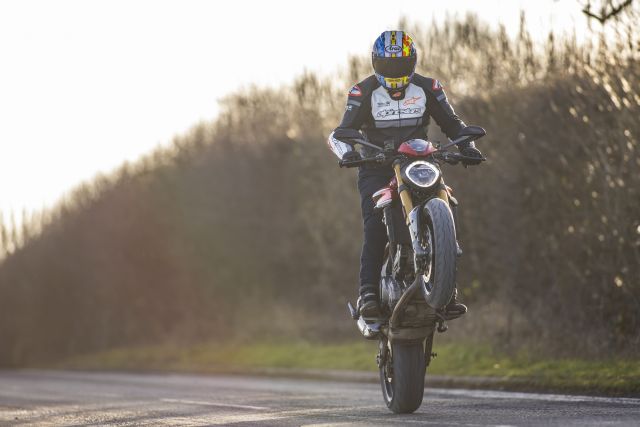 Ducati have taken the excellent standard Monster and added even more appeal and versatility, with improved lightweight handling and stopping power, whilst, at the same time, adding even more desirability. The only downside is the price. At £14,000 (Rs 14 lakh), the "entry-level" Monster is more expensive than its competitors with similar spec and greater power. But, for many, the competition simply will not have the desirability and kudos of the Ducati.
Specifications
Ducati Monster SP
ENGINE
Capacity 937 cc
Type Water-cooled, V-twin 'Testatretta'
Valves four valves per cylinder,
Bore and stroke 94 x 67.5 mm
Compression ratio 13.3:1
Cooling Water-cooled
Electronic fuel injection 53-mm throttle bodies, ride by wire
Transmission Six-speed with quick-shifter
Clutch Slipper and self-servo multi-plate wet clutch with hydraulic control
Final drive Chain
Power 111 hp at 9,250 rpm (claimed)
Torque 93 Nm at 6,500 rpm
Top speed 225 km/h (estimated)
Fuel consumption 19.2 km/l (claimed), 20.8 km/l (as tested)
ELECTRONICS
Three ride modes (Sport, Tour, Urban), cornering ABS, traction control, wheelie control, launch control, and an up/down quick-shifter
CHASSIS
Frame Aluminium alloy front frame
Rake/Trail 23°/87 mm
Wheelbase 1,472 mm

SUSPENSION
Front Öhlins 43-mm USD fork, fully adjustable, 140-mm travel
Rear Öhlins monoshock, fully adjustable, 150-mm travel
Front wheel 3.50 x 17-inch, cast light alloy
Rear Wheel 5.50 x 17-inch, cast light alloy
TYRES
Front 120/70 ZR17, Pirelli Diablo Rosso 4
Rear 180/55 ZR17, Pirelli Diablo Rosso 4
BRAKES BREMBO
Front: Twin 320-mm discs, four-piston Brembo Stylema calipers, Cornering ABS
Rear: Single 245-mm disc, two-piston caliper, Cornering ABS
Weight 166 kg (dry) (186 kg kerb, claimed)
Seat height 840 mm
Fuel capacity 14 litres
SERVICING & WARRANTY
First: 15,000 km/24 months
Warranty: Two years
Website: www.Ducati .com