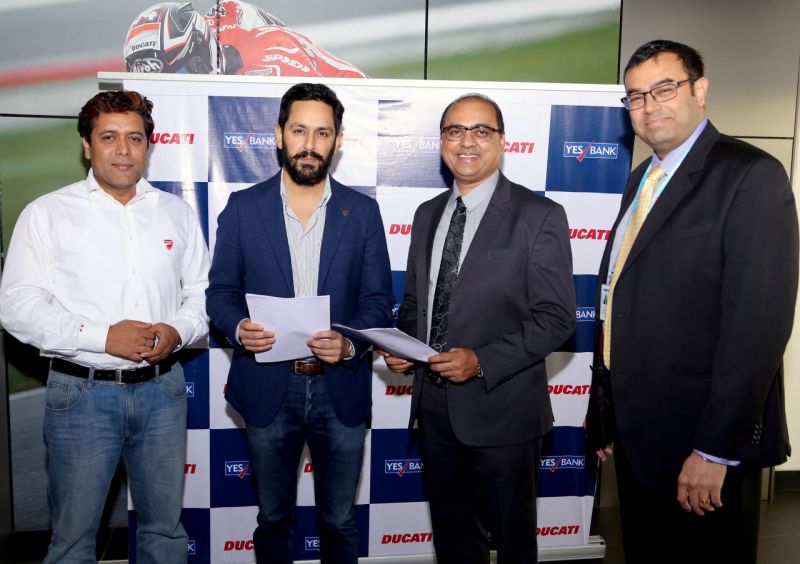 With the festive season around the corner, Ducati have signed a deal with one of India's largest private sector banks, Yes Bank. This agreement establishes a strategic partnership between Yes Bank and Ducati India for customer financing. Yes Bank will offer multiple financial options to Ducati customers looking to buy some Italian iron. Customers can also enjoy a limited-offer special-scheme where up to three EMI payments will be reduced by Ducati.
A new 24/7 roadside assistance program has been launched by Ducati India too. In association with India Assistance, a 100% subsidiary of international assistance company Mapfre Assistance, the new program will provide support to registered Ducati owners.
Ducati are also kicking off the first phase of their Demo Road Show weekends in October. The Road Show will start in Mangalore on the weekend of 8-9 October, and then move to Gurgaon, Coimbatore and Goa, dates of which will be announced shortly.
Ravi Avalur, Managing Director of Ducati India Pvt. Ltd. said: "This year we've launched four new Ducatis in India including the XDiavel, 959 Panigale, Multistrada Enduro and Hypermotard and the response has been fantastic! We're seeing increased demand from smaller cities and wanted to make our motorcycles even more accessible to enthusiasts who want to experience the exhilaration of riding a Ducati. In India, riding season and festive season converge and there was no better time to roll out our collection of offers for the riding community."
Story: Sahej Patheja