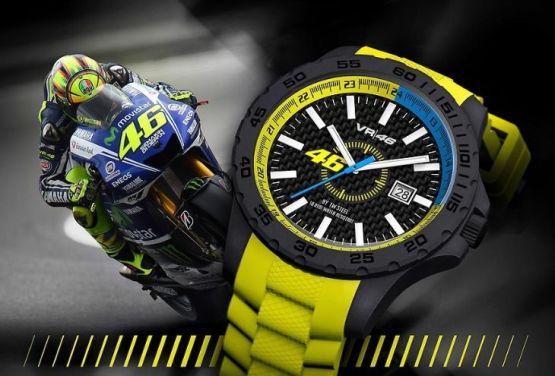 Valentino Rossi is one of the most recognisable names in the world today. The nine-time world champion is not only a racing legend, but also a successful businessman. The Doctor's VR|46 brand has now collaborated with renowned watchmakers TW Steel to officially launch the new range of timepieces: behold the all-new TW Steel VR|46 Yamaha pilot. The VR|46 Pilot arrives in two flavors, TW935 (45mm) & TW936 (48mm), priced at $490 (Rs 29,900) and $520 (Rs 31,750) respectively.
These über-cool watches are housed in bold steel cases with physical vapor deposition (PVD) titanium coating, similar to that of the watches' bezels, emphasizing the dark shine as a truly fashionable character for the discerning watch lover. The VR|46 Pilot also comes with a dark grey silicon strap with brands logo on it and a Yamaha Factory Racing logo on the case back.
The VR|46 Tech has a sandblasted PVD black coating on the steel case, with a silicon strap with accent lines and carbon-fibre looks. Both watches display the neon yellow VR|46 logo on their dials and are powered by Miyota 6S20 big calibre movement.
The TW Steel VR|46 Yamaha Pilots are set to go on sale globally come November 2014 across leading watch and lifestyle stores.
Story: Sayem Parvez Syed