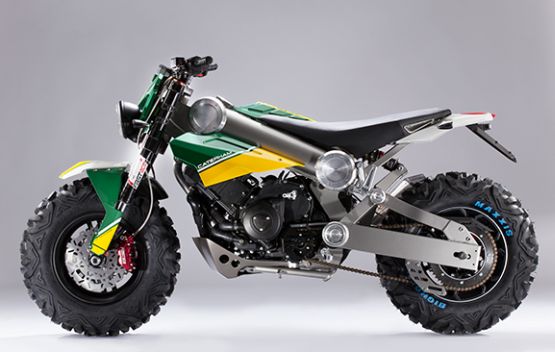 Tony Fernandes-owned Caterham Group have launched Caterham Bikes – their motorcycle division at EICMA 2013.
The company has showcased three models: two electric bikes and a conventional-engined motorcycle. However, there is nothing conventional about the design of the latter.
Named 'Brutus 750', Caterham say the bike is the world's first 'two-wheeled SUV'. It certainly looks menacing but is said to be very nimble to ride as well. Caterham say that it can be used as a street bike, an off-road bike, or even a snowmobile; with the conversion taking less than four hours. The numerals in the name suggest a 750cc V-twin motor will power the Brutus. It will be paired to an automatic transmission.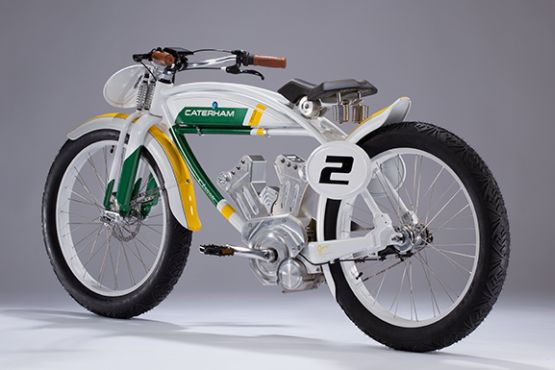 Moving on, the Classic E-Bike carries retro styling which harks back to the golden age of British motorcycling. It offers a range of between 40-80 km before it needs to be recharged. Meanwhile, the third bike – the Carbon E-Bike – is a premium offering which features modern styling and construction technology, inspired by their F1 division. Furthermore, the company is even exploring the possibility of offering a limited edition model to be created with exclusive F1 input.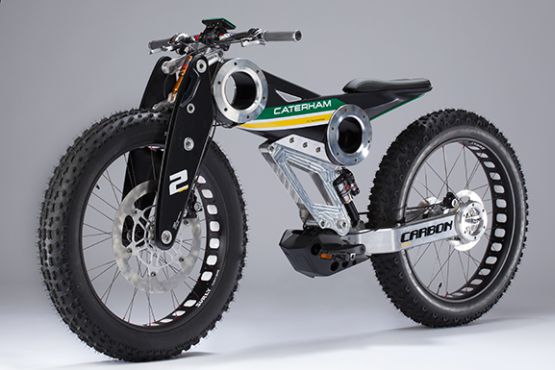 Caterham say that production of the three bikes will begin as early as Spring 2014. The Brutus 750 will be the first to be built, followed by the two electric bikes later in the year. All will be 'priced affordably'. The company has also reportedly expressed its interest in contending in the Moto2 world championship, so these bikes are definitely closer to becoming a production reality than many may believe.
Tony Fernandes, Co-Chairman of Caterham Group, said: "Our vision for Caterham Group has taken another step forward with the launch of Caterham Bikes. Expanding our interests into the two-wheeled market is another natural progression for us and is a good opportunity to showcase the breadth of knowledge, experience and creativity we have at our disposal across the Group, now in the two-wheeled world in addition to all of our other automotive, technology and innovation interests."
Caterham Bikes' business strategy caters to the growing global demand for environmentally-friendly and multi-purposed, two-wheeled vehicles. Beginning with the European, North and South American markets, the Group's key growth market will be in Asia, reflecting the burgeoning demand for such vehicles across those territories.
Story: Jim Gorde