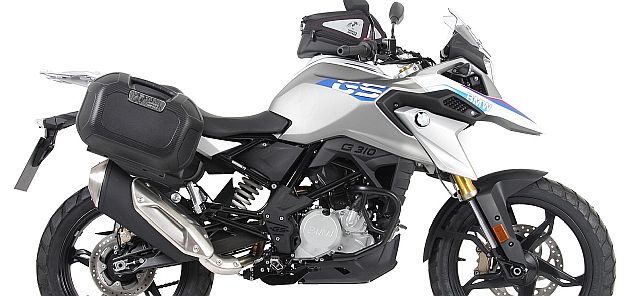 BMW Motorrad only launched the much awaited G 310 R and G 310 GS Motorcycles in India last week at an extravaganza in Delhi. The G 310 GS, which is an adventure tourer, has not been given any list of accessories, unlike the vast number of options that its bigger siblings the F 750/850 GS and, of course, the big ol' faithful R 1200 GS get. However, there are a number of aftermarket companies that are offering the baby GS a large number of accessories.
Moto Usher is a Nagpur-based company that officially imports spares and parts from a wide variety of motorcycle after-market companies, catering to a host of different motorcycle brands and their model ranges. Moto Usher have just released their parts list for the new BMW G 310 GS along with their prices. The after-market parts are from brands primarily from Germany and the United Kingdom and are stockpiled in Moto Usher's warehouse in Nagpur. The pricing of the products include all relevant taxes and duties, for those who might wonder. However, shipping and GST are generally calculated at the website's checkout page.
Click here to visit their web-page: www.motousher.com
The catalogue for the BMW G 310 GS is quite vast and includes everything from tank bags, panniers, clutch plates, gear sprockets, windshields and earplugs to a whole range of guards for almost every molecule that makes up the machine, and those are just naming a few.
The BMW 310 GS is a 313-cc adventure tourer that is priced at Rs 3.49 lakh (ex-showroom) and stands alone for the time being in its price segment until the KTM 390 Adventure arrives in the future. The bike does have similar competition such as the Kawasaki Versys-X 300 and the Royal Enfield Himalayan but both of those bikes are in a different price bracket from the BMW and each other. Moto Usher does cater to both those bikes as well, however, the BMW G 310 GS gets a lot more options.
Also read: (BMW G 310 vs Rivals)
The BMW G 310 GS does have an entire kit that you can buy from a premium company in the UK called Rally-Raid, with an absolutely great product list, but this would be more expensive, not just in terms of the product prices, but also the shipping charges and duties.
Click here to visit their web-page: www.rally-raidproducts.co.uk
Image Source: www.motousher.com
Story: Zal Cursetji