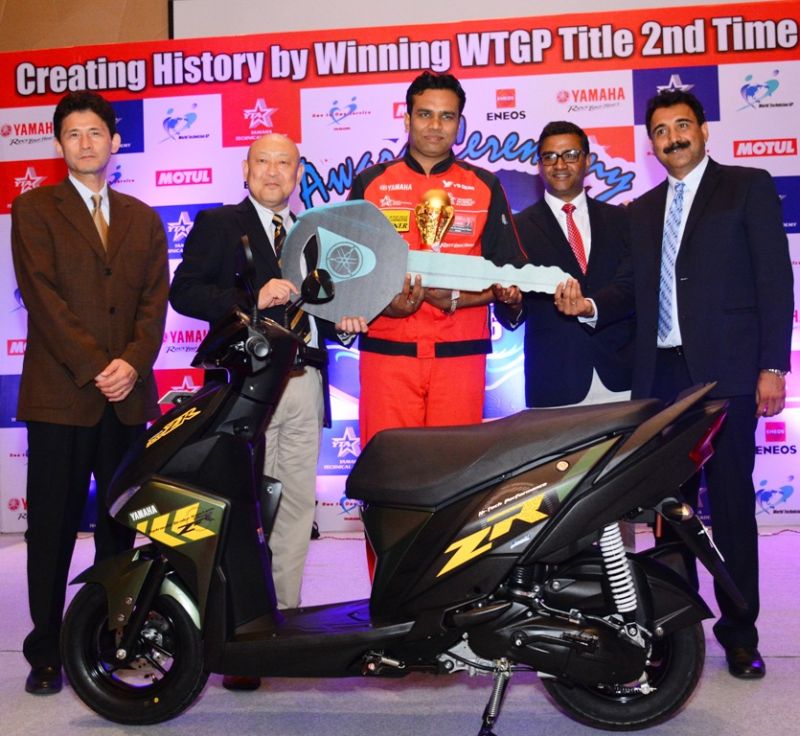 Brings the title to India Yamaha Motor from among 33,000 contestants representing 21 countries
India Yamaha Motor won the No. 1 Technician title in the Commuter Model Class at the 7th World Technician Grand Prix (WTGP) 2016, held earlier this month in Japan. This event is organised biannually by Yamaha Motor Company, Japan, to allow winners of past National Technician Grand Prix events from all over the world to come together and compete for the prestigious title. This is the third time India has participated in this event, and the second consecutive win; the first being when Madurai's Meenakshi Sundaram brought home the title in 2014.
This year's WTGP witnessed participation from world-class Yamaha technicians who provide 'One-to- one' services to customers on a daily basis. The contest also included advanced trouble shooting, communication with customers and using Yamaha diagnostic tools in order to create confidence among customers. Jignesh Rana works with Planet Automobiles, Yamaha's Ahmedabad dealership, and represented India Yamaha Motor at the event.
Elaborating on the achievement at Yamaha WTGP 2016, Masaki Asano, Managing Director, Yamaha Motor India Sales said, "Yamaha Motor Company organises the WTGP contest in Japan once in two years to select the world's No. 1 Yamaha service technician. Yamaha is delighted to have its champion from India for the second time in a row. It is an honour to felicitate Jignesh along with his team members and Yamaha Technical Academy team for their continuous hard effort for the development of world-class technicians. Yamaha would take this opportunity to congratulate the winner along with his family and the network partner Planet Automobiles who remained continuous aide to shape today's outstanding victory."
Speaking at the event to felicitate the winner, Ravinder Singh, Vice President, Strategy & Planning, Yamaha Motor India Sales said, "It is a moment of pride as India Yamaha Motor carried off the Grand Title for the second time. Yamaha is looking forward to create more such talents and that's where the expertise of YTA Technicians comes into play. At Yamaha, a constant endeavour to offer exciting and excellent product line up to the customers is backed by providing them with excellent value added services and best in class after sales experience. Through contests like WTGP, Yamaha doesn't only create world-class technicians but also ensures that customers are delighted and not merely satisfied."