If the KTM's near Rs 3-lakh price tag is still too much for you, and you are looking for something more utilitarian with better off-road capability, without sacrificing on-road rideability, the Royal Enfield Himalayan is worth a look. This is the machine that kicked off the small adventure bike segment back in 2016, and its Rs 1.87 lakh (ex-showroom), price tag makes it an extremely tempting proposition.
Since its original launch the Himalayan has seen a couple of updates, first with the introduction of fuel injection in 2018 doing wonders for engine refinement, and now with this BS6 version launched just a few months ago, adding switchable ABS to the mix. This is the only bike with completely analogue instrumentation, and I'm not complaining; the clocks are well-laid-out, attractive and easily readable at a glance.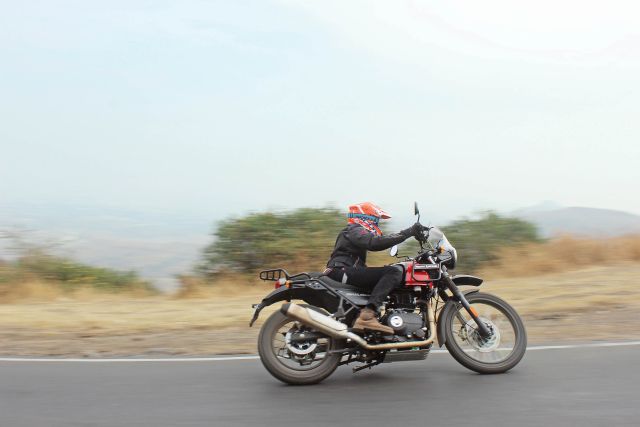 With its no-frills attitude the Himalayan looks the most purposeful and industrial of the bikes here, with a design that will probably never look old or outdated. The 411-cc air- and oil-cooled single pumps out a modest 24.3 hp, but with 32 Nm of twist available as low as 4,000 rpm the RE has the most low-down and midrange grunt of all the bikes here. When pushed it can propel the Himalayan to 100 km/h in just over 12 seconds, with a top speed in excess of 130 km/h. You can cruise all day between 80 to 100 km/h, beyond which vibrations from the motor start to feel intrusive; ultimately the Himalayan proves to be a capable mile muncher out on the highway, provided you don't expect to be doing silly speeds for extended periods.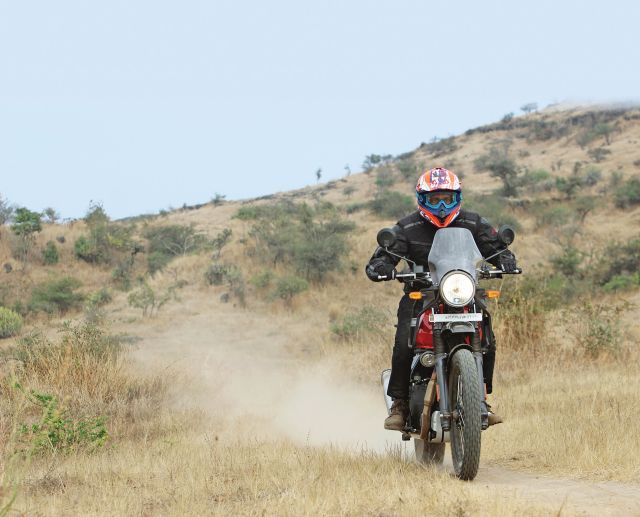 Royal Enfield have succeeded in giving this motorcycle an extremely manageable 800-mm saddle height without compromising on ground clearance, and this makes it comfortable and approachable even for absolute beginners. Suspension duties are handled by a telescopic fork and a preload-adjustable monoshock, with a generous 200 mm of travel up front and 180 mm at the rear. The 21- and 17-inch spoked wheels clearly indicate this bike's off-road bias, although that large front hoop doesn't upset the bike's on-road manners, and it handles twisty roads extremely well.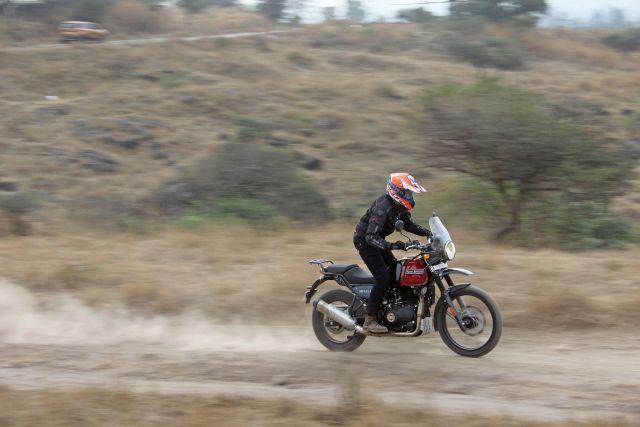 Take the Himalayan off-road and it comes into its own. The suspension absorbs everything you throw at it, the knobby Ceat Gripp XL tyres manage to find grip through loose dirt, and those crash bars mean that you can drop it repeatedly without sustaining any serious damage. That large front wheel effortlessly climbs over obstacles, and the immaculate fuelling combined with the low-end torque ensures that you feel perfectly in control, even when executing slow-speed manoeuvres in the rough stuff. It is my opinion that the Himalayan is the best-rounded of all the bikes here, combining competitive pricing, fast highway touring ability and excellent off-road capability.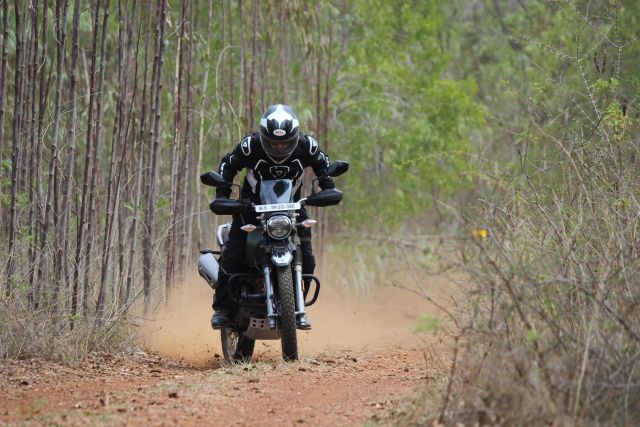 The last of the four bikes here is by far the most affordable; retailing at just Rs 1.05 lakh (ex-showroom), the Hero Xpulse 200 costs a massive Rs 2.44 lakh less than the BMW, almost Rs 2 lakh less than the KTM and even manages to make the RE feel expensive. If you are on a tight budget and want a tough, go-anywhere motorcycle, this is the one for you. Of course, at this price point, compromises will have to be made, the most prominent being performance.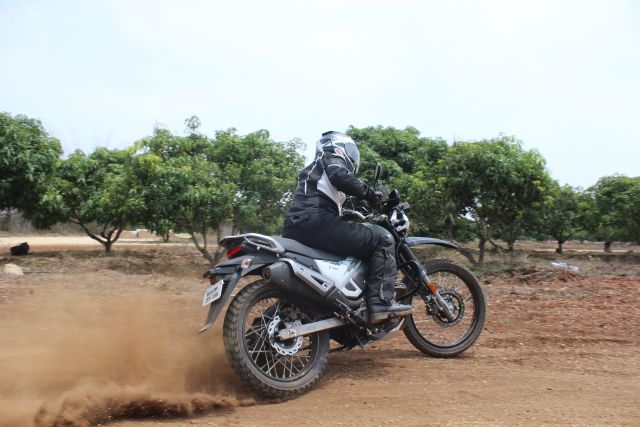 The 199.6 single gets an oil-cooler with its 2020 BS6 update, and puts out 18.1 hp and 16.5 Nm of peak twist. Getting to 100 km/h from a standstill takes close to 20 seconds and, while the motor feels decently strong through its midrange, it starts feeling quite stressed at anything over 6,500 rpm. The Xpulse will cruise all day between 80 and 90 km/h, beyond which things get quite vibey, and overtakes on the highway call for careful planning and aggressive downshifts.
Although it may not be ideal for covering long distances on the highway, the Xpulse is a fantastic tool for those who want to hone their skills off road. It is the only bike here with rally-spec 21- and 18-inch spoke wheels, and the telescopic fork and preload-adjustable monoshock get 190 mm and 170 mm of travel respectively. The large wheels effortlessly climb over everything in their path and the suspension works extremely well with the steel diamond-type frame, whether flying over massive speedbreakers with the throttle wide open or attacking the gnarliest terrain you can find. ABS is not switchable, but since it is a single-channel system, working only on the front wheel, the rear is always ready to slide around. Fuelling is spot-on, and it is extremely easy to dial in the required amount of throttle, with no apparent snatchiness or flat spots anywhere. This predictable character makes the XPulse the ideal choice for a first time off-roader who wants an affordable adventure bike with which to get comfortable riding through rough or loose terrain, before graduating to something heavier and more powerful.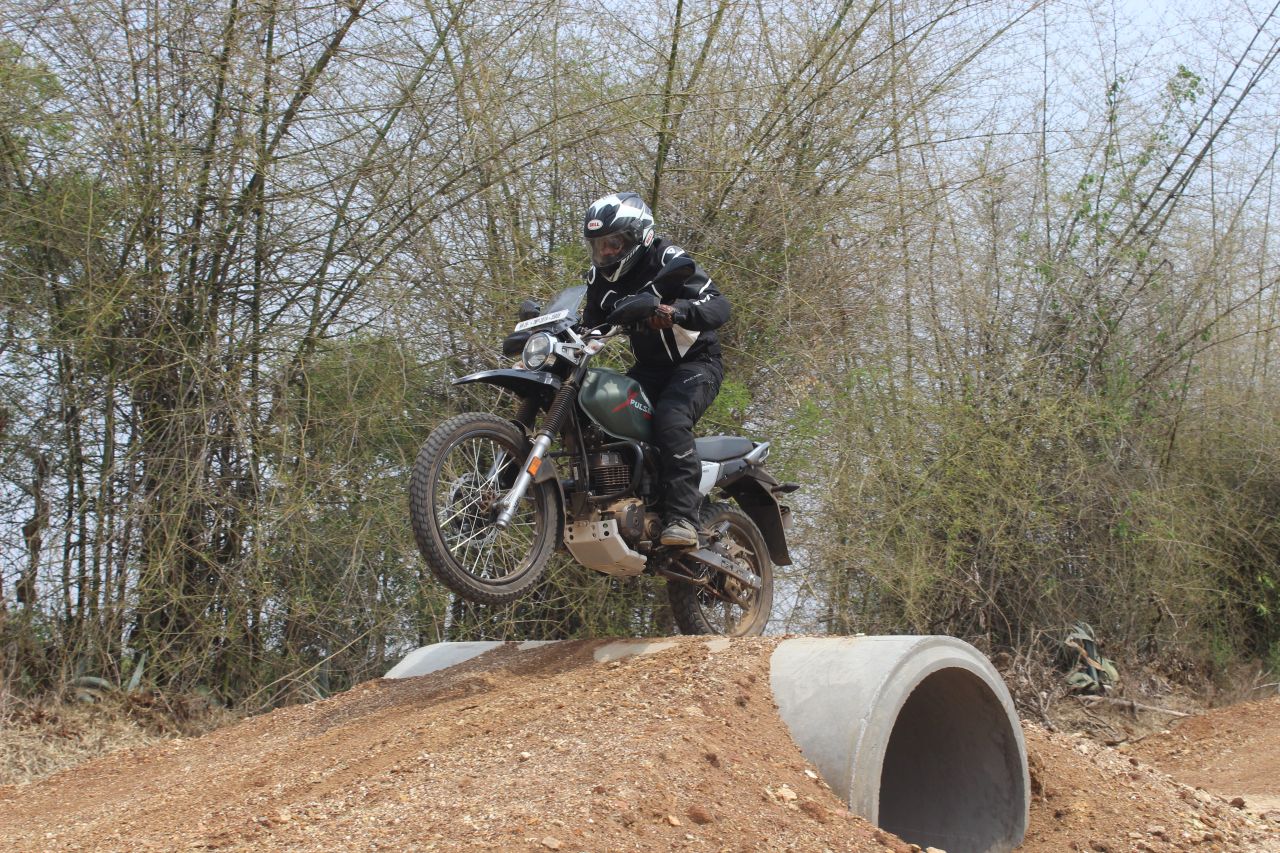 So there you have it; The BMW G 310 GS is the most upmarket of the entry-level adventure bikes here, bringing to the table decent on-road performance, easygoing off-road manners and that desirable blue and white roundel. The KTM 390 Adventure gives you all the performance you could need from an entry-level adventure bike, although its towering seat height and firm suspension would suit an experienced rider better than an absolute novice. The Royal Enfield Himalayan is the best all-rounder of these small adventure bikes striking a fine balance between price, highway manners and off road ability, while what the XPulse 200 lacks in outright performance, it makes up for with an accessible price tag, excellent off-road ability and its novice-friendly nature.
So which of these mini adventure bikes would suit you best?