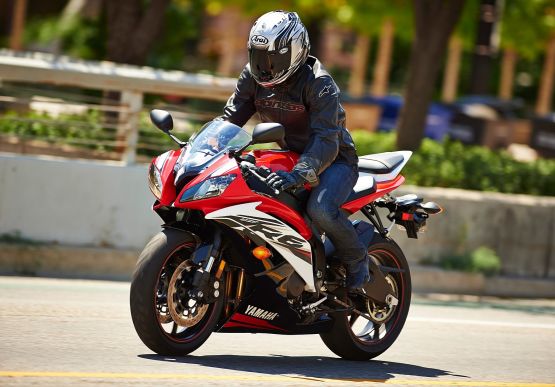 Yamaha have taken the wraps of their popular middle-weight supersport offering for 2014, the new Yamaha YZF-R6. One of the most popular models from the Yamaha stable, the R6 has been given a refreshed look by technicians at the tri-fork brand for 2014, while still managing to retain the same aggressive stance its previous avatar was so popular for. At first glance, we can see that the refreshed R6 features an all-new GP-styled titanium muffler, along with magnesium engine covers and rear subframe in order to make the 2014 R6 lighter than its previous versions.
The new R6 also features multiple tweaks and engineering ideas, sourced from Yamaha's state of the art GP program and implemented at street level to offer even better performance. Technicians at Yamaha have also thrown light upon the fact that the 2014 R6 is a much lighter, stable and better handling bike due to its excessive weight-loss.
Officials at Yamaha stated that the 2014 YZF-R6 will go on sale worldwide in the month of October and will be available in three colour schemes – Team Yamaha Blue/White, Matte Grey and Pearl White. Pricing of the new R6 has been revealed at $11,190 – Team Yamaha colours (Rs 7.1 lakh) and $10,990 for Factory colours (Rs 6.97 lakh) respectively.
Story: Sayem Syed