Let us introduce you to Yamaha's 2023 Niken GT: the advanced, daring, and much-discussed three-wheel production motorcycle that receives major updates this year.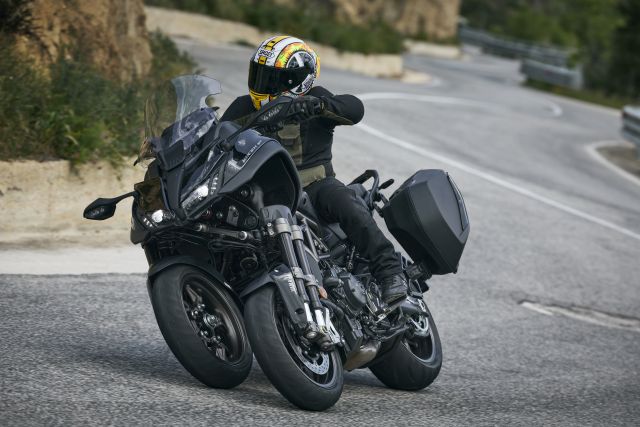 Story: Adam Child 'Chad'
Photography: Ant Production and Yamaha
The 890-cc triple, in terms of wheels as well as cylinders, was first revealed to the public (with an 847-cc CP3 engine) in 2017 and, frankly, some jaws are still on the floor today. Astonished lookers-on simply did not know what to make of the thing.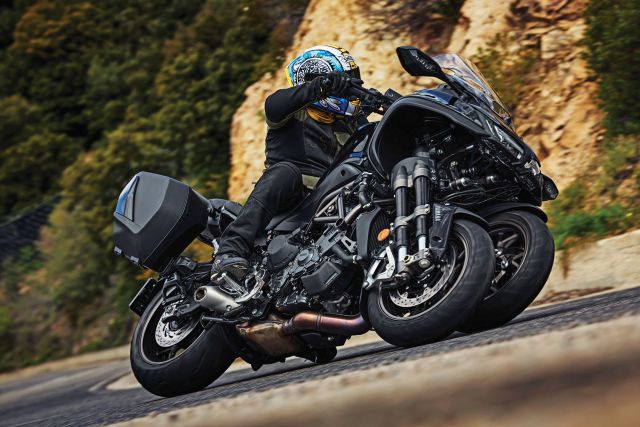 It certainly was not for car drivers to ride without a motorcycle licence as the front wheel track is too narrow and the bike will still fall over if you let go of it. Instead, Yamaha stated they basically wanted to give more front-end feel to a premium sports tourer. Just as in climbing, where holding on to the wall with two hands is better than just one, with two wheels at the front there is more grip and less chance of losing the front.
The more open-minded were intrigued. I first rode a Niken in 2018 and have subsequently covered many miles on the three-wheeler, including touring Scotland. I like the grip and stability of the unique Leaning Multi Wheel (LMW) front end, which allows you to get away with murder. But there were niggles: particularly a soft rear end, a small non-adjustable screen, and, by modern standards, a general want of premium specification and technology.
For 2023, Yamaha have given the Niken a new lease of life by addressing some of those flaws and also added a few quality touches we were not expecting.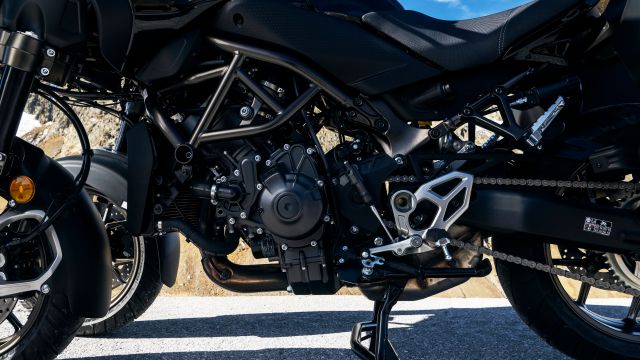 Although it looks much like the older bike, there are significant changes. The 2023 model receives the new SP3 890-cc motor, up 42 cc, and now produces 114.9 hp at 10,000 rpm and 90.7 Nm at 7,000 rpm. There is a new steel and aluminium hybrid frame and Yamaha have improved and re-designed the rear suspension, too.
There is a re-shaped seat to help shorter riders access the ground more readily and, technology-wise, a generous seven-inch high-luminosity screen that replaces the unpopular smaller dash. New switchgear comes in (and the Yamaha control wheel goes), while an up-and-down quick-shifter is now standard along with cruise control. We have capacious 30-litre panniers and the screen is larger and manually adjustable, something owners desperately wanted. With a classy finish, the Niken is certainly a premium sports tourer, as it should be for £16,210 (Rs 16.61 lakh).
We rode the new Niken GT for a full day on the stunning island of Sardinia, Italy, to assess the updates.
The Niken divides opinion like no other production motorcycle. Simply uploading a few images of it to the internet sends social media into meltdown: for those who are adamant, the Yamaha is a pointless and misshapen freak, which is met by equally vociferous support for the bravery and vision of its concept and engineering. Whatever you may think, the Niken is undeniably an interesting bike. No matter where you ride, it turns heads.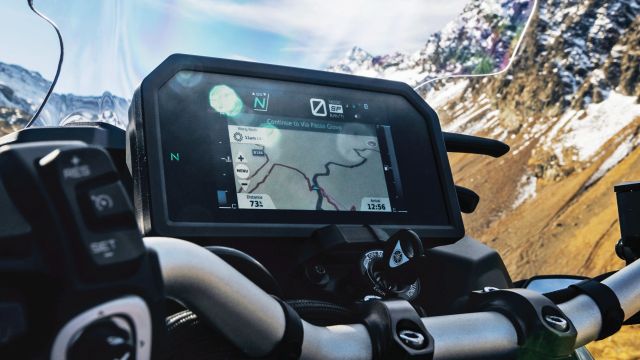 More than ever, the new Niken exudes quality. The finish is immaculate, reminding us all that it is a premium product. The new TFT dash is generously large and pleasingly busy with crisp and colourful information plus connectivity and full map Garmin navigation on tap. Everything is accessible via a new five-way joystick on the left bar, with the sometimes annoying "Yamaha wheel" on the right bar now removed.
The new seat (set at 825 millimetres) has been re-shaped, making it a little easier for shorter riders like me to get two feet on the ground, and despite its quoted wet weight of 270 kilograms, as a small rider I have never had a problem with the weight of the bike. Fun fact: the Niken is actually lighter than Yamaha's conventional sports touring FJR1300, which is 292 kg and only 35 mm wider than Yamaha's own Tracer.
Despite having plenty of experience riding the Niken, my first few metres are a little disconcerting, simply because of all the extra frond-end architecture under my nose. In reality, however, the feeling through the 'bars is barely any different from that of a conventional machine.
The steering is certainly a little heavier than a normal bike of similar mass and capacity, but otherwise it behaves as you would expect of a friendly, well-appointed sports tourer. Each front wheel is independent of the other, meaning that if one wheel hits a cat's eye, this is not felt by the other, which you have to tune in to. On occasion, the rear wheel can hit a bump that has been passed either side by the fronts, which feels weird. But once you get your head around these slight abnormalities, it stops, turns, and goes much like a normal bike.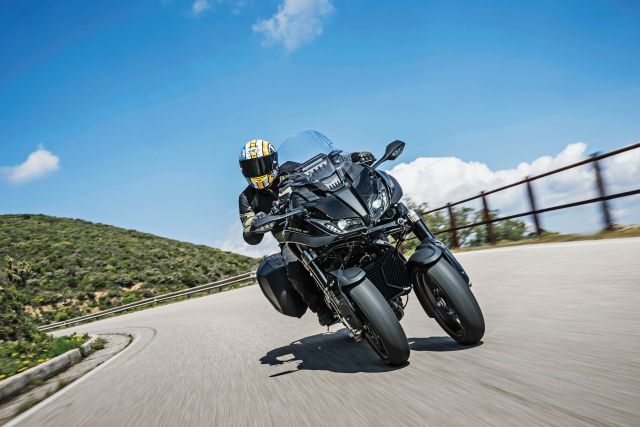 Then you have a moment and realise the advantage of having two front 15-inch tyres and the enormous quantity of grip that they bring. In town, you can lay the bike over from the onset as the front, in theory, will not slide. Low-speed roundabouts are highly entertaining as you can carry a decent angle of lean on a cold tyre, and you do not have to worry about losing the front on a manhole cover or white line.
In fact, the Niken GT is a pleasing surprise in the urban jungle. It is assured, easy to handle, has loads of smooth torque on tap, and a particularly sweet quick-shifter. Furthermore, it carries its kilos well and is only fractionally wider than your average two-wheel sports tourer. You can still slide it down almost the same gaps in the traffic.
Yamaha treated us to some amazing roads in Sardinia, including a seriously challenging stretch which, in all honestly, was probably ridden a little too briskly but did highlight the advantages of the LMW front end and the much-improved rear suspension. On the older Niken, the front end had astonishing grip and felt planted and solid, but was not matched by the rear, which was on the soft side and lacked composure when pushed hard. For 2023, Yamaha have changed the shock's spring rate, revised the linkage, and added some spring pre-load, thus making the front and rear more equally matched.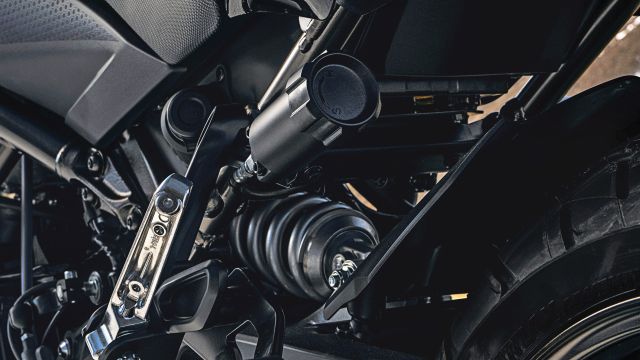 Now you can push the Niken GT a little harder without the rear shock giving up and spoiling the fun. It is much more controlled and predictable when you are asking a lot of the suspension. No, it is not a sports bike but the unique front end allows you to carry peg-scraping degrees of lean with confidence and now the rear follows without wallow or loss of damping.
Yamaha quote a possible 45 degrees of lean before the pegs start to tickle, which is a lot for a sports tourer and also quite easily achievable thanks to the extra side grip generated by the unique front end.
There are two ways to look at this. You could argue the Niken needs more ground clearance because it touches down relatively easily or that 45 degrees of lean is quite enough for this type of bike, thank you. After all, few, if any, other sports tourers can get close to matching the Yamaha's corner speed and even when the pegs start to fold up, there is no loss of composure or compliancy.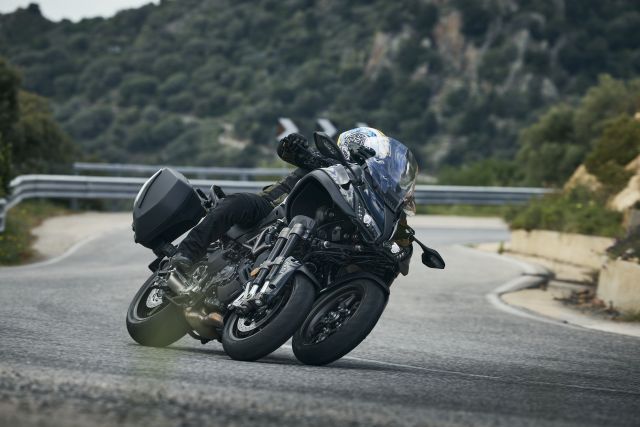 In the relentlessly brilliant Sardinian mountains, I grew to appreciate the GT's now highly refined handling. All its grip and easy corner speed matched by a new sense of composure make for a fun ride and the new free-revving triple, which produces the same peak power but even more torque than the older bike, only adds to the party.
It is a joy to short-shift through its mid-range, not just for the way it shovels you up the mountain but for acoustic hit of that lovely CP3 MT-09 engine. Engine modes (Sports, Street, and Rain) can be changed on the fly and it only takes a few seconds to turn off the traction control, should you want to try hoiking those front wheels off the ground. (TC and ABS are not lean-sensitive as there is no IMU on board the GT.)
There are limitations to the updated Niken. For those who will predominantly use the Niken for fully loaded, two-up touring on faster roads, the 115-hp CP3 might feel a little under-clubbed. There is also a lot happening up front, a lot of unsprung mass, which makes the steering heavier—and more tiring—than normal during fast direction changes. And while there is grip galore on tap, it is grip that is trusted—assumed, if you like—rather than felt. In other words, there is not the confidence-fuelling feedback you would expect of a pair of conventional telescopic forks and a single contact patch; you cannot easily feel what the twin front tyres are doing. Instead, you use the force and trust that the grip is there.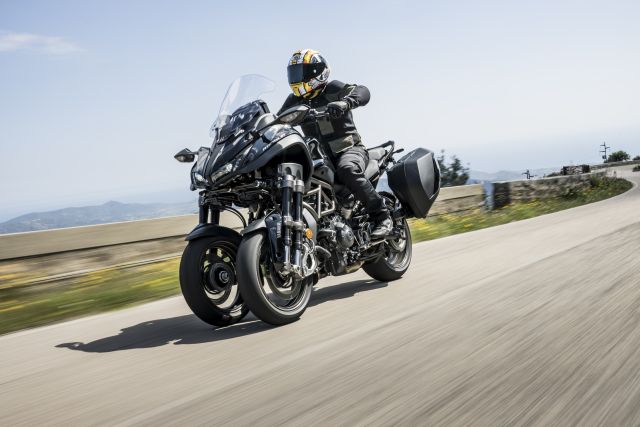 Braking performance, too, can be seen in two ways. On the one hand, you have a large overall contact patch created by two tyres plus a long wheelbase and excellent stability. It is a combination that allows you to grab the front lever hard and hold on and I would predict most riders in an emergency would stop quicker and safer on a Niken GT than on a conventional bike as the front wheels offer so much grip and stability. However, the small 15-inch wheels run relatively small 298-mm diameter brake discs despite having to stop 270 kg of bike plus rider. When you are attacking downhill mountain passes, it shows; there is a lack of outright stopping power and a need to compensate by working the lever hard.
Comfort has always been a strong point of the Niken, both for the rider and the pillion rider, and it has been further improved for 2023. The older model had a dull little dash and a fixed screen, which was unusual for a premium bike, but Yamaha have now fitted a larger and manually adjustable screen and a big and bright TFT display. With the screen fully upright and with such a large frontal area, you can hide from the wind and rain; up to a point, that is. The rider sits farther away from the screen than normal, so there is mild turbulence, and in the rain the two front tyres rooster water on to your boots.
Cruise control now comes as standard but is not active as in some bikes in this class. The large (fixed and hard) 30-litre side panniers also come as standard and are big enough to take a full-size helmet. Because stability is so good from the Niken, Yamaha can fix the hard luggage without upsetting stability, another advantage of three wheels.
We covered about 200 kilometres in a single day, which is not far enough to fully test its touring credentials, but I have ridden long distances on older Nikens and always love the way the ergonomics work for rider and pillion, hour after hour. Set the cruise control, sit back, and enjoy the ride and informative display, which can be switched to full map Garmin navigation. In fact, the new dash and switchgear are among the best in the market today; I particularly like the dash's three different layouts while those who love their phones will appreciate the connectivity.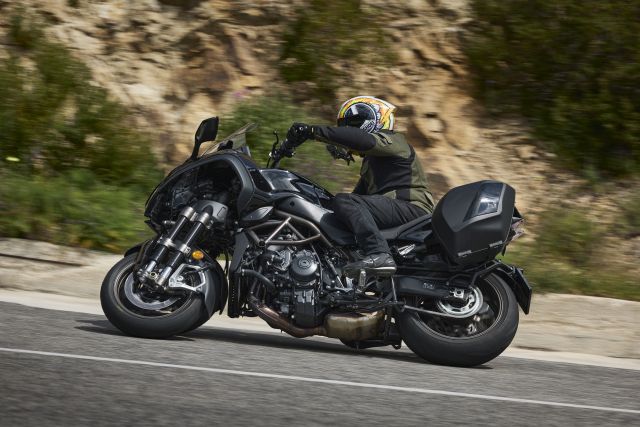 Economy-wise, Yamaha quote 17.3 km/l, meaning the GT's 18-litre tank will deliver a theoretical 311 km before running dry. Realistically, you are going to need to start thinking about fuel after 250 to 260 km. During this test, I averaged 16 km/l, which was not bad considering the spirited nature of the ride. Fast touring with fully loaded panniers and a pillion should return 14 km/l and steady solo riding over 18 km/l and 320 km before empty. Given the all-day comfort (of older Nikens at least), I expect some would prefer a larger-capacity tank to extend the distance between fuel stops.
Talking of stops, potential Niken GT owners should prepare for the fact that everyone and their dog will offer you their opinion of this motorcycle. Stopping for fuel can take an hour, as everyone rattles off their comments or simply asks, 'What is it?'
Love or hate the looks, you have to appreciate the engineering and thoughtful development of Yamaha's crazy but practical three-wheeler. The grip, stability, and surefootedness of its front end are exceptional.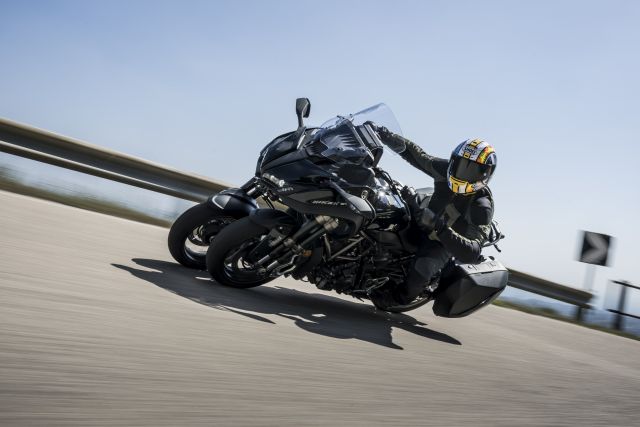 To attract even more riders to the Niken, Yamaha have broadened its appeal with a new sweet-sounding MT-09-derived engine, cruise control, and quick-shifter as standard. A larger and now adjustable larger screen and, arguably, one of the best dash-and-switchgear combinations available in the market add premium feel while a re-shaped seat, large panniers, and new colours give a high-end finish.
Handling and ride quality have also been improved with a re-designed rear linkage and tweaked shock. The rear now matches the front to produce a more enjoyable and sporty ride.
There are downsides, though. The steering is heavier than a conventional bike's and some riders will want a better tank range, while some may even complain about the ground clearance, which is similar to that of other bikes in this class but far easier to use up.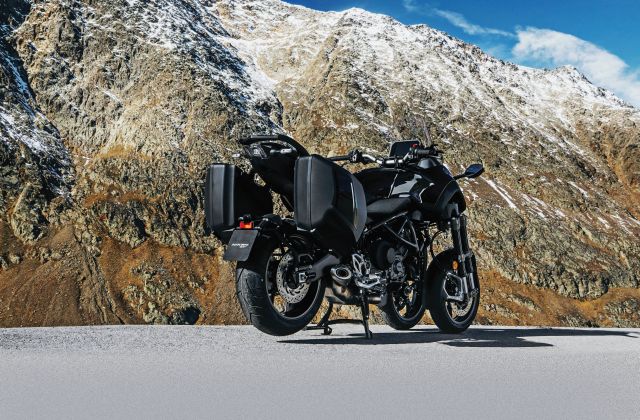 The elephant in the room is the price of £16,210 (Rs 16.61 lakh). Yes, you can see where the money has been spent and the Niken GT is a wonderful piece of engineering, but there are a lot of conventional sports tourers in the market for similar money or less. However, none can match the Niken's front-end grip; having that peace of mind and cornering stability will appeal to many riders, especially those who ride two up—it almost eliminates the possibility of losing the front.
Specifications
Yamaha Niken GT
Price: £16,210 (Rs 16.61 lakh)
Engine: Water-cooled, three-cylinder
Displacement: 890 cc
Bore x Stroke: 78.0 x 62.1 mm
Valves: DOHC, 12 valves
Power: 114.9 hp at 10,000 rpm
Torque: 90.7 Nm at 7,000 rpm
Chassis: Diamond frame
Rake/Trail: 20°/74 mm
Track (Front): 410 mm
Wheelbase: 1,510 mm
Brakes: Twin 298-mm discs, radial four-piston calipers
Rear: Single 282-mm disc, two-piston caliper
Transmission: Six-speed, chain final drive
Suspension: Twin telescopic forks, fully adjustable, 110-mm travel
Rear: Single shock-absorber, fully adjustable, 125-mm travel
Wheels/tyres:
Front wheels: Twin 15-inch, alloy
Front tyre: 120/70 R15 Bridgestone
Rear wheel: 17-inch, alloy
Rear tyre: 190/55 R17 Bridgestone
Seat height: 825 mm
Tank capacity: 18 litres
Fuel consumption: 17.3 km/l (claimed)
Weight: 270 kg (wet, full tank)