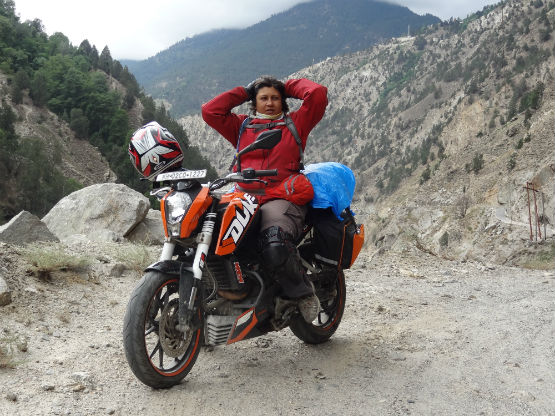 Established in 1999, Raid De Himalaya is a yearly rally event that is executed under extreme duress brought about by the high altitudes of the Himalayan range. In the history of this precarious rally which features events for both two-wheelers and four-wheelers, participants have had to face up to a variety of hazardous circumstances such as the ever present temperatures that fall below 25°C, ice-covered roads, oxygen depravity at a heights of around 6000 metres above sea level, and natural calamities such as blizzards, earthquakes and snow-ins.
Clearly this race isn't for those of the faint hearted, and this year, for the first time in the history of the rally, a woman rider, namely Sheetal Bidaye hailing form the city of Mumbai will participate in the experts only Moto-Quads rally, while a young 20-year-old student from Fergusson College, Pune, Kalyani Potekar, will compete in Raid Xtreme Alpine category which is for the newer, less experienced riders.
These courageous women will pit themselves against the elements, beginning their journey from Shimla, and traversing through the high mountain reaches of Khardung La and Wari La all the way through to Leh, where the rally comes to a close.
According to Vijay Parmar, President, Himalayan Motorsport, who are the event's organisers, this journey will be fraught with challenges, he said, "The Wari La climb happens in 14 kilometres, while the Khardung La climb takes 32 kilometres. The descent is equally steep and rapid into the Nubra Valley. The challenge of the Raid lies in competitive driving at these impossible altitudes, which demand the best from both man and machine."
The rally, that sees only a quarter of its competitors cross the finish line on an average, enters its 15th year and will run from the 4th to the 12th of October.
Story: Harket Suchde