Vespa, the legendary Italian scooter manufacturer, has updated its flagship 300 with improved brakes and suspension, new technology, including keyless ignition, and classical yet practical styling.
Story: Adam Child 'Chad'
Photography: Milagro
Back in 2003 Vespa launched the G125 and 200, then in 2005 came the GTS 250, followed in 2016 by a 300-cc GTS. Three years ago came the introduction of the 23.8-hp HPE engine, making the larger GTS model the most powerful standard Vespa ever produced. The 21st century really has seen the Italian marque's iconic scooters grow ever bigger and faster.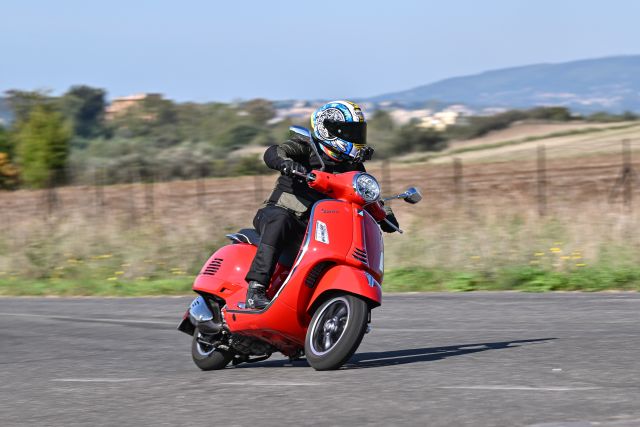 For 2023, Vespa have taken a slightly different turn and enhanced the style, safety, comfort, suspension, and brakes of their flagship GTS, while giving it an injection of new technology too.
There are now four models to choose from—the base GTS, plus the Super (on test), Super Sport, and Super Tech—and, while the spec and style of each scoot are different, all feature the same proven chassis and HPE engine.
Vespa have settled with a classical design on the standard GTS and Super, while opting for a slightly more modern take with the Super Sport and Super Tech. All four machines boast of an improved quality of finish, attractive new switchgear, new LED lights, and neater fittings.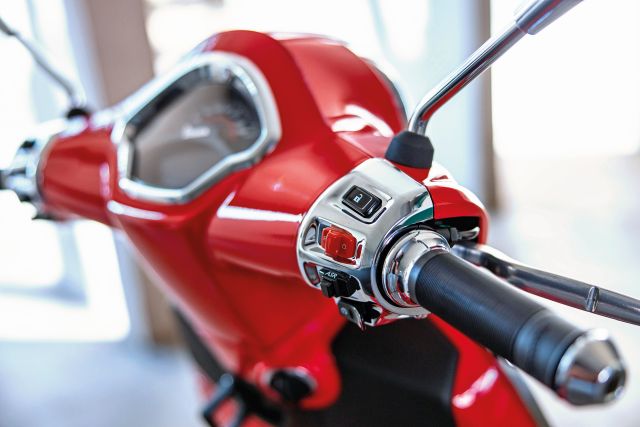 Vespa have also come up with a new dash and introduced a keyless system that operates both the ignition switch and the seat lock. Comfort has been improved with a new seat, which also allows shorter rides to feel more secure, despite the new bikes having the same 790-millimetre seat height as before.
The customary pressed-sheet steel frame remains, but now the single-sided front suspension has been updated for better stability and comfort. Braking has improved with new calipers, Brembo master cylinders, and re-positioned levers. The Bosch ABS has also been refined.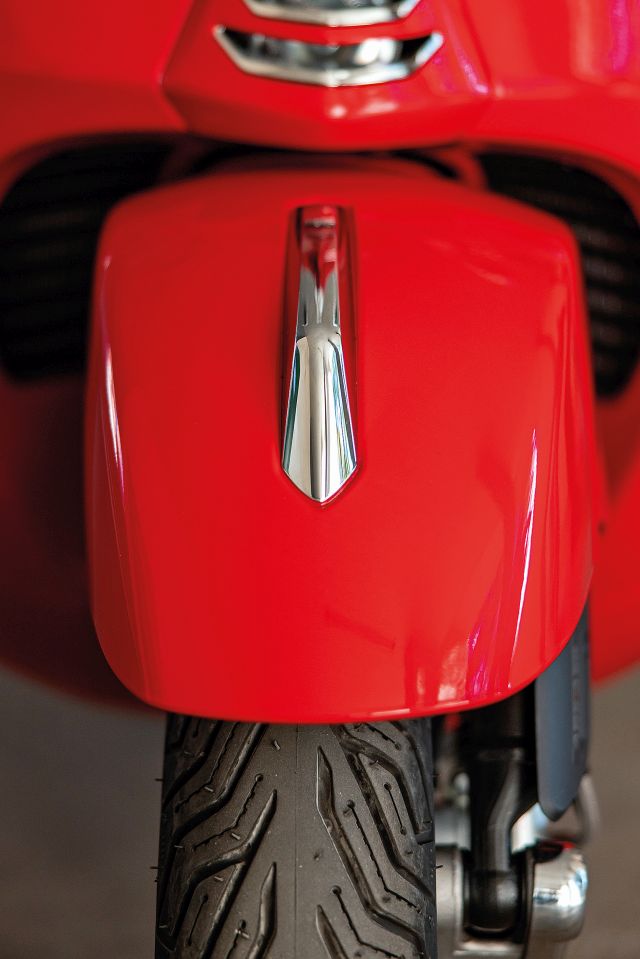 Any Vespa update is big news for scooter connoisseurs and these new models represent a significant step for Vespa and its parent company Piaggio. So, we grabbed the keyless fob to the classic-looking GTS Super and headed out into historical Rome for the day. Where better to test the new Italian-built Vespa?
Vespa wanted to improve the ride quality, comfort, and handling of the new GTS, which resulted in a completely new single-sided front suspension unit. The new front fork gives the Vespa a different feel, with the strange "lift" that you sometimes get on the old forks all but eradicated. Now the front feels more conventional; you do not have the full dive of normal telescopic forks, but there is some familiar movement. They feel plush and soft over imperfections and are not as vague or rigid as the old system.
The rear set-up has also been revised, again for the purpose of comfort and handling. Combined with the new front you really feel the quality of the new set-up. Rome's cobbles, potholes, and every imaginable surface in between were certainly a thorough test for the Vespa and it truly shone. It dismissed cobbled surfaces that would shake some bikes to pieces and stayed serenely composed on the very worst the Italian capital could throw its way.
On the faster sections away from the centre of Rome, stability was excellent, with ground clearance not an issue in a busy urban environment. I loved the feel of the new front end, which filled me with confidence as the pace picked up and a city of frustrated F1 drivers got serious. It is also nice to see Vespa have not tried to save money on cheap rubber; the GTS' excellent Michelin City Grip should work equally well in the wet as they do in the dry.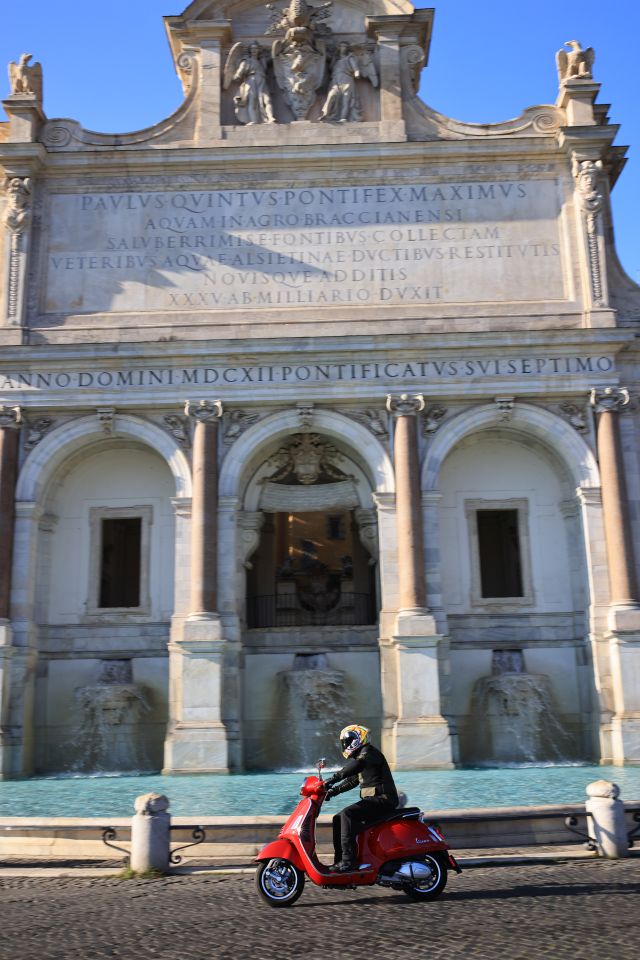 But battling for position in the seething heart of Rome is where the Vespa is truly at home. The new wide bars give more leverage and you can flick the GTS 300 between FIAT Panda wing mirrors with absolute nonchalance, its 12-inch wheels and minimal 155 kilograms making the steering almost weightless at urban speeds. Vespa claim "a significant reduction in braking distances" thanks to new hydraulic master cylinders that are now Brembo items along with new brake calipers front and rear, with an updated Bosch system controlling the non-lean-sensitive ABS.
In response to customer demands, the front and rear levers—both mounted on the bars, of course—have been repositioned flatter or less pointing upwards and closer to the bars for riders with small hands, like me. It is not a huge change, but instantly noticeable.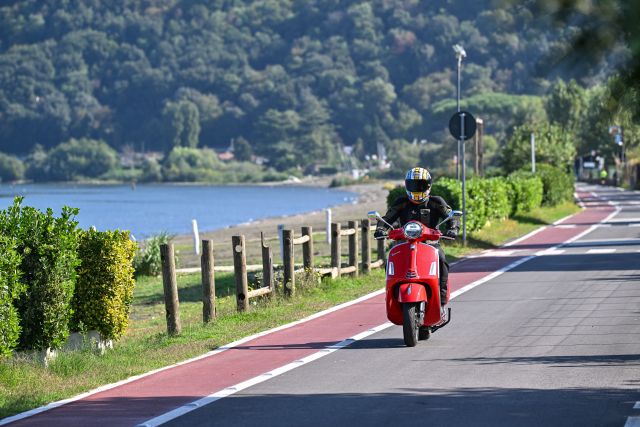 For most part of the test, I opted to use only the rear brake, which is strong and progressive and all you really need at relatively low speeds. Over damp cobbles, you can feel the updated ABS working and, when you introduce the front, stopping power is strong and reassuring for a mid-capacity scooter and the ABS is excellent. Add the GTS' light weight and the control of its new front end and you will be surprised how quickly you can haul up the 300.
In 2019 Vespa introduced the four-stroke, four-valve, water-cooled 300 HPE (High-Performance Engine), the most powerful motor to be housed in a Vespa. The single-cylinder engine remains virtually unchanged, producing the same power and torque: 23.8 hp at 8,250 revolutions per minute and 26 Nm of torque at 5,250 rpm.
Fuelling is controlled by the latest-generation Magneti Marelli MIUG4 ECU, with improved calculating capacity. Vespa have also tweaked the valve lift by changing the camshaft and added a new high-pressure multi-jet injector. These plus other small changes to the intake system improve torque at low speed; make for easier, almost instantaneously start-up; and improve fuel consumption. Vespa quote 31 km/l.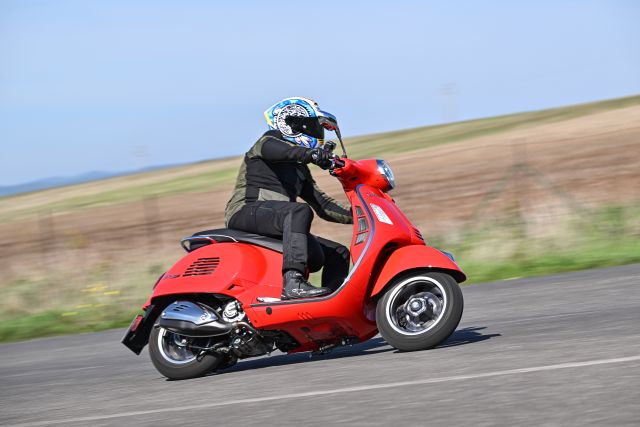 Vespa aptly launched their new models in Rome, starting just a short journey away from the heart of the dramatic capital. With no clutch and very little lag, just twist and go, the GTS is as simple as it gets to ride a powered two-wheeler. The throttle connection is smooth and you can ride along at walking pace with ease, without trailing your feet for stability. There is power on tap: when you see a gap in the traffic or want to nip past a slow-moving bus, the 300 has a welcome zip of acceleration. Rome was, as expected, thoroughly congested but the Vespa carved up the traffic as if it was born to the task. And, crucially, the HPE powerplant injects the GTS with enough drive from the lights to get in front of those frustrated cab drivers who race from every set of lights while dreaming of becoming the next Ferrari F1 driver.
I only managed to escape the congestion for an hour, but the four-stroke was not outclassed on the open road. I have ridden the previous model, and the 2023 Vespa shares a very similar engine, with the same quoted power and torque. It will breeze up to 100 km/h, even 130 km/h in favourable conditions, while cruising at 110 km/h is not too much to ask.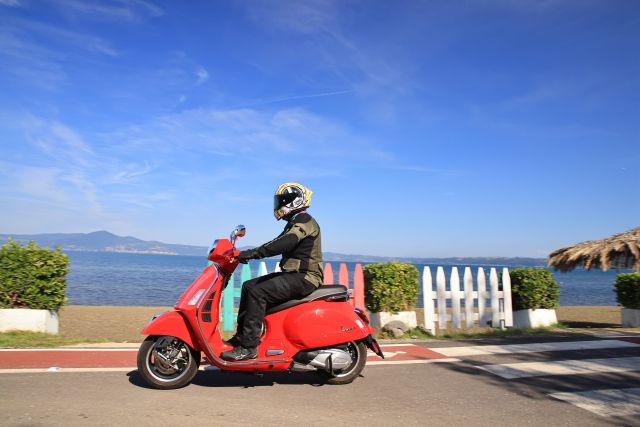 Following feedback from existing GTS owners, Vespa wanted to improve the comfort of the new 300 and this has been achieved with a new front end, revised rear settings, a new seat, and a roomier riding position. I only spent a single day on the new Vespa and comfort was not once an issue. The bump-nullifying ride quality is seriously impressive, especially for a £6,000 (Rs 5.50-lakh) scooter, and certainly leaves you fresh after a dice with the traffic.
Despite new fuelling and small revisions to the engine, Vespa claim the same 31 km/l as previously. With an 8.5-litre fuel-tank accessed from under the seat, now via a keyless lock, the potential range is nearly 300 km. Some owners of the current GTS take on serious miles as cruising at 100-110 km/h is not a problem. But I think if I were going to use the Vespa for longer distances, I would fit the larger after-market screen.
Despite its retro looks Vespa wanted to bring the 300 bang up to date in terms of technology. A new keyless system operates the ignition, seat, and a small glove-box up front containing a USB port and just enough room for a phone and spare gloves. VESPA MIA connectivity system comes as standard on the Super Sport and Super Tech or as an accessory for the standard GTS and Super as tested, should you wish to connect your phone. The Super Tech also gets a new TFT dash, which I think clashes slightly with the "classic-retro" look of the Vespa. The other three models get a more traditional analogue speedo with a three-inch LCD display.
All models come with traction control as standard, which can be deactivated. Initially, I thought its inclusion was overkill but later felt the TC kick in when riding over wet cobbles. So, maybe, it is needed. It is certainly reassuring, as is the ABS, which cannot be switched off.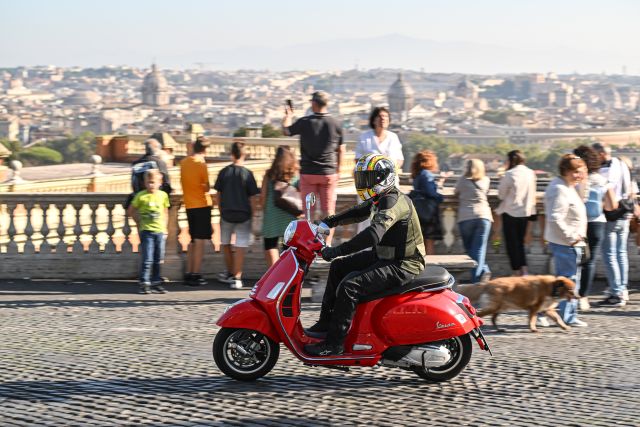 According to Vespa, there is enough room under the seat for two Vespa Visor 3.0 jet helmets, but it is tight. If that is not enough storage, Vespa offer a large 36-litre top box, which will accommodate a full-face helmet and gives additional back support for a pillion. Front and rear luggage racks are available and, as expected, two optional screens (medium and high) can be grabbed from the official catalogue. Heated grips combined with a thermal leg cover will keep you toasty warm in winter and help make the GTS a versatile all-year bike. Vespa even offer alternative exhausts that sound a little fruitier than rather dull original, while a centre stand comes as standard, which you will need as there is no parking brake.
Sometimes bikes just simply fit the environment. Commuting in Rome requires nothing other than an Italian-made Vespa. On this test, I never once wished for another scooter.
Of course, the new bike's qualities will shine in any city, Rome or Rotherham. The suspension and brakes are a significant improvement on those of the older model. The ride quality on seriously dodgy road surfaces is great and the new brakes are equally impressive. Vespa have really pulled their socks up because the new GTS exudes premium quality, with even details like its fasteners cleverly hidden.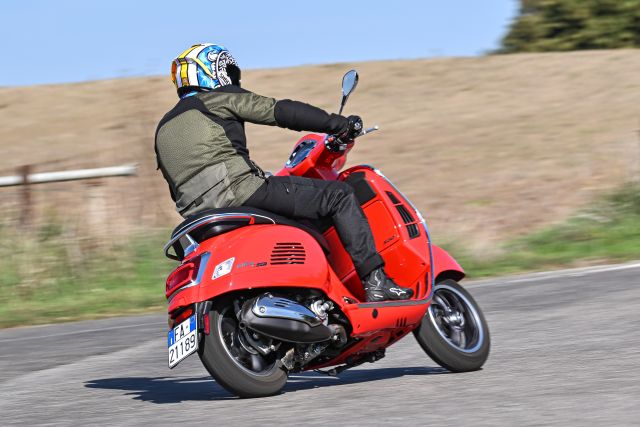 In the metal, I love the retro styling of the standard and Super versions especially—for me it is not often that I come across a scooter so visually appealing. Yes, the GTS is more expensive than the Japanese competition and does not have the under-seat storage of some, but I can overlook a few niggles just because it looks so good and the ride quality is so excellent.
If you are going to buy a scooter with your heart, it really has to be Vespa. The GTS made me smile every time I saw its reflection or gazed at it while sipping an espresso. The old 300 was not a bad bike, but the ride quality, feel, and uprated rider aids and technology of the new bike make it a serious contender for the best mid-capacity scooter in the market.


Vespa GTS 300
Technical Specification
Price: £6,000 = Rs 5.52 lakh (standard) £6,100 = Rs 5.61 lakh (tested here)
Capacity: 278 cc
Bore x Stroke: 75 x 63 mm
Engine: Water-cooled, single-cylinder
Valvetrain: Four-stroke, four-valve
Power: 23.8 hp at 8,250 rpm
Torque: 26 Nm at 5,250 rpm
Top speed: 145 km/h (estimated)
Transmission: CVT automatic, dry clutch
Average fuel consumption: 31.25 km/l (claimed)
Tank size: 8.5 litres
Max range to empty: 306 km (claimed)
Rider aids: Traction control and ABS
Frame: Steel, underbone
Front suspension: Single-sided swing-arm with coil spring, no adjustment
Rear suspension: Twin rear shock-absorbers, adjustment four-position pre-load
Front brake: 220-mm discs, ABS
Rear brake: 220-mm disc, ABS and ASR
Front wheel: 3.00 x 12-inch, alloy
tyre: 120/70-12, tubeless, Michelin City Grip
Rear wheel: 3.00 x 12-inch, alloy
tyre: 130/70-12, tubeless, Michelin City Grip
Wheelbase: 1,380 mm
Seat height: 790 mm
Weight: 155 kg
Warranty: 24 months, unlimited mileage
Website: www.vespa.com