The TVS XL is celebrating 40 years of existence. Today, in its most modern guise with advanced features not even imaginable four decades ago, the XL 100 and its variants offer a lot more tech in the tried and trusted frame.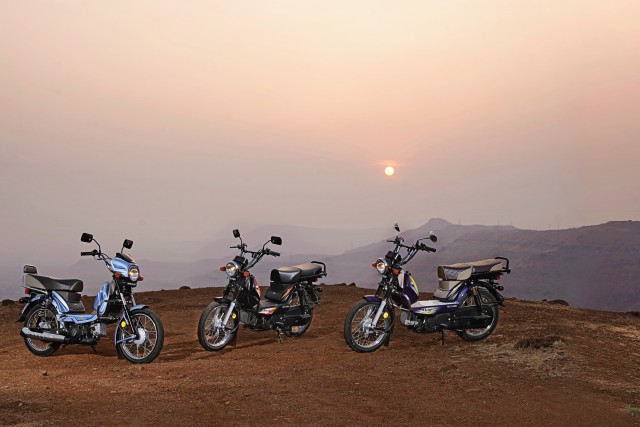 Story: Jim Gorde
Photography: Sanjay Raikar & Apurva Ambep
Sometimes life comes full circle. It doesn't happen at a set moment, but it does happen and when it does, it's accompanied by a flurry of memories of moments that storm the mind and, unmistakably, leave a nostalgic smile. That moment for me was when my eyes found the TVS XL 100 in the lot. There was the most modern iteration of the bike I'd learnt to ride on. The first-ever powered set of two wheels I'd plonked myself on and twisted the throttle. That was three decades ago for me. That was a two-stroke XL 50 with 3.5 hp and a mini-clutch and pedals to get it started. Yet today, here's its most modern iteration; an apt successor. And it's loaded with some features I'd never imagined back then: an electric starter and fuel-injection!
The TVS XL 100 is the ultimate evolution of the venerable workhorse that is reborn for the modern BS6 era with all it needs to take on the world head-on. And, this time, there's more than one choice.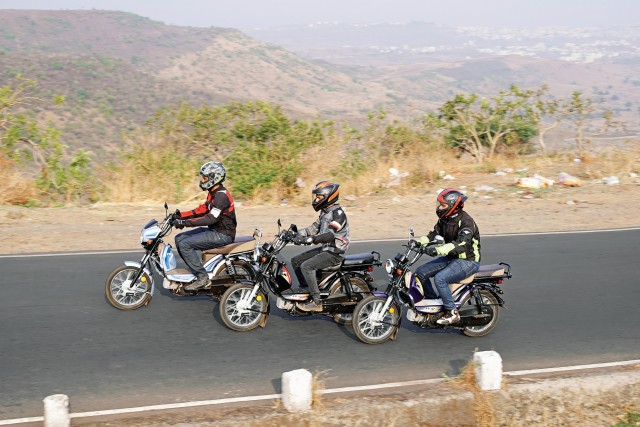 That's right. The new TVS XL 100 gets a bunch of variants each with some subtle and some not-so-subtle details. The line-up begins with the Comfort, followed by the Heavy Duty, both of which are also available with the i-Touchstart system — the ones we have here, with the special Win Edition 40th anniversary celebration model rounding off the portfolio; a fully-loaded model with some exclusive styling details too. All variants are fuel-injected and feature TVS' ETFi (EcoThrust Fuel Injection) that strikes a fine balance between linear power delivery and maximum efficiency.
The engine is a 100-cc unit, with slightly oversquare dimensions of 51 millimetres by 48.8 mm, that produces all of 4.4 hp at 6,000 rpm and a decent 6.5 Nm at 3,500 rpm. Now, that may not sound like much, but it's down to how it delivers it and what it can actually manage with that. With a centrifugal clutch and a single-speed transmission driving the rear wheel with a chain, it can effectively surprise with its load carrying ability. And even with electronics on board — silent and smooth start, fuel-injection, lambda sensors, and processing power — it still weighs in at just 89 kilograms.
So, why does it impress us journos and manage to put a smile on our face each time? We, who've ridden almost everything under the sun with 10 times or even 45 times the horsepower? It's simple. It's the art of simplicity. It's a no-nonsense vehicle that gets things done. It can commute. It can transport. And it can do it day in and day out and be enviously reliable as well as fuel-efficient. It's only got a four-litre fuel-tank but, even so, it can go on for hundreds of kilometres with no worries. Even when the smart fuel reserve warning light comes on, it's still good to go for another 70 to 80 kilometres or so.
Just to prove what it can really do, we decided to give it the proper urban runabout. "Heavy Duty" they say? Can it handle two 90-plus-kg individuals and a big bag? Sure. The maximum payload is rated at 130 kg, but we believe that's a sort of acid test. The handling, when loaded, takes a little getting used to; however, keep in mind that this was way beyond its calling. Nonetheless, it surprised us with its "never say die" attitude. The weight penalty onboard, though, is pretty much its only restricting factor.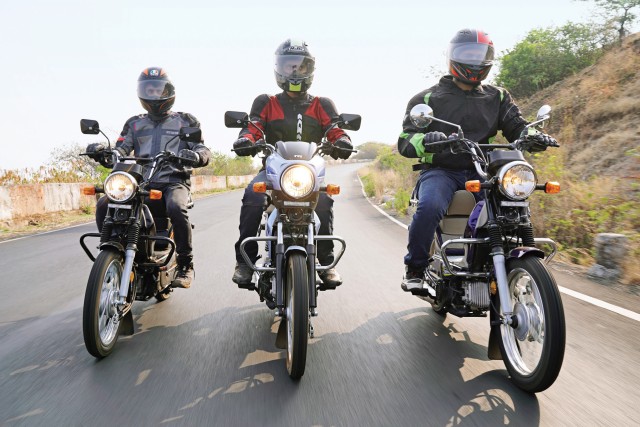 Given room on the open road, the XL 100 can easily get up to 40 km/h and even hit 60 km/h with a lighter rider astride. The 16-inch wheels with 2.5-inch-wide tyres make it a nimble handler while generating enough grip. Let's not forget, in the past four decades of its existence, it's been through a lot, including racing. Yes, our Editor recalls the glory days of the Sholavaram track in Chennai which ran hot with the sound of two-strokes, some heavily fettled and tuned for maximum performance, with palpable excitement; probably down to the unburnt fuel in the air from these mental machines. They've been cornered hard and leaned as far as their foot-pegs would allow.
Things have changed now, but some things still stay the same. The TVS XL 100 is an absolutely sprightly thing in traffic. I didn't truly realise how many people ride and drive at 30 km/h or even lower speeds until I was astride this thing, passing larger-capacity motorcycles dawdling and 250-hp six-cylinder SUVs crawling to a halt in front of potholes smaller than their cup-holders and speed-breakers half as high as their ground clearance — the world truly seemed insane at that point. But what shone was the ease with which the XL handled every situation thrown at it. It's ideal for all sorts of people who want a light commuter that can deal with loads or for shorter riders who want something with a low saddle height to have their feet firmly on the ground when needed or even those who want a relaxed, reliable, and efficient runabout for everyday use — one that doesn't cost upwards of Rs 65k. The XL 100 range starts at just about Rs 40,000 (ex-showroom).