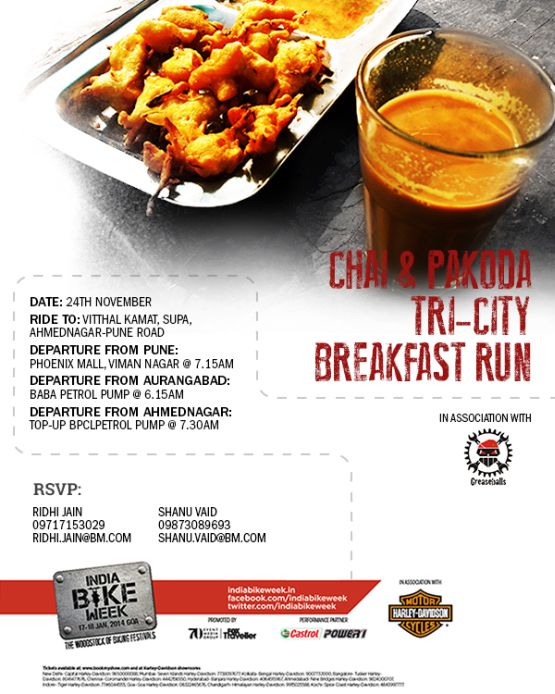 If you're living in Pune, Ahmednager, or Aurangabad, keep yourself free on Sunday, the 24th of November, because the Chai & Pakoda run is coming to your city.With the India Bike Week right around the corner, the Chai & Pakoda run is like a pre-celebration party, where bikers of the same locality congregate to enjoy each other's company, and the pleasures of a mass rally.
Kolkata has already witnessed a hugely successful Chai & Pakoda ride where over 300 ardent bikers took to the streets for a 150 km long ride, and now its time for Pune, Ahmedabad, and Aurangabad to show their biking mettle.
The events will kick off from these venues at these times:
Pune: Phoenix Mall, Viman Nagar at 7.15am.
Aurangabad, Baba Petrol Pump at 6.15am.
Ahmednagar, Top-Up BPCL petrol pump at 7.30am
If aren't residing in or around these cities, and wish to join in with the ride, don't despair as leading up to the India Bike Week on 17-18th January 2014, there will be a slew of these rides taking place all across the country. We'll keep you updated on when and where they're happening, so stay tuned. As for those who do live in these cities, put on your best riding gear, strap on your helmet, and join the ride.
Story: Harket Suchde