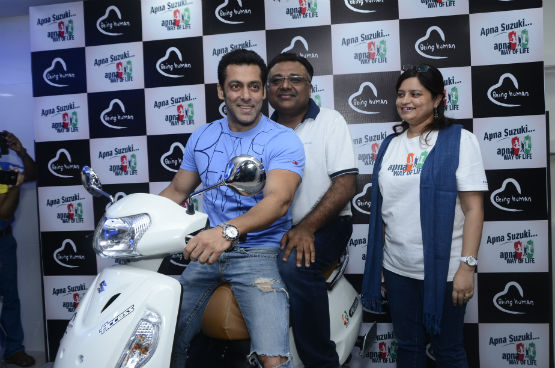 Bollywood icon Salman Khan's Being Human Foundation is instantly recognisable thanks the amount of promotion he and his superstar friends have carried out for it. Recently, this promotional activity was taken to a whole new level, when Suzuki along with Salman announced the release of a special, limited edition 'Being Human' version of the Suzuki Access.
Speaking at Suzuki's Mumbai dealership, Salman, who was there to purchase his very own being human scooter, spoke about this collaboration and what he hopes will come out of it, he said, "I am really happy that Suzuki has launched a co-branded Being Human scooter. This is the first step in a long association between Suzuki and Being Human: The Salman Khan Foundation. Suzuki's nationwide network will help the Foundation increase its reach in its mission to provide education and healthcare for the underprivileged."
Through this collaboration, Suzuki will not only sell this special edition of the Access, but also various other Being Human merchandise in it's outlets across the nation. The proceeds from these sales will be used to help educate underprivileged children, pay for heart surgeries and cataract operations, and organise bone marrow donation camps.
Atul Gupta, Executive Vice President of Suzuki India felt optimistic about the masses also joining in on the cause, he said, "Suzuki is proud to extend its partnership with Salman. Suzuki globally is committed to contributing to the development of the community though social action programs. We are very happy to be able to contribute to the Being Human effort by promoting the cause through the presence of branded apparel at our dealerships and we are sure our customers will become partners in the goals of the Being Human Foundation."
Story: Harket Suchde