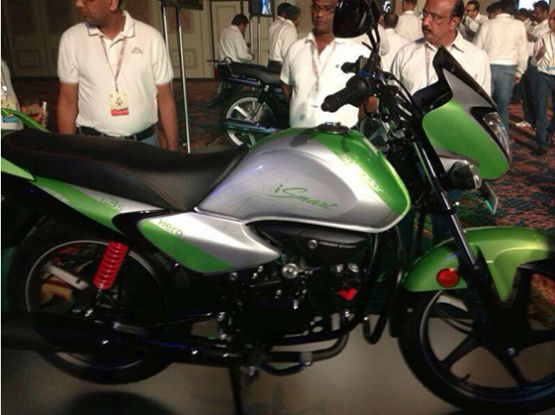 On the back of the recent reveal of the popular Karizma's more powerful new avatar, Hero MotoCorp have slowly started to release details about some of the other bikes that will make up the 15 new ones they intend on bringing in to the market from next year onwards. Information regarding the new Splendor, which has traditionally been Hero's strongest product in the Indian automobile market, has been the next in line to surface from Hero's Global Sales and Marketing Conference in Macau, China.
The design of this new Splendor is aimed towards wrenching back the market share from some of its entry level competitors who have been steadily encroaching on territory previously dominated by it. Reports suggest that Hero intend on accomplishing this by not only giving the bike the whole hog of cosmetic upgrades,but also introducing a variant called the iSmart that will incorporate the start stop system in a motorbike for the first time in India.
The start stop system is a technological tool that turns the vehicle off when it comes to a standstill, at a traffic light for example, and starts it again when the vehicle is revved up. This system has the obvious benefit of improved fuel economy, something that has been the cornerstone to the Splendor's popularity in the Indian market. If incorporated efficiently, the iSmart will surely help he Splendor range regain the lofty heights it once enjoyed in the entry level motorbike segment.
While speaking at event, Hero MotoCorp's Managing Director and CEO, Pawan Munjal also spoke about the many alliances and acquisitions that Hero have made in foreign design and engineering firms, and how despite not actively searching for more such acquisitions and partnerships, if the right opportunity came their way, money would not be an object to buying further stakes in automobile firms or even the outright purchase of dedicated two-wheeler production firms.
Story: Harket Suchde
Picture source: www.motorbeam.com