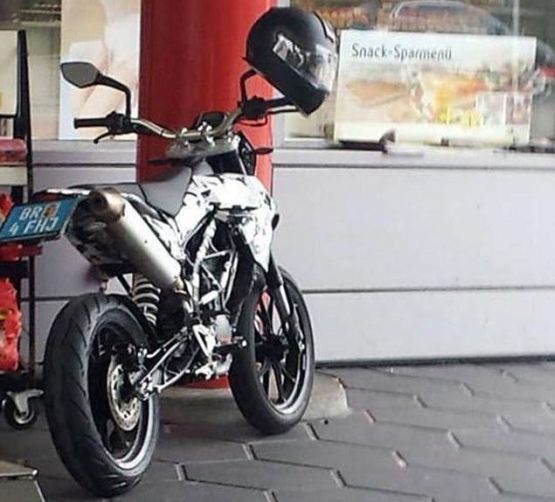 The 390 Duke has been making waves both in the global and Indian 2-wheeler market, and with good reason too. The bike has been a real crowd favourite ever since it hit showrooms, and has already spawned an RC version that we covered earlier.
Now, this spy image of what appears to be a prototype of a brand new supermoto inspired design has also turned up, indicating yet another interpretation of the 390 from its Austrian manufacturers. The first detail that leaps out at you is the exhaust. Rather than an underbelly exhaust that has been the hallmark of the KTM bikes you seen on the roads today, this prototype features a more traditional exhaust pipe. This particular design attribute could have been included with ground clearance in mind. The seating arrangement has also been tweaked to suit a supermoto styled design, which could potentially raise the ride height and alter the riding stance as well.
Whether these changes are indicative of work in progress, or a blueprint for what the production design will eventually look like is not yet clear. Furthermore, there are no additional details as yet on when the bike will be launched, although it is being speculated that 2015 is a probable time frame for the launch of this new bike. Paucity of details notwithstanding , this little teaser image will give KTM fans the world over much to talk about.
Story: Harket Suchde
Image Courtesy: MasMoto