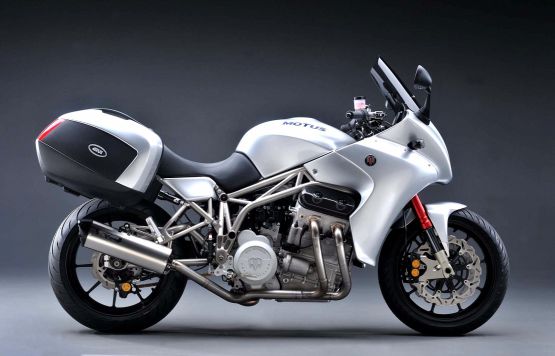 The Motus MST was first previewed at Laguna Seca about two years ago, and the production version will finally be unveiled at the very same venue this weekend, alongside the Red Bull US GP.Motus as a brand has claimed to bring the best of both sides of motorcycling – customised small-series sporty bikes as well as comfortable touring bikes for customers looking from something different from the KTM 990/1190 Adventure, BMW R 1200 GS, or the Ducati Multistrada.
The bike will debut in two variants, with the 'R' variant as the sporty cousin loaded with carbon fibre elements, Akrapovic exhausts, and a V4 engine developing 185 PS, around 20 PS more than the standard 165 PS version, but more than sufficient for riders looking for a powerful steed for long-distance touring.
The V4 engine is also available as a crate unit, meaning that it is likely to make its way to customised one-off machines too. Online pictures of the bike reveal it to be an imposing piece of machinery, for experienced riders looking for some fun.
The bike's pricing is on expected lines, with the Motus MST selling for Rs 18.3 lakhs ($30,975) and the MST-R for Rs 21.8 lakhs ($36,975). So if you are on the lookout for a powerful touring bike, you know where to put your money down!
Story: Gaurav Nagpal