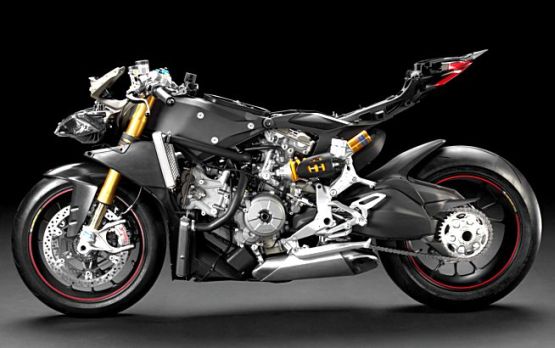 Ducati are all set to amaze enthusiasts once more come EICMA 2013. After unleashing the 899 Panigale, the rumour-mills have been spinning wild about Ducati working on a new 1199 Panigale. Called the Panigale R Superleggera, it is expected, like its namesake, to be a super-light machine. Technicians at Ducati have hinted that the new Panigale will make extensive use of magnesium, titanium and carbon-fibre; shedding a whopping 18kg off its current overall weight.
That's not all! The boffins from Bologna have also revealed that the new Panigale R Superleggera will be re-tuned to produce much more power and torque, which would see the new Panigale break the200 PS barrier with an estimated 220 PS output. The new Panigale Superleggera will also get an all-new electronics system derived from the company's WSBK programme. State of the art Öhlins dampers and Brembo brakes are standard equipment as well.
With only 500 units to be produced, expect the new 1199 Panigale R Superleggera to be quite an expensive, and needless to say, head-turning machine.
More more Official videos click here:
Story: Sayem Syed