The 2022 India Bike Week (IBW) is an annual event that brings together motorcycle enthusiasts from across India and the world. This year the event was back in Goa, the immensely popular tourist destination known for its beautiful beaches and vibrant nightlife. The event featured various activities and attractions.
Story: Kurt Morris
Photography: Apurva Ambep

One of the highlights of this year's IBW was the international motorcycle rally, which saw riders from all over the world come together to participate in a gruelling cross-country race. The rally took riders through some of India's most scenic and challenging routes, providing a true test of their endurance and riding skills.
With this year's special attractions, which included five distinct tracks, Wheelie Training, Biker's Mart (Indoor and Outdoor Expo), Big Trip sessions, Ladakh Tent, the Club Village, Jameson Connect Howling Dog Bar, and others, IBW 2022 provided some out-of-this-world experiences. An enthralling adventure voyage that began with a ride to Goa and culminated in a number of thrilling activities, starting with the Ride to IBW.

In addition to the rally, the event also features a number of other exciting activities, including stunt shows, live music performances, and exhibitions of the latest bikes and accessories. The stunt shows, in particular, are a major attraction at the IBW, with professional stunt riders performing a range of death-defying feats on their motorcycles. This time around the shows had some great opportunities for visitors to see the latest bikes in action and witness the incredible skill and bravery of the riders.
Another important aspect was the exhibition of the latest bikes and accessories. Many of the world's leading motorcycle manufacturers and accessory companies were present, showcasing their new products at the event, giving visitors a chance to see and learn about the latest innovations in the world of motorcycling.

Five separate race tracks and various different categories of the competition were slated for IBW 2022. A time trial competition called the Hill Climb, was held in collaboration with CEAT. IBW also held a flat-track event and a mud run competition. Additionally, there was the "Dirt Dash" event, which was true dirt racing, and the "Adventure Flow Track," an obstacle course made just for ADVs. There were other track sessions available to sign up for individuals who wanted to pick up a few new abilities.
Nelly from ProDirt Adventure Motofarm, and FMAE Motopark trained guests on the Adventure Track, Flow Track, and Dirt Dash for motocross and dirt fans. Vishakh from BAR Academy led hour-long Enduro sessions to master the hill course.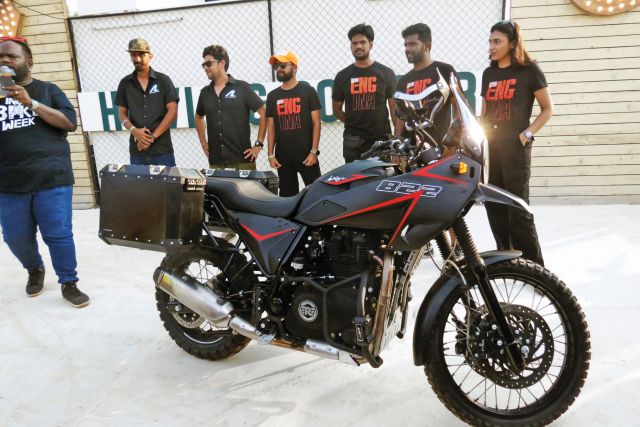 The exhibition was a great opportunity to check out new bikes and accessories, as well as to meet and interact with other enthusiasts from around the world. Also one of the standout custom bikes was the dual 411-cc single-cylinder engines that powers the 822 Himalayan motorcycle showcased. The bike is the first and only 822-cc parallel-twin Himalayan in the world, and it was created by Autologue Design and Auto Engine. It is stated to produce 45 horsepower and a peak torque of 55 Nm. The 822 Himalayan motorcycle's price has not been disclosed by the business, however, it is probably around Rs 12 lakh. This customised Royal Enfield Himalayan 822 uses the 650 twins' radiator. The engine gets a new crankcase and camshaft, say the bespoke builders.

The Rodcast Tent, Beer Garden, Jameson Black Barrel Bar, Vinyl Collection, Singer-Songwriters, and Community Open Mic Sessions could all be found in the cosy Ladakh Tent. Shirshendu Banerjee from The Biker Radio Rodcast did a live recording broadcast at IBW 2022 for the first time. Conversations with biker cafes, early motorcycle clubs, and adventure bike trip planners were held by individuals and organisations that have contributed to the development of the motorcycle subculture during the past 20 years.
Music enthusiasts enjoyed this year's performances very much. Lagori and Teri Miko are the headliners, followed by Easy Wanderings, DJ Mojo Jo Jo, DJ Unnayaana, and DJ Uday Benegal for the Ladakh Tent, and DJ Ayesha Pramanik for Jameson Howling Dog Bar. Red Bull's freestyle artists, including rappers, MCs, BMX stunt riders, and break dancers, also performed at IBW 2022.
In conclusion, the 2022 India Bike Week was an exciting and memorable event for motorcycle enthusiasts like us and from around the world. With its exciting activities, beautiful location, and world-class facilities, the event provides a unique opportunity for riders to come together, share their passion for motorcycling, and experience the thrill of the ride. Whether you are a seasoned rider or a newcomer to the world of motorcycling, India Bike Week was welcoming and very hospitable.

BMW

When BMW Motorrad India unveiled their new flagship superbike at IBW 2022, it sent its fans into a frenzy. Before its market debut, the 2023 BMW S 1000 RR was unveiled in Goa. The new model has a lot to offer in terms of engine, chassis, and design upgrades.
A 999-cc, liquid-cooled, four-cylinder engine on the revised bike will now produce 210 hp at 13,750 rpm, while the torque output stays the same at 113 Nm at 11,000 rpm. With a maximum engine speed of 14,600 rpm, BMW claim the engine is optimised to provide greater power and a broader rev range than before. It still has a six-speed gearbox with a bidirectional quick-shifter.

Hero MotoCorp

Hero MotoCorp had a special off-road track experience at IBW for their customers. As they returned to the outdoors, Xpulse owners and XClan riders demonstrated some incredible off-road talents in the spirit of "Once a HERO, always a HERO" at IBW, together with Asad Khan, the champion of the Hero Dirt Bike Challenge, Sathyaraj from Hero Motorsports displayed some insane dirt biking talents.
We saw some incredible riders and had a sense of camaraderie when the riders fell, got back up, brushed off the dirt, and resumed riding.

Harley-Davidson
One of the significant bikes to be presented at the India Bike Week was the Harley-Davidson Nightster. It packs a 975-cc "Revolution Max" V-twin engine that produces 90 horsepower and 95 Nm of peak torque. The bike starts at Rs 14.99 lakh (ex-showroom).
KTM
KTM India displayed the 890 Adventure R at IBW. The 890 R has been redesigned for 2023 with new styling and various technical improvements. The key updates that the KTM 890 Adventure R will be receiving for 2023 are an 889-cc parallel-twin motor with 104 horsepower at 8,000 rpm and 100 Nm of maximum torque at 6,500 rpm. The engine is mated to a six-speed transmission and sits in a steel tube frame.
Kawasaki

Kawasaki had the KLX 150BF on show and could introduce it in India. An off-road-capable motorbike with a lean overall design, the KLX 150BF has a one-piece seat, halogen headlight with bulb indicators, and high front and rear fenders. For added protection, it also receives a bash-plate and handlebar guards. Additionally, the exhaust is also upswept for greater clearance when off-roading.
A 144-cc, single-cylinder, air-cooled, four-stroke engine with an output rating of 11 hp and 11.3 Nm powers the KLX 150BF. It is coupled to a five-speed transmission. A front petal disc and a rear disc are used for braking, and the bike is fitted with long-travel USD front forks and a rear monoshock. It is equipped with spoked wheels and off-road tyres with block patterns.