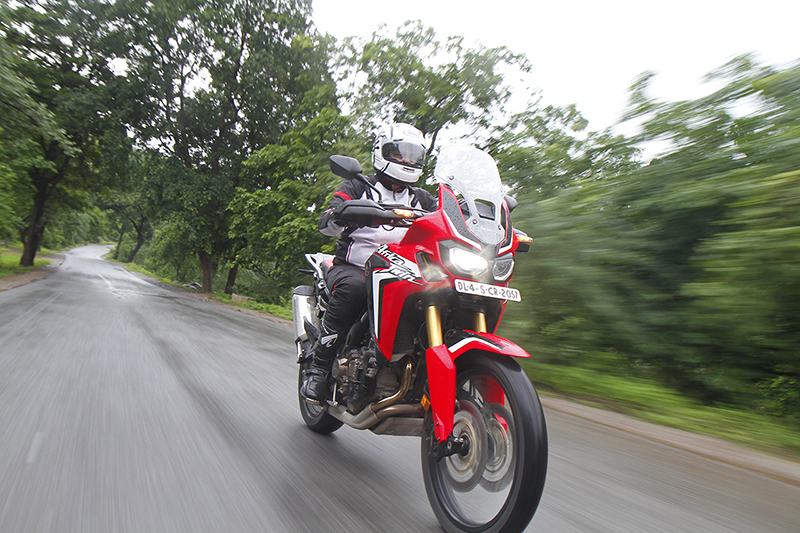 As promised during the 2016 Auto Expo, Honda Motorcycle and Scooter India (HMSI) brought 50 units of the Africa Twin to India.

All of which have been booked and many have already been delivered to enthusiasts across our country. Therefore, we convinced HMSI to give us some saddle time on what they term "the most reliable, versatile and proven adventure touring motorcycle".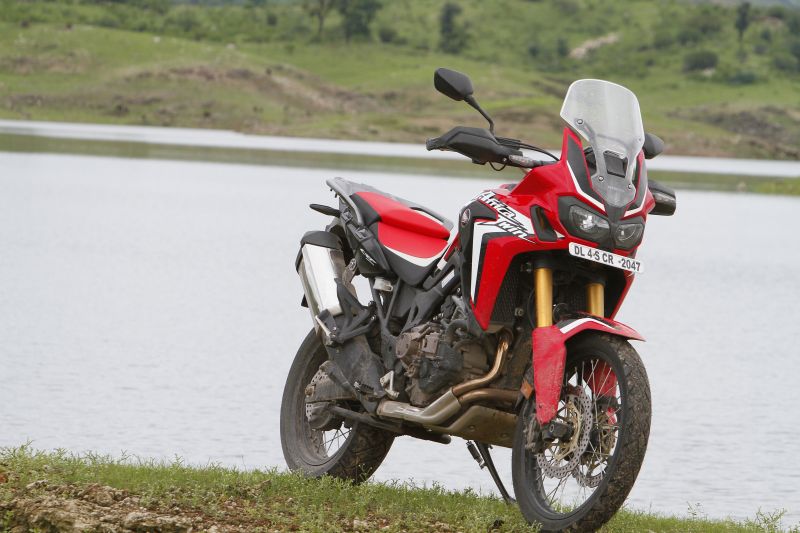 1. Design
The Honda has an imposing stance and the bright red-white-black colour combination is difficult to ignore. Not intimidating maybe, but surely attractive. The Africa Twin has been conceptualised on the company's current Dakar competition bike – the CRF 450. Many parts are very similar to the rally bike including the frame and the brakes. This gives the 2017 Africa Twin the necessary genes it needs to live up to its iconic predecessors that have conquered the Dakar Rally, the world's toughest rally raid.
It's a tall bike with the fully adjustable front forks offering a 230-mm stroke. It comes with large 21-inch wheel which gives an unparalleled 250 mm of ground clearance. The dual LED headlights and tall windscreen accentuate the bike's towering figure.
What was surprising is that I could get both my feet to touch the ground at standstill. The seat narrows down as it meets the slender fuel tank, which makes this possible. Also the fact that the tall 840-mm saddle height can be reduced by 20 mm by adjusting the seat height is a boon for shorter riders. The seat's almost triangle-like shape makes it very comfortable for long rides as well.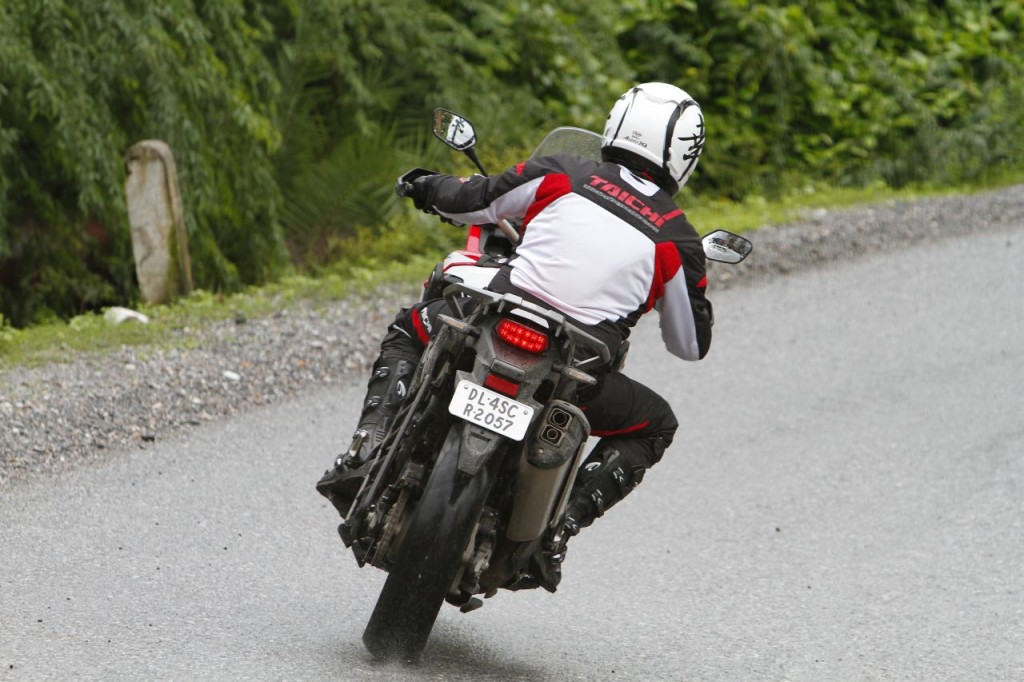 2. Engine
This is the largest capacity Africa Twin ever made. Its 999.11-cc twin-cylinder, liquid-cooled engine produces 88.4 PS and 91.9 Nm of torque which is adequate for most of us. The six-speed gearbox is managed through Honda's Dual Clutch Transmission (DCT), which changes gears automatically. The way it delivers power isn't too exciting, instead it comes in as a steady flow, however, the convenience of having a DCT makes it very friendly off the roads. But more importantly, it's the brilliant packaging of the motor that gives it mass centralisation and a low centre of gravity. This not only gives the bike a comparatively low seat but also impeccable balance on- and off-road.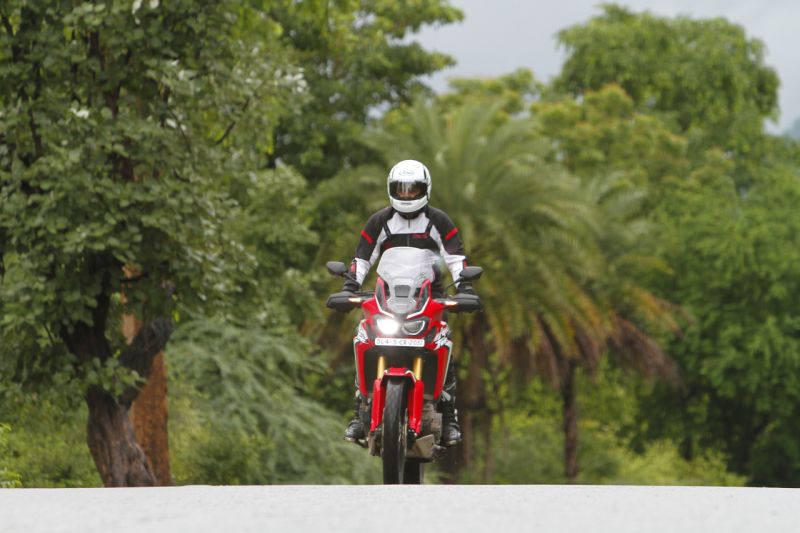 3. Using DCT
I have to admit that not having a clutch lever or gear shift felt quite unusual at first, but one can adapt to this in no time. It's brilliant, actually, because while off-roading one can focus on the tricky sections, or stand on the pegs and ride, while the DCT takes care of the clutch modulation and gear selection on your behalf. All you need to do is select the Drive or Sport riding mode. If you like, you can select Manual gear shift too and there are buttons on the left, below the indicator switch, that can be used to change gears manually on the go.
Additionally, one can installed an optional gear lever and can use it like a conventional manual-geared motorcycle. I got to use one of those and it makes riding the Africa Twin feel more convenient. Just a word of caution – since the bike doesn't come with a clutch there are two things to keep in mind.
Firstly, on an Africa Twin one needs to ensure that the bike is in neutral when stationary, else it might pounce forward if one blips the throttle out of habit.
Secondly, the DCT equipped bike comes with a handbrake on the left side of the handlebar, which can be mistaken for a clutch lever. The handbrake is very similar to the ones seen on automatic scooters, and is pretty useful while parking on a slope.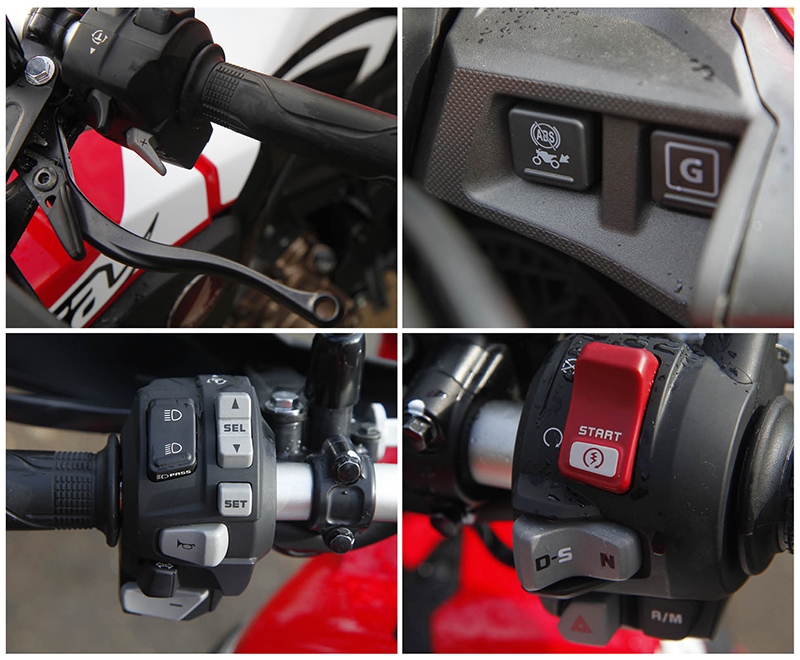 4. Off-Road Features
The bike comes packed with riding aids, which can help setup the bike in dozens of ways. Initially all this might look a little confusing, but one gets used to the bike with a little riding.
It gets dedicated switches for gravel riding and and one for ABS specifically for off-road which allows the rear to lock and it can be activated by a simple push of a button. For now it doesn't include Cornering ABS. There's a dedicated toggle lever just above the passing light on the left switchgear that changes the level of HSTC (Honda Selectable Torque Control).
There are three levels of HSTC. Staying in level three, the HSTC constantly monitors wheel-slip on loose surface and interrupts the power to help regain traction. Level two is less intrusive and level one will ignore spin-ups and even let the bike slide a bit before bringing the rear wheel back in control for you.
Soon enough, the African Twin will surprise you with the confidence it inspires. In no time I found myself playing around with the various levels of traction control. This makes the Africa Twin brilliant as an adventure bike. It is so easy to ride that even beginners and intermediate riders can explore their personal potential to the hilt.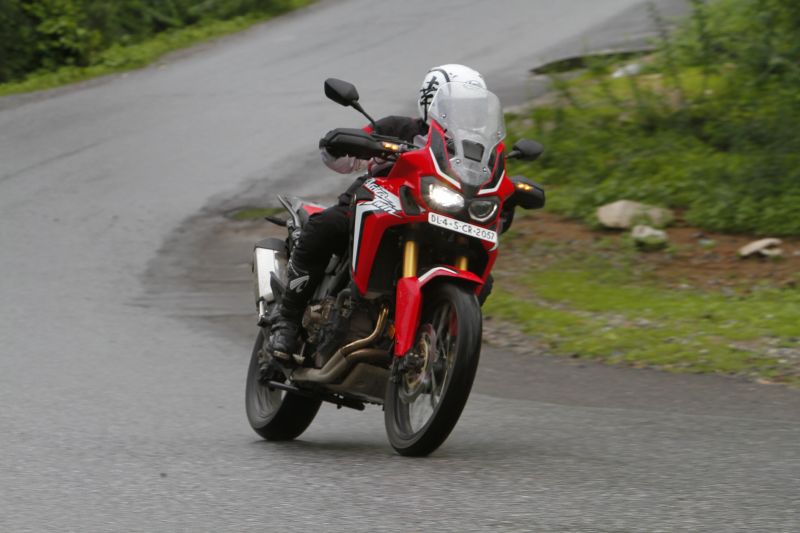 5. Riding Dynamics
The Africa Twin comes with a massive 21-inch front wheel and an 18-inch wheels at the back, shod with dual-purpose Dunlop tyres. These did manage to give good, versatile grip on tarmac, wet roads, and even on some loose off-road surface. But they have limitations, and if you desire more serious trail riding then you should opt for better knobby tyres.
After all, the adventure bike feels more at home off the road than on it since the dynamics isn't like sports tourers. Probably because of the tall stance and 21-inch front wheels. Having said that, long distance touring is what most buyers will be doing with it. There are slots to mount panniers on either sides, plus there are hooks to harness your saddlebags, and Honda is offering several accessories to make the bike more touring friendly.
Interestingly, HMSI had delivered the bikes to a some of the new buyers from Gurgaon, who were also invited to Udaipur for the Africa Twin media ride. These proud owners (one had his wife as a pillion) rode all the way to the city in Rajasthan covering the close to 650 km in a day, despite the heavy rain showers. And none of them showed any signs of fatigue in spite of all the riding.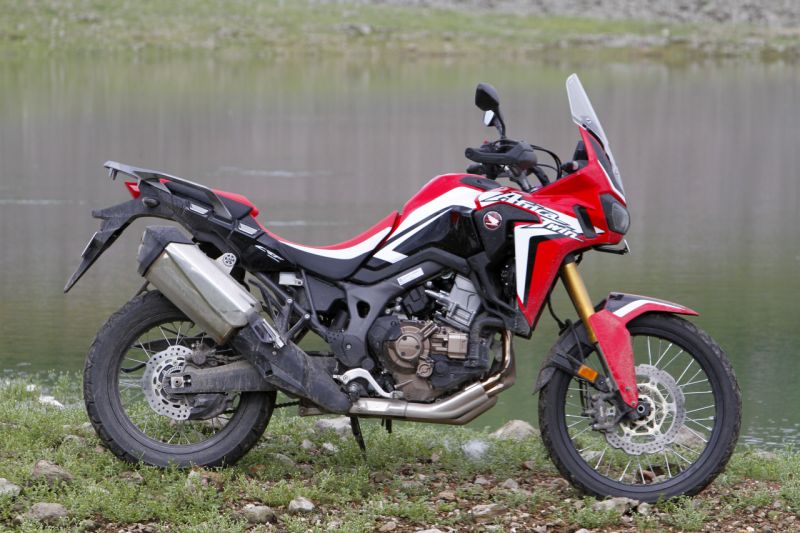 6. Price and Fuel Efficiency
Honda claims that the bike returns 21.5 km/l which is pretty decent from a bike of this size. The DCT has a big role to play in this. The 18.8 fuel tank capacity will give the Africa Twin a range of close to 400 km.
Coming to on-road price… depending on which part of country you belong to the Honda Africa Twin will cost you between 15-16 lakh (on-road) and will compete with the likes of Triumph Tiger and Ducati Multistrada. The biggest advantage Honda has is its goodwill for making extremely reliable products and of course the convenience of having a DCT.