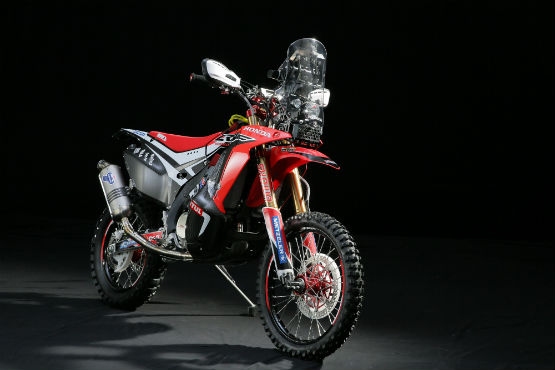 Honda Racing Corporation (HRC)  – the Japanese manufacturing bigwig's racing wing has raised the curtains on its latest entry for the upcoming 2014 Dakar Rally. A year after HRC made a trailblazing return to the Mecca of rally raids, they've announced their participation in the next installment of the competition as well. Drawing parallels to last year, HRC have again used the the CRF 450X enduro as blueprint for their dedicated rally machine, called the CRF 450 Rally.
Honda had introduced the Dakar-ready model exactly a year ago,and now, the new CRF 450 Rally has undergone a series of upgrades and improvements based on data pertaining to maintenance requirements, aerodynamics, durability and engine performance gleaned from last year's race. The bike will be propelled by HRC's signature Programmed Fuel Injection system this time around as well.
Team HRC's 5 racers and their respective CRF 450s will participate in the upcoming 2013 Morocco Rally which starts on the 13th of October, using it as a platform to build towards next year's Dakar Rally, which will also feature the same personnel and vehicles that will appear in Morocco. The bike will be produced and released for sale to other rally teams post-Dakar next year.
Story: Harket Suchde