The EMotorad X2, a cutting-edge electric cycle that combines style, performance, and eco-friendliness for an exhilarating ride.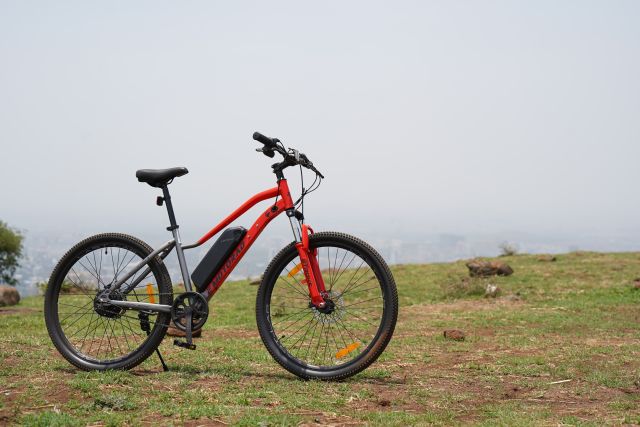 Story: Vaibhav Kashyap
Photography: Apurva Ambep

As a passionate bicycle enthusiast, I have always been captivated by the thrill of exploring places on two wheels. The feeling of the wind against my face, the rhythmic pedalling, and the sense of freedom that accompanies every ride are experiences that are deeply ingrained in my soul.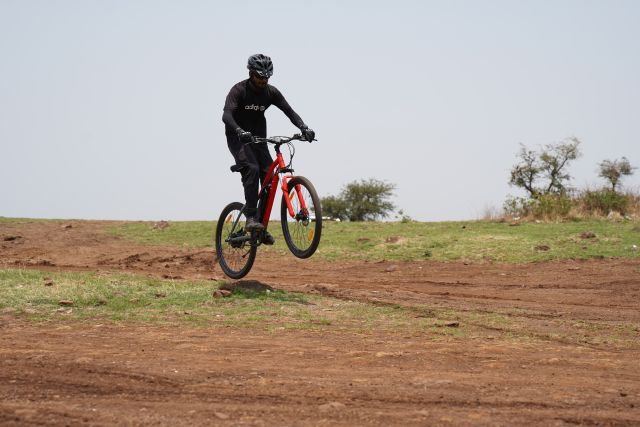 Recently, however, I embarked on a new chapter in my cycling journey, one that involved embracing the electric revolution and making the transition to an electric cycle. I got an opportunity to ride the EMotorad X2 electric cycle. In this review, I shall seek to explore the various aspects of the X2 to explain why it stands out.

The EMotorad X2 is a mountain e-bike designed to cater to a wide range of riders. With its unisex frame design and conveniently lowered top tube, this electric cycle ensures effortless step-through access for everyone. It stands out for its good quality construction and feels solid and sturdy, instilling confidence in the rider.

The X2 boasts of a 7.65-Ah lithium-ion removable battery, allowing one to easily detach and charge it at home. This feature is especially useful for those who don't have access to a charging point near the place where they park the bike, as is the case with me. With a 2A charger provided with the bike, one can charge the battery up to 80 per cent in around four hours, thus ensuring that one spends less time waiting and more time riding.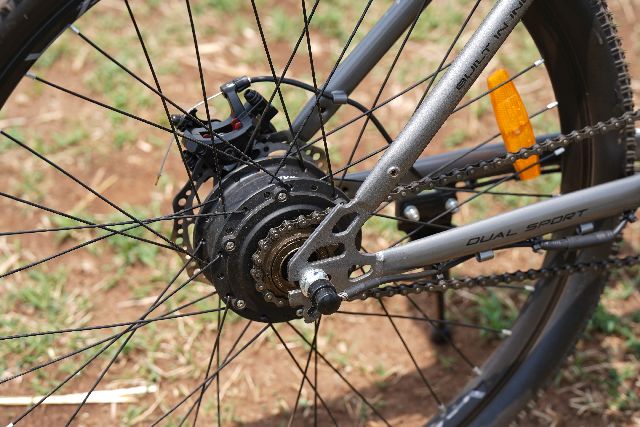 The performance of this bike is impressive in terms of range. A 36-volt, 250-Watt (0.34-hp), brushless DC motor mounted in the rear hub powers it. It has a range of up to 38 kilometres on the Pedal Assist System (PAS) and up to 33 km on the throttle, which is more than enough for most urban commutes and leisurely excursions. There are five pedal assist modes which one can set according to the amount of power one needs. The top speed in the all-electric mode is 25 km/h. It's difficult to get it to high speed unless one pedals quickly on the pedal assist mode because there is only a single-speed gear set-up.
Whether I'm commuting to work or embarking on an adventurous weekend getaway, the PAS enables me to cover long distances with ease. It has broadened my horizons, allowing me to explore new routes and discover hidden gems in my surroundings.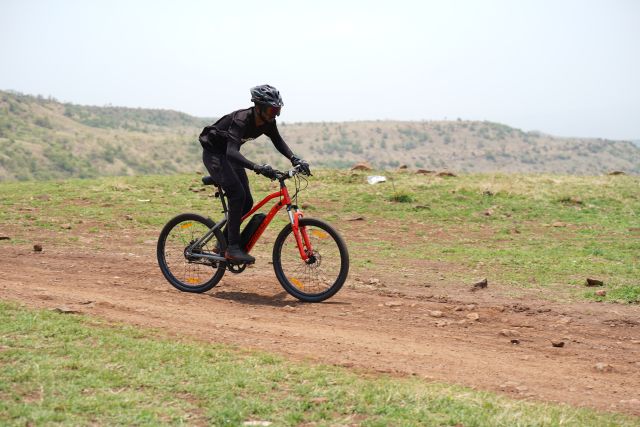 The MTB comes with the Hartex Xtra action 27.5 x 2.10-inch tyres. These tyres offer enhanced grip and manoeuvrability, allowing for agile handling and improved performance on a road or trail. Riding confidently over varied terrain is made possible by the X2's front suspension with 100 millimetres of travel. This suspension set-up effectively absorbs shocks and vibrations, ensuring a smooth and enjoyable ride. Whether you encounter bumps, potholes or uneven surfaces, the bike's suspension and nicely cushioned seat tackle them with ease, enhancing the overall ride quality.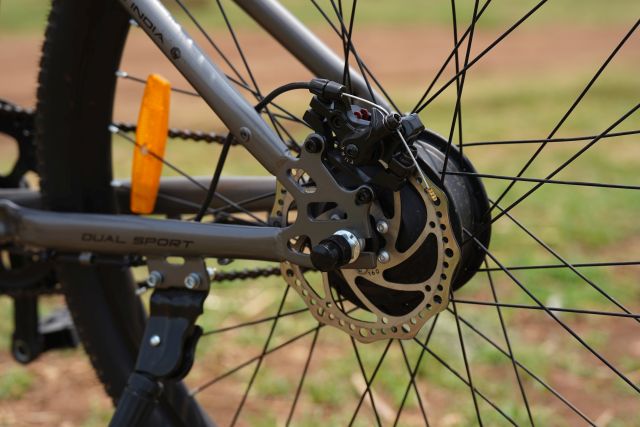 The X2 has a single-disc set-up at the rear and the same at the front with the auto cut-off feature which cuts off the motor power when you apply the brakes. The brakes offer responsive and reliable stopping power, enhancing safety and making riding the X2 effortless. Whether you're tackling steep descents or navigating through challenging trails, the braking performance always inspires confidence.
This bicycle comes equipped with an LCD which is located on the left side of the handlebar that provides essential information such as speed, distance travelled, trip meter, battery voltage meter, pedal-assist mode, and battery level. The display is clear and easily legible, ensuring that one can monitor one's ride statistics effortlessly. It adds to the overall user experience and helps one stay informed about one's electric assistance levels. The power-lock function located on the right-hand side of the handlebar, which can be turned off and on with the help of a key, is an innovative feature that turns on the electric system and also ensures security.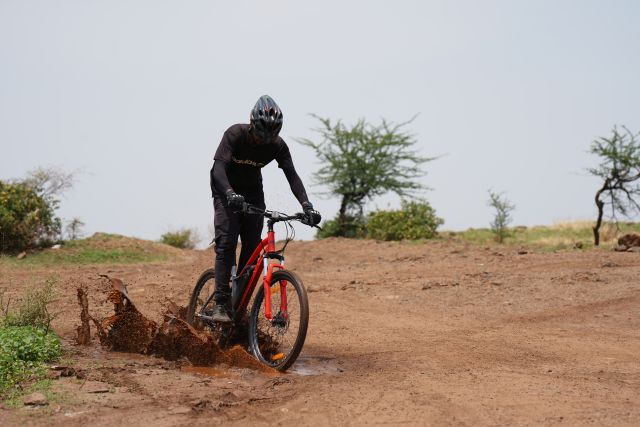 Whether cruising through the city or trying to avoid traffic, the X2 makes it look easy. Its instant acceleration and effortless handling, combined with the step-through frame, make it a perfect fit for urban environments. Manoeuvring through crowded streets becomes a breeze, thanks to the bike's wider handlebar which makes it more agile. Of course, there are still moments when I switch off the electric assistance and rely solely on my pedalling strength, savouring the simplicity and purity of traditional cycling.
The beauty of an electric cycle lies in its ability to seamlessly make the transition between conventional and electric modes, giving one the best of both worlds.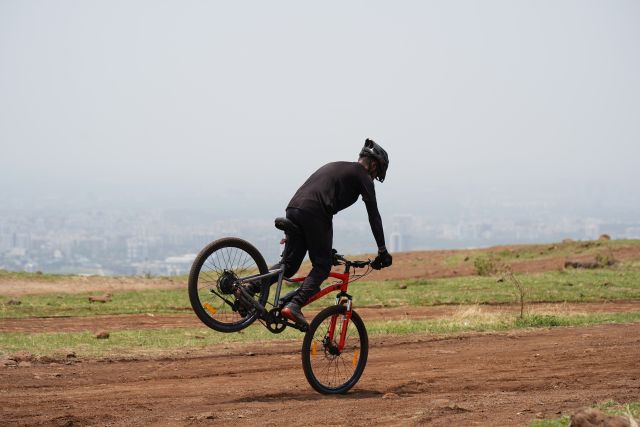 In conclusion, the EMotorad X2 for the price of Rs 28,999 is a commendable electric cycle. There is one more option available if you want to cut Rs 4,000 from this price tag. The X1 model which is available for Rs 24,999 and has the same specifications but misses out on the LCD can also be put into consideration before buying. The X2's unisex design, durability, capacious battery, responsive brakes, comfortable suspension, and convenient features make it a standout choice in its segment.