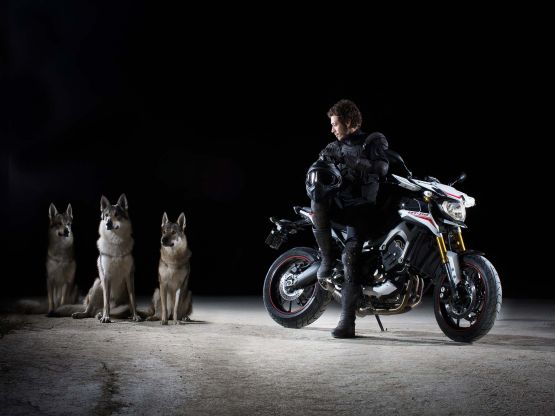 Japanese motoring mammoths Yamaha have stamped their mark on this year's EICMA, or the Milan Motorcycle Show as it's also called, as they showed off 3 new bikes to the rest of the world. Or at least two and a half new ones.
First off is the MT-09 Street Rally, this bike isn't really brand new (hence the half), as it's pretty much the same old MT-09 that launched in June this year, with a few visual upgrades bolted on. This motard avatar is the result of cosmetic additions such as fork boots, a couple of additional fairings and number plates running down the sides, a 'beak' located below the front headlamp, a protective guard running along the handle, and a cover spanning across the air intakes and flanking the fuel tank.
The bike also has a higher,flatter seat and a higher resting position for the feet, keeping in tune with the required posture for a rally bike. Here's a video created by Yamaha of the bike in action, featuring Valentino Rossi, epic power-slides, and a pack of wolves for added measure.
Yamaha's next bike feels a lot like Déjà vu. The forerunner in Yamaha's new 'sports classic' sector, the SR400 is based on the original model of the same name which was first launched in 1978. With its old-school looks, 400cc fuel-injected engine, and steel tubed semi-double cradle frame, this bike combines the styling of a classic with the technology of the modern age.
In an interesting quirk that will immediately transport you back in time, Yamaha have designed this bike without an electric start, so using the kick start is only way to get it going, just like in the old days. Yamaha have also kept things simple in terms of the bike's architecture so that it can be used as a platform for some tinkering by the customisation community out there.
Rounding up the launch is the MT-07, the baby brother to the previously mentioned MT-09. Driven by a 689cc parallel-twin mill, this naked racer produces 75 PS and 68 Nm of torque. The monorail chassis with asymmetrical swingarm are made of steel, giving the bike a frugal 179 kg weight. Everything about this bike, from its feral looks, to its attractive price of € 6000 (Rs.5,04,400 approx.), and futuristic styling and electronic display, make it an absolute eye-grabber.
Yamaha also commemorated the release of this bike with a video of its own. This one is an Anime inspired by the bike, and while it doesn't actually feature the bike in physical form, the animated rendering looks just as accurate, and makes for a fun watch.
All three bikes will hit the showrooms across Europe within the first quarter of 2014, and Yamaha will hope that they go on to fulfill the promise they displayed at EICMA.
Story: Harket Suchde