Ducati's Scrambler Icon receives a raft of upgrades for 2023.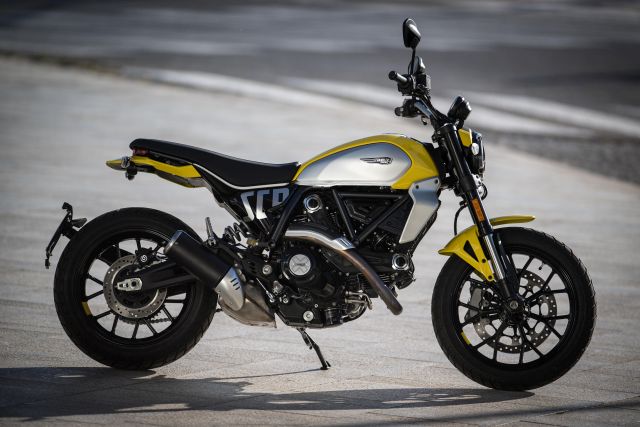 Story: Adam Child 'Chad'
Photography: Alex Photo
Back in 2015, the original 803-cc Scrambler Icon arrived with an abnormally large bag of marketing hype. Its press riding launch in California seemed to feature as many skateboards as Ducati motorcycles, more internet influencers than motorcycle journalists. The targeting of young urbanites was relentless and while many, me included, recoiled at the Scrambler's forced hipster image, the fact remained that this fresh, charismatic, and relatively affordable Italian V-twin was enormous fun to ride. Like many, I could not help but fall for the thing.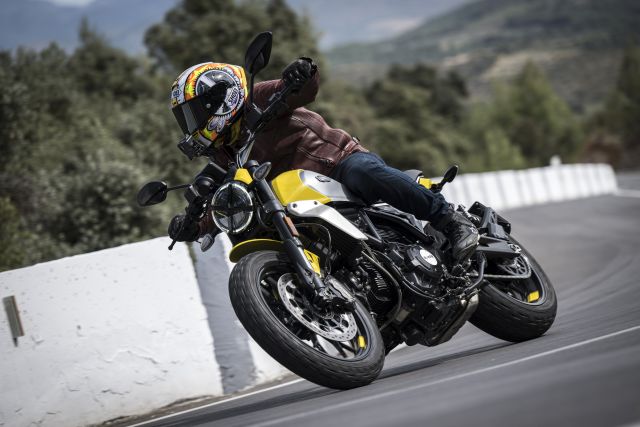 Sales success followed. At times the Scrambler, in its various guises, has been Ducati's top-selling model and quickly became a discrete brand within a brand. There have been several tweaks and, in 2019, a significant update, but now, for 2023, some 70 per cent of the Icon (and its 803-cc Full Throttle and Nightshift stablemates) is new, with completely new electronics and significant improvements in key areas of the charismatic air-cooled twin.
At first sight, it might appear the "Next-Gen" Icon has not changed much, for Ducati have understandably stayed with their, erm, iconic shape and striking urban-retro styling. Mechanically, the 803-cc Desmo V-twin produces the same 73 hp as before, but the exhaust routing is new and, more significantly, it is now controlled by ride-by-wire throttle in order to comply with Euro-5.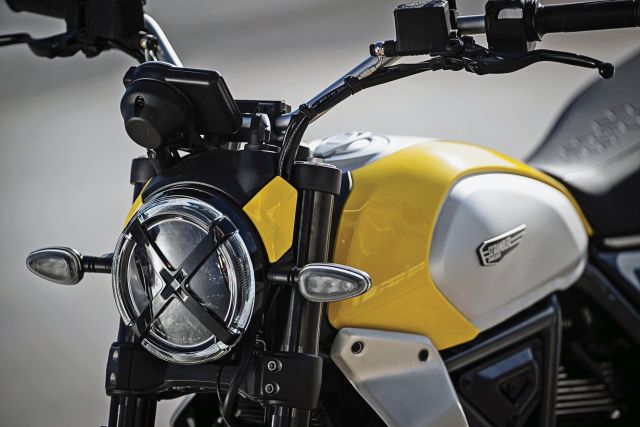 The new throttle opens the door to switchable riding modes (two of them: Road and Sport) for the first time, plus lean-sensitive traction control and an optional up-and-down quick-shifter. The air-cooled engine also comes in 2.5 kilograms lighter due to a new clutch.
Like the engine, the chassis appears similar to that of the older model, but changes are significant. The distinctive side-mounted rear shock moves to a conventional central position, necessitating a new swing-arm and frame, while the subframe now gets bolted on. A lighter battery, plus those chassis updates and new clutch, add up to a four-kilo overall weight reduction, bringing the Icon in at a claimed 170 kg (dry).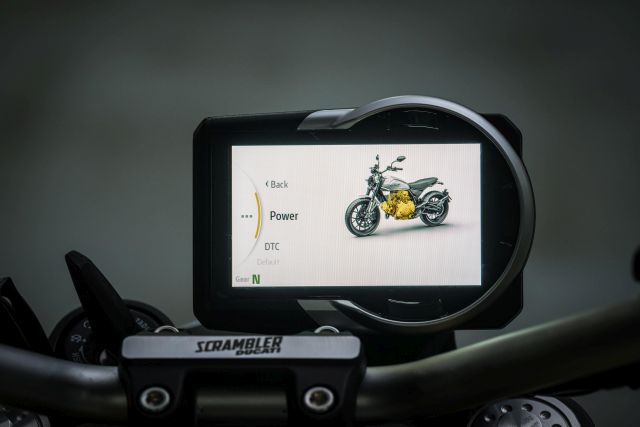 The dash is now a 4.3-inch TFT item and HQ to the Scrambler's new electronic goodies, clearly displaying which riding mode is active and which of the four traction control levels is set. Wheels remain an alloy-rimmed 18-inch front and 17-inch rear combination but have been re-designed. The traditional single 330-mm disc on the front wheel also stays, along with the Bosch cornering ABS introduced with the 2019 model.
We spent almost two days with the new Scrambler Icon, posing around bustling Valencia on day one, followed by a longer ride into the hills on day two. And we found that Ducati have made some serious progress with the new £9,995 (Rs 10.24 lakh) Icon.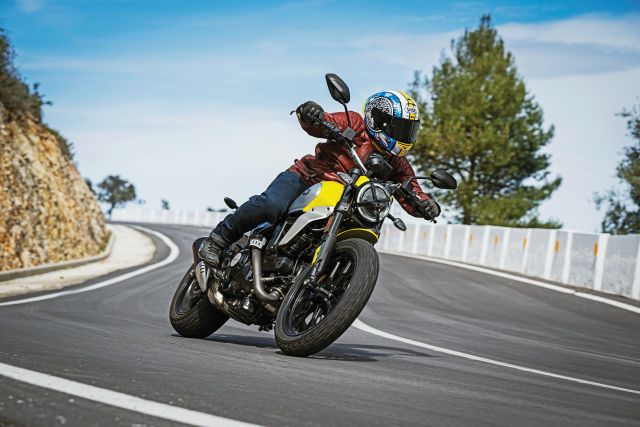 Throw a leg over its flatter new seat and you are greeted by that traditional laid-back riding position which now feels a little sportier with the bars positioned five millimetres lower and 17 mm further forward. The old-school clocks are gone, replaced by a neat colour display (with full connectivity) to bring the Scrambler into line with the competition.
You feel relaxed but poised and right up for a tussle with city traffic. Much as you may try to resist its hipster image, it is also very easy to find yourself glimpsing in shop windows and enjoying the cool reflection of the Icon. Everything it does in town is effortless, the new clutch and throttle are light and precise, while the fuelling has no jagged edges to disturb your flow.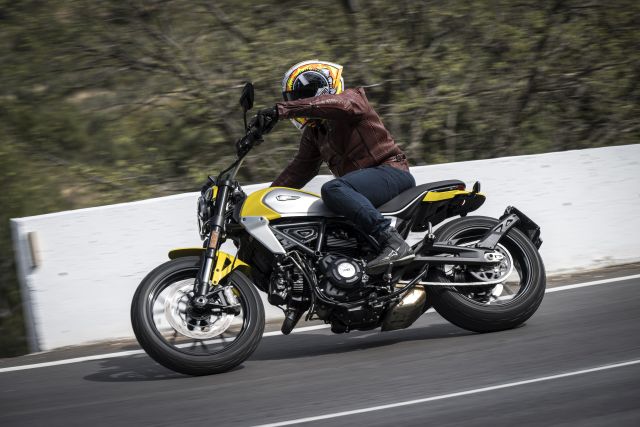 It is not perfect, of course. The lack of a quick-shifter is frustrating and will cost an extra £237 (Rs 24,300) if you want one fitted to your Icon (it is standard on Full Throttle, though). On test (Valencia temperature: 30° Celsius) there was also noticeable heat reaching my legs from the air-cooled twin. But the way the Icon turns on a stamp, pulls U-turns with nonchalant composure, soaks up potholes and flattens speed humps more than compensates, especially as it is accompanied by a satisfying gurgle from the new exhaust on the overrun.
On day two of the Icon's Spanish test, we headed out of Valencia and rode for 200 kilometres into the hills. The pace was brisk—this is a Ducati, after all—but also relatively laid-back, which perfectly suited the new Scrambler.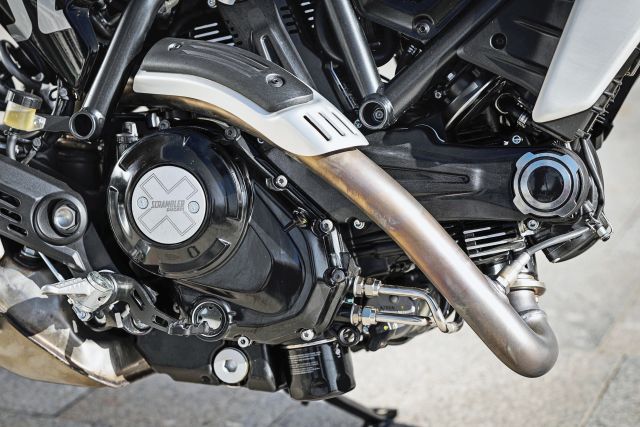 There is not a massive difference between the two engine modes. Both Road and Sport deliver the same peak power and torque figures, but Sport feels a little livelier. Peak torque is now quoted as 65.2 Nm (compared to the older Icon's 67 Nm) and now arrives at 7,000 rpm compared to 5,750 rpm, hinting at a peakier delivery. Ducati engineers assure us, however, that the new Icon's torque curve is very similar to the previous model's, with strong torque lower down and only a fraction less torque produced at 5,750 rpm than the outgoing machine.
It certainly feels as grunty. You do not have to chase the revs to have fun. The Icon still pulls happily up mountain passes in third and fourth gear only. If you do hold on to the revs and lower gear, however, the 2023 bike has a little more urgency, especially in Sport mode. And while 73 hp may not be a number you want tattooed next to that inked Scrambler logo, the performance of the V-twin manages to relax and excite its rider in equal measure. It is never too much or too serious but can easily dispense with aggressive car drivers or loft its front wheel (once the traction control is deactivated). It has no ego, but it does have attitude.
Handling, too, has always been undemanding and, in this respect, the new Scrambler remains as intimidating as a kitten. Now there is lean-sensitive traction control rider aids to keep you safe, which may sound like overkill on a 73-hp machine but will be a welcome addition for new riders. It is even useful for more experienced hands: when I hit a dusty manhole cover in sunny Spain, the Icon's traction control kicked in, saving me from an embarrassing moment.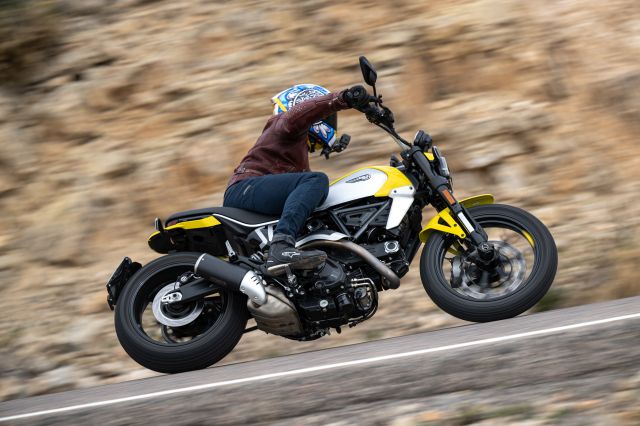 The test route took in all types of roads, from switchback hillside passes to fast-sweeping dual-carriageways and cobbled village streets and the new Scrambler adapted to all of them with ease. At higher cruising speeds, the free-spinning motor still feels relaxed and the handling is stable and predictable. The OE dirt-look Pirelli MT60 rubber is consistently impressive and, despite its blocky tread pattern, can be pushed surprisingly hard.
The suspension delivers a soft but controlled ride that suits new riders. For sportier souls, ground clearance is fine so long as you ride with your toes on the pegs—and the 2023 Icon certainly encourages a brisker pace than the older machine. Essentially that is because the older bike felt as if it steered from the middle, a bit (and only a bit) like a Harley Sportster, and the newer, lighter machine sits the rider slightly forward, with more feel for the front tyre contact patch. It is a marginal change but the steering is more direct and faster, a little (and only a little) like a supermoto.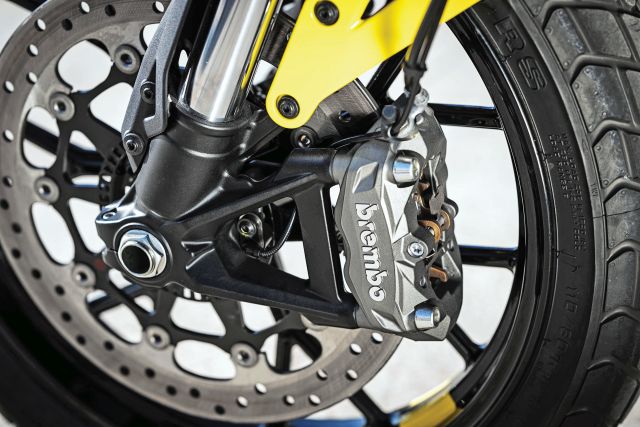 There is a limit to its new sportiness, obviously. If you keep pushing or try to keep up with the sports bike crew, that comfortable, pothole-absorbing suspension which is so brilliant in town will start to complain. The 41-mm Kayaba front forks carry no adjustment and, if you try to attack corners on the brakes, lack the necessary support, especially as the 330-mm front disc and Brembo caliper, which are perfectly set up for in-town efficiency, feel slightly overwhelmed when pushed hard. It is better to back off and let the V-twin's natural flow and willing spirit pull you along.
After a full day of riding in a variety of environments, it is hard to find the Scrambler anything other than a delight. It is a naked, of course, and vulnerable to headwinds and the moods of the weather like all non-faired machines, but it is fun everywhere if you ride to its strengths.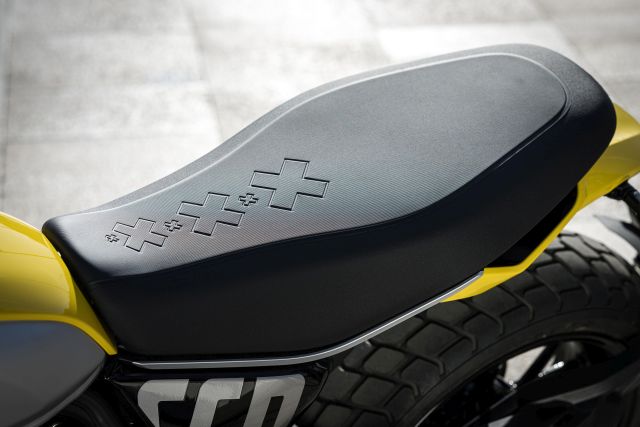 Taller and shorter riders can opt for the higher and lower seat options (810 mm and 780 mm; stock height is 795 mm) and with so many accessories, it is easy to personalize. In fact, a key ingredient in the Scrambler story is the degree to which owners can personalize their machines with factory kit. After all, not many production bikes come with three base colour options and six choices of secondary colours.
The first Scrambler was a relatively cheap stepping-stone into the Ducati brand. Prices have increased since 2015, obviously, but the 2023 Icon creeps in at below £10,000 (Rs 10.26 lakh), just in its standard configuration. It is lighter, livelier, and more comfortable than the outgoing Icon and gets lean-sensitive traction control and riding modes for the first time. What is not to like?
Even if you ignore the "hipster" branding, the 2023 Scrambler is easy to ride, fun for both experienced and inexperienced riders, and a stepping-stone into the world of Ducati, the manufacturer that also happens to rule World Superbike and MotoGP. Personally, and despite trying not to, I have fallen for the marketing, the image, and the looks.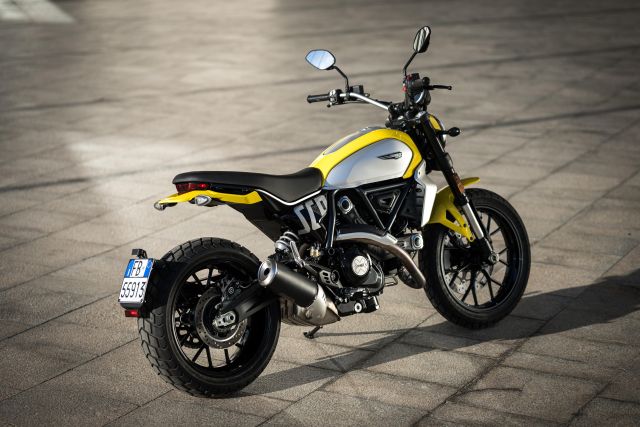 The Scrambler has its own way of doing things, is easy to personalize, and looks great in the city. However, it is not the bargain-price entry-level Ducati it once was. But if you want a quality and desirable entry-level bike, you are going to have to dig a little deeper.
Technical Specifications
Ducati Scrambler Icon

Price: £ 9,995 (Rs 10.24 lakh)
ENGINE
Capacity: 803 cc
Type: Air-cooled, L-twin
Fuel delivery: Electronic fuel injection, 50-mm throttle bodies, ride-by-wire
Valves: Desmodromic, four valves
Bore and stroke: 88 mm x 66 mm
Compression ratio: 11.1:1
Transmission: Six-speed with quick-shifter, chain final drive
Clutch: Hydraulically controlled slipper and self-servo wet multi-plate
PERFORMANCE
Power: 73 hp at 8,500 rpm
Torque: 65.2 Nm at 6,800 rpm
Top speed: 209 km/h (estimated)
Fuel consumption: 19.2 km/l (claimed)
ELECTRONICS
Type: Not available
Rider aids: Riding Mode, Power Mode, Cornering ABS, Ducati Traction Control
CHASSIS
Frame: Tubular steel trellis
Rake/Trail: 24°/108 mm
Wheelbase: 1,449 mm
SUSPENSION
Front: Kayaba 41-mm USD, non-adjustable, 150-mm travel
Rear: Monoshock, preload adjustable, 150-mm travel
WHEELS AND BRAKES
Front wheel: 3.00 x 18-inch
Rear wheel: 5.50 x 17-inch
TYRES
Front: 110/80 R18, Pirelli MT60 RS
Rear: 180/55 R17, Pirelli MT60 RS
BRAKES:
Front: 330-mm disc, four-piston radial calipers, Bosch Cornering ABS
Rear: 245-mm disc, single-piston caliper, Bosch Cornering ABS
DIMENSIONS
Weight: 170 kg (dry) 185 kg (kerb)
Seat height: 795 mm
Bar width: Not available
Length: Not available
Ground clearance: Not available
Fuel capacity: 13.5 litres
SERVICING AND WARRANTY
Servicing: 12,000 km/12 months
Warranty: 24 months, unlimited mileage
Colour options: Yellow, Ducati Red, Thrilling Black. (Six more colour option in accessories.)
Website: Ducati.com