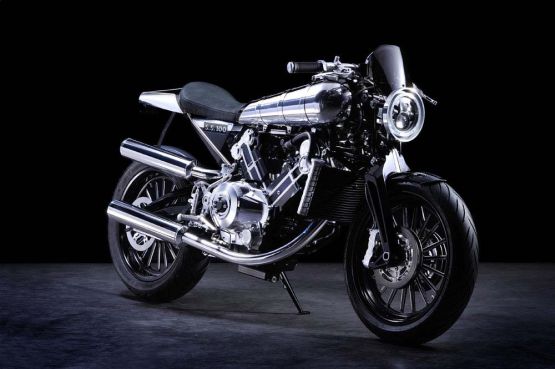 Legendary British brand Brough Superior are back from a long hiatus reappearing at the 2013 EICMA show. Developed in France in collaboration with renowned specials firm Boxer Design; the marque's first offering to the world after nearly a decade, the Superior SS100, infuses retro charm with modern tech along with clever innovations and contemporary pieces, quite a stunner of a bike. The motorcycle houses a state of the art 88° V-twin DOHC 1,000cc mill with a claimed 150 PS, built by acclaimed engine tuning house, Akira. Simple, yet highly impressive.
And that's not all, the SS100 utilizes an magnesium alloy for the fork legs, and titanium for the suspension triangle. The reincarnation of Brough Superior is true to the original and uses the most advanced engineering and materials available in the market for its work. One can see that Boxer Design cleverly built a Fior-style front-end, which BMW riders will know better a Hossack or Duolever setup.
The headlight is a full LED unit, which is a nice piece of tech, finding its place as an aftermarket piece on everything from Harley-Davidson cruisers to Zero electric bikes. Other than the headlamp, the machine drips of exclusivity.
One of our favourite elements in this vein is the Brough Superior SS100′s front disc brake setup. Built with the intention of giving the appearance of drums brakes, but look closely and you will see a four-disc Beringer braking setup. This gives the Brough Superior SS100 ample braking power, while still retaining a design that is close to the classic SS100.
Everything said and done the new Brough Superior SS100 is a true work of art, staying true to its roots while carving out its own identity in the world of motorcycles. The first order is already in place with deliveries of the €50,000 bike to commence next year.
Story: Sayem Syed