BMW step into the super naked market with their most powerful naked bike in this highly competitive class. The Germans are flexing their muscles, showing what they can do. Welcome to the 210-hp M 1000 R. On looks alone, it is already a winner for some.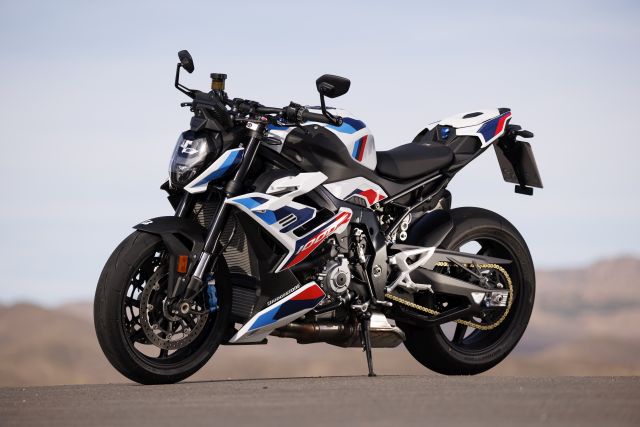 Story: Adam Child 'Chad'
BMW's standard S 1000 R is a great bike. I tested one for a whole year and loved its everyday versatility and fuss-free ability on track. But when up against the more powerful Italian competition, the 200-hp hyper naked beasts from Ducati and MV, it was, on paper at least, slightly lacking.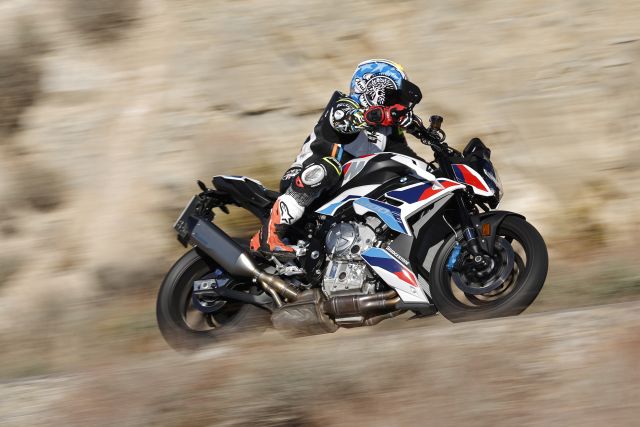 Ducati's Streetfighter V4 and MV's Brutale 1000RR are both in the 200-hp club, with Kawasaki's super-charged Z H2 SE just a couple of horses shy. In the world it hardly matters that the S 1000 R makes a peak of 165 hp, 35 hp lower than the big boys, but sometimes the real world does not matter. It is the numbers that count. Hence the introduction of BMW's new M 1000 R, with 210 hp.
BMW have taken the new ShiftCam engine from the 2022 S 1000 RR superbike and inserted it into the S 1000 R's naked chassis. It has the same power and torque and the same gearbox.
BMW have not stopped there. Aerodynamic wings help to reduce wheelies by adding 11 kilograms of downforce at 220 km/h. New stoppers, again taken directly from the S 1000 RR, facilitate improved braking. Chassis dimensions remain the same but the standard electronic suspension (DDC, that is, Dynamic Damping Control) has been re-calibrated to deal with the 45-hp increase in power. A manually adjustable steering damper is also new.
Electronic rider aids also get a substantial upgrade and re-calibration to deal with the improved engine and braking power and are linked to a six-axis IMU (inertial measurement unit). New for the M 1000 R and S 1000 RR is the new Brake Slide Assist system which allows some drift on corner entry before the lean-sensitive anti-lock braking system (ABS) kicks in.
We headed out to southern Spain to see if the BMW M 1000 R lives up to the hype.
Removing the engine from the latest S 1000 RR and inserting it into the M 1000 R means it has a peak of 210 hp at 13,750 revolutions per minute (rpm), up from 165 hp for the standard S 1000 R. Max torque is slightly down, from 114 Nm to 113 Nm, and higher in the rpm at 11,000, not 9,250 rpm.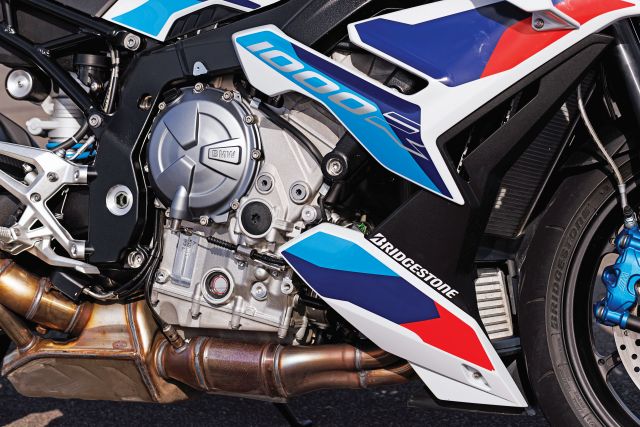 BMW have not detuned or remapped the S 1000 RR ShiftCam motor, not used in a naked chassis previously. Usually, manufacturers will soften or calm down their sports bike motor before transplanting it into a naked chassis. Even the gearbox and internal ratios are the same, the only difference is the final gearing, with a slightly larger rear sprocket on the M 1000 R. Compared to the S 1000 R, fourth, fifth, and sixth gear ratios are shorter, as it is the same as the new S 1000 RR.
The standard S 1000 R motor is usable and easy to get along with and I was concerned BMW may have diluted that with the superbike's ShiftCam engine, but they have not. To make a 210-hp superbike engine usable is a difficult job, but BMW have managed it.
In the standard Road mode with restricted torque in the lower gears, its ease of use complements the rider. Fuelling is smooth, power is progressive, and the quick-shifter is light and perfectly matched with each up or down change. Even in sixth gear the motor pulls effortlessly below 50 km/h.
The mid-range is equally notable. Peak torque is a fraction down and higher in the rpm compared to the S 1000 R's, but there is no real loss where it matters. Drive is impressive up to 8,000 rpm and it is satisfying to short-shift via the smooth quick-shifter and enjoy an urgent and sporty ride, very much like the standard S 1000 R.
But the M 1000 R holds an ace card: from that relatively polite 8,000 rpm it revs on to a red-line just short of 14,600 rpm! It is ridiculous to think we can now ride naked road bikes with 210 hp and spin to almost 15,000 rpm—feats and figures that were the preserve of World Superbike machines just a decade ago.
Fortunately, BMW allowed us a few laps on the Almeria racetrack to feel the full potential of that engine and, wow, it delivers. It just keeps pulling and revving as if there is absolutely no mechanical resistance inside the motor. Top speed is a quoted 280 km/h, 25 km/h higher than the standard S 1000 R's.
However, do not think of the M as just a rev-happy superbike in a naked chassis. The ShiftCam engine is utterly usable in normal riding, limiting torque in the lower gears. Until, that is, you hit Race and Race Pro and all hell breaks loose.
The M 1000 R grows winglets that create genuine downforce at the front. BMW claim the winglets add 11 kg of downforce at 220 km/h. In theory more stability and fewer wheelies.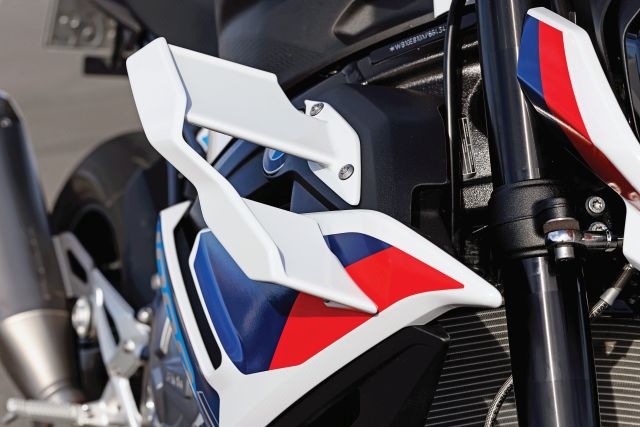 BMW's electronic Dynamic Damping Control (DDC) is standard, not so on the S 1000 R, and works with the bike's riding modes: Road, Rain, Dynamic, Race, and Race Pro. In Road and Rain settings, the damping is more road-biased towards comfort, with Dynamic, Race, and Race Pro for sporty/track riding. Modes can be tailored to match the rider and conditions, even settings for a pillion rider, should you find one brave enough.
On the road, you really notice a difference between the riding modes, which change not just the engine parameters but also the handling and character of the bike. "Road" is obviously set for comfort; there is more movement and transfer through the chassis. You can feel the suspension working, while the ride is plush and very much that of a road bike. This is ideal for around town and running over road imperfections with relative ease. You can still enjoy a spirited ride, but once into Dynamic mode, you feel the difference immediately as you have to work harder to make the suspension work. It is not stiff like a race bike's but there feels like less travel and movement, which means you can ride a little more assertively.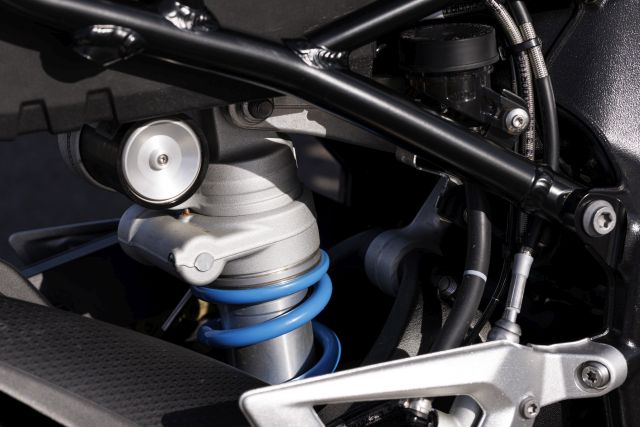 I did try Race mode on track, but only had a handful of laps and, anyway, Race and Race Pro are more suited to slicks or track-biased rubber than the Bridgestone RS11 tyres. For most part of the ride, I simply decided on the standard Dynamic road, flicking to Road for town work.
You can change the suspension electronically, by changing front damping, rear compression, and rear rebound electronically. Pre-load is manually adjusted, not electronically. Obviously, you can change the suspension to match the way you ride as also your weight.
The steering is light and easy; eminently flickable for a 210-hp bike. BMW have worked hard to maintain the 199 kg (wet) weight, which is class-leading and the same as the S 1000 R's. Only Ducati's £30,000 (Rs 30 lakh) Streetfighter V4 SP is—a few kilos—lighter, while the M is 40 kilos lighter than Kawasaki's supercharged Z H2 SE.
Personally, I never fully clicked with the standard Bridgestone RS11 rubber. To be fair, the roads in southern Spain were cold and far from perfect, but the Bridgestones took a while to warm up and did not offer the feedback that translated into confidence. Certainly, I could scrape a knee-slider for the photos and I never felt the DTC or ABS kick in (unless deliberately provoked), but the confidence to lay the M 1000 R on its side or brake deep into a turn remained just out of reach.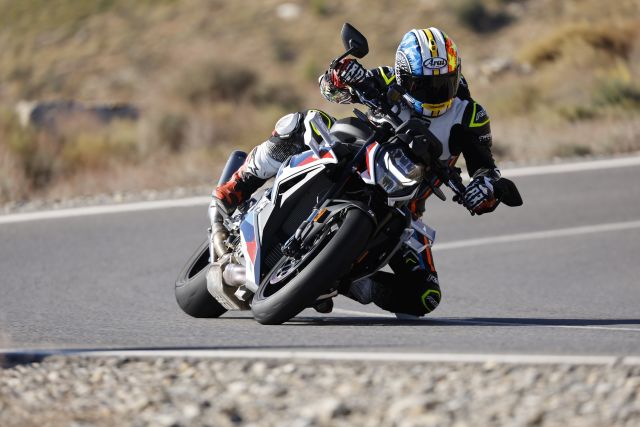 The bars are slightly wider and more aggressive, but certainly not radical. As mentioned earlier, the suspension can be softened on the move (into Road or Rain mode) but, even so, the seat is not the most sumptuous; simply comparable to other naked sports bikes in this class.
During the test, I managed 6.5 litres/100 km (15.4 km/l), which is not far from BMW's claim. On an S 1000 R I would typically attain 15 to nearly 18 km/l on the odd occasion, with the fuel light coming on slightly early at around 195-205 km. Again, I would expect similar from the M 1000 R, which is impressive for a naked superbike. Under WMTC standard testing conditions, the M 1000 R is rated at 6.4 l/100 km fuel economy, which equates to 15.6 km/l.
BMW have not lost any of the standard bike's usability. Cruise control is still included as standard, as are three-stage heated grips used in the morning on test. The same informative 6.5-inch dash remains, with the BMW navigation wheel on the left side. If you are not used to BMWs, then it takes a while to click with, but once you are familiar with the set-up, the information is almost never-ending. I particularly love the optional race dash, which clearly shows lean angle, brake pressure, and TC intervention.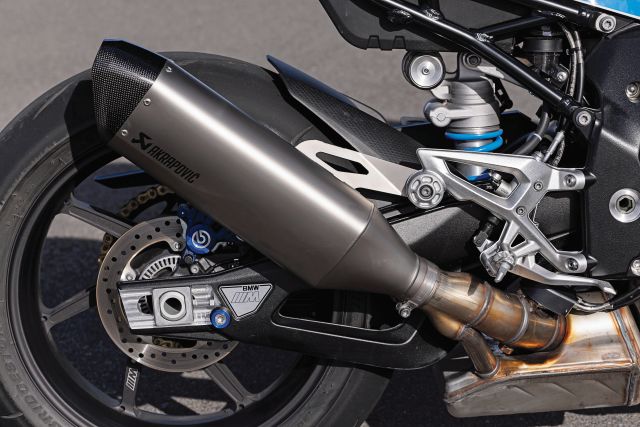 On the road and especially on track the brakes feel like a big upgrade over the standard bike, which are the same as the S 1000 RR's, a big upgrade over the S 1000 R. They are phenomenally strong. On the road you only ever need one finger on the adjustable radial flip-up lever, designed to flip up and not snap in a low-speed crash.
As you would expect of BMW, the brakes are linked to BMW's ABS Pro system, which is lean-sensitive due to the six-axis IMU. Furthermore, as in the S 1000 RR, the naked M gets the same Brake Slide Assist (BSA) system. Once selected (ABS Pro) the BSA works with multiple sensors and parameters, such as brake pressure, to allow the bike to slide or "back-in" to corners.
That ABS has been re-calibrated for the more powerful calipers and stability during high-speed braking has also been increased by the downforce of the new wings. The M feels phenomenal on the stoppers and could well turn out to be the best in class.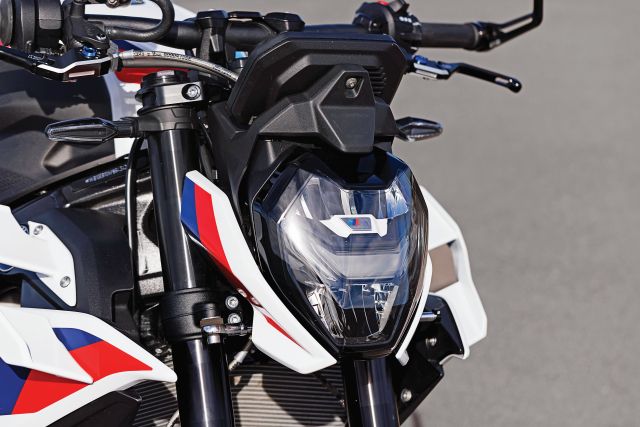 It is not just the brakes that could be class-leading, the rider aids are incredible. Along with the new BSA, there are multiple rider modes that change the power and torque, plus other rider aids such as the standard traction control, DTC (Dynamic Traction Control) system. It does not end there, wheelie control, hill start, even a pit-lane limiter, not forgetting the Shift Assistant Pro (quick-shifter). With the S 1000 R it takes less than a minute to reverse the shift for race/track use.
As you would expect of BMW, there are heated grips, again like the S 1000 R's, plus adaptive cornering headlights and cruise control.
There are so many rider aids and options we did not have enough time on that day to try them all. But those we did play with worked to the highest level. Everything can be personalised to taste, from Rain mode with full rider aids acting as a safety net to very few rider aids with ABS active on the front wheel only. One button on the left cluster turns off the TC and anti-wheelie control, thereby allowing you to loft the front end should you wish.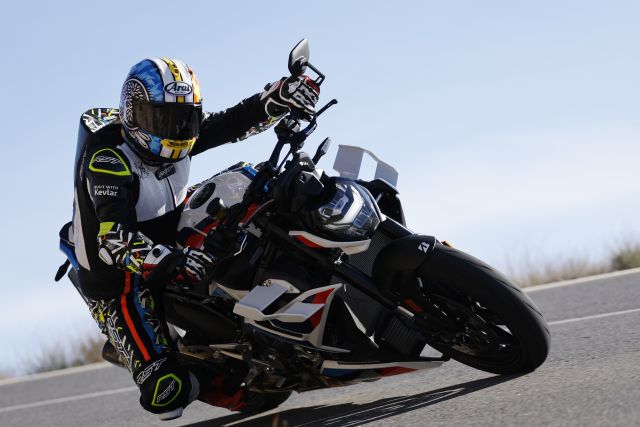 BMW already have an outstanding naked bike in the S 1000 R. In many ways, they did not have to produce this 210-hp naked superbike, but, thankfully, they flexed their muscles to show what they can do.
On paper, it is their most powerful naked bike to date, while its electronic package of rider aids and riding modes is class-leading. Add lightweight handling and awesome braking power, not to mention the "M" look and a high level of finish, and the competition should be worried. At less than £20,000 (Rs 20 lakh) it is cheaper than the 200-hp Italian supernakeds, too.
Personally, I would want to change the M's Bridgestone RS11 rubber for something more track-focused. And there is a little bit of me that wonders if BMW could have done more! I know, that sounds mad, but the M is so good, usable, and easy to ride that, perhaps, they could have gone even further and produced something a little more radical. It is almost too good.
The big question will be when it goes up against the competition. I predict that it will be the easiest of the supernakeds to ride "normally" and cut on track. The standard S 1000 R was down on lap speed compared to the competition, but now I expect the BMW to be on top of the leader board; it will be close. However, arguably, the BMW may not offer the character and desirability of the others. I cannot wait for a group test.
Price: £19,480 (Rs 19.48 lakh)
Capacity: 999 cc
Bore x Stroke: 80 x 49.7 mm
Compression Ratio: 13.3:1
Engine layout: Water-cooled, in-line four-cylinder
Engine details: DOHC, four valves/cyl, ShiftCam
Power: 210 hp at 13,750 rpm
Torque: 113 Nm at 11,000 rpm
Top speed: 280 km/h
Transmission: Six-speed manual, wet multi-plate, anti-hopping clutch, chain drive, up/down quick-shifter
Average fuel consumption: Claimed: 15.6 km/l (6.4 l/100 km)
Tank size: 16.5 litres
Max range to empty: Claimed: 257 km
Rider aids: Lean-sensitive traction control and ABS, multiple riding modes, electronic damping control, wheelie control, launch control, hill start assist, cruise control, brake slide assist
Frame: Cast aluminium "bridge" design, flex frame
Front suspension: 45-mm USD forks, electronic damping control, adjustable compression, rebound, and pre-load, 120 mm travel
Rear suspension: Monoshock, electronic damping control, adjustable compression, rebound and pre-load, 117 mm travel
Front brake: Twin 320-mm discs, "M" brake radial four-piston fixed calipers, ABS
Rear brake: Single 220-mm disc, two-piston floating caliper, ABS
Front wheel: 3.50 x 17-inch, forged alloy (optional carbon-fibre)
Front tyre: 120/70 ZR17, Bridgestone RS11
Rear wheel: 6.00 x 17-inch, forged alloy (optional carbon-fibre)
Rear tyre: 200/55 ZR17, Bridgestone RS11
Rake/Trail: 24.2°/97.6 mm
Dimensions: 2,090 mm (L) x 812 mm (W)
Wheelbase: 1,455 mm
Seat height: 840 mm
Weight: 199 kg (wet)